Mid-Autumn Festival Concert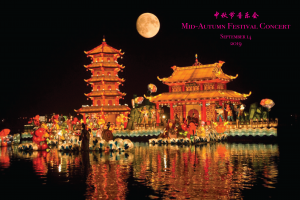 China Cultural Center in Stockholm will host a Mid-Autumn Festival Concert on Saturday September 14 at 18:30.
The invited artists are Wu Jiangyan, a performance artist of Peking Opera, Kunqu opera artist Xiao Xiangping, flute master Chen Yuxiao and  drum player He Zichen.
We are also happy to present two young female musicians from Hong Kong; Huang Zhaomin on pipa performing with Fu Beiyi on marimba.
Fresh moon cakes and snacks will be served.
Please Note: The mid-Autumn Festival Concert is full booked and reservation is unfortunately no longer possible.
Thank You for Your support and understanding.
We wish you a Happy Mid-Autumn Festival!
Artist Presentation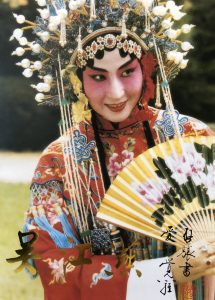 Wu Jiangyan
Wu Jiangyan is a national first-class actor, the highest disciple of Wei Lianfang – who was disciple of the famous Mei Lanfang – and a well-known performing artist from the Shanghai Peking Opera Theatre. She was admitted to the Shanghai Opera School at the age of ten and studied there for seven years.
Wu Jiangyan has won the first prize of the grand Chinese Mei Lanfang singing competition, and have participated several times in the CCTV Spring Festival Performing Art Evening. In 1995, she started to work at the Central Education TV Station. She is founder of the Swedish Jing Kun Society.

Xiao Xiangping
Member of the Chinese Drama Association and national second-level performer of the Northern Kunqu Opera Theatre. He is graduated from the Shanghai Theatre Academy, and has worked in the Kunqu Opera Museum in China, before he became actor of the Northern Kunqu Opera. He was trained by the masters Yue Meizhen, Cai Zhengren, Shi Xiaomei and Ma Yusen. He also received the 4th China Kunqu Art Festival Outstanding Young Actors Performance Award (Ministry of Culture).
PipaRimba is an innovative and masterful pipa & marimba duo formed by two Hong Kong – Belgium based artists – Charmaine Wong (pipa) & Fiona Foo (marimba). Through the combination of different elements and genres, this dynamic duo want to make sure that classical music remains a relevant and powerful force in the world.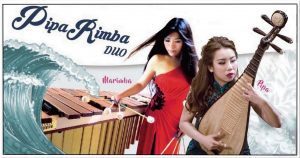 The members of PipaRimba are both are prolific musician and have won various music awards in e.g. Italy, Switzerland, Belgium and Hong Kong etc. They were invited to perform in many international art/ music festivals all over the world such as Aberdeen International Youth Festival (Scotland, UK), Universal Marimba Festival (Belgium), Filadelfia Festival (Italy), Zeltsman Marimba Festival (USA), Kagoshima Asian Youth Arts Festival (Japan), Festival Chapel for Europe (Belgium), Festival Les "Nuits" (France), Festival Catharina (Belgium), International Katarzyna Mycka Marimba Festival (Poland), Global Music Festival (Greece), Festival Elzenveldkapel (Belgium), Taoyuan Traditional Music Festival (Taiwan), International Hong Kong Percussion Festival (Hong Kong). They performed extensively across the continents including Austria, Belgium, China, Czech Republic, France, Germany, Greece, Hong Kong, Hungary, Ireland, Italy, Japan, Korea, Luxembourg, Macao, Poland, Portugal, Romania, Russia, Slovenia, Spain, Sweden, Switzerland, the Netherlands, Taiwan, the Philippines, Turkey, United Kingdom and United States.
Website: www.piparimba.com
Soundcloud: https://soundcloud.com/piparimba-duo
YouTube: https://youtu.be/9pkgyLY9z7A