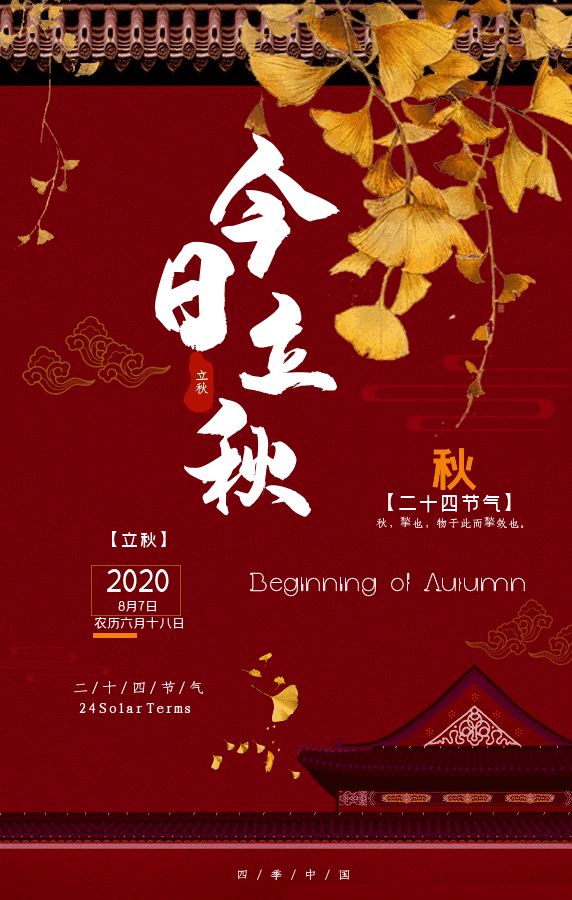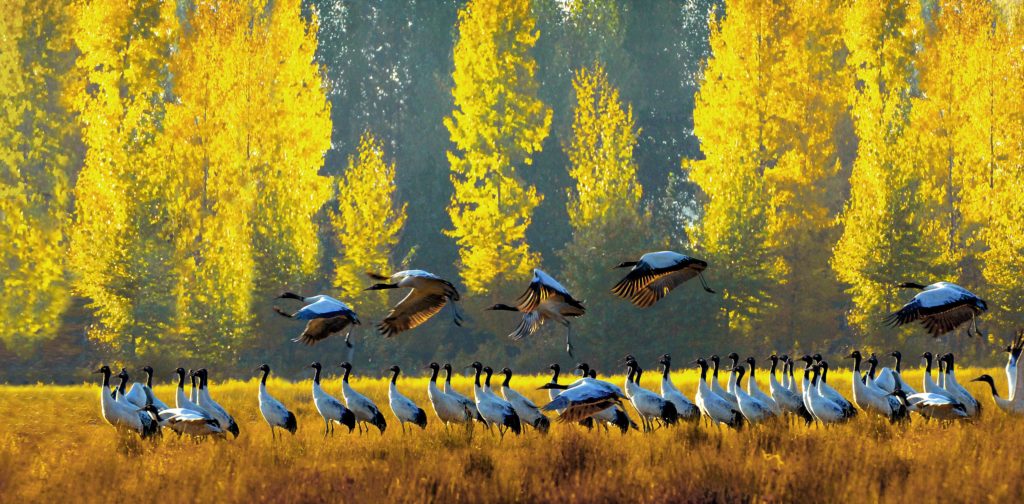 Home of Black-necked Crane, Weining county, Guizhou province
Liqiu (Beginning of Autumn), the thirteenth of 24 solar terms, falls on the 18th of the sixth month of Chinese lunar calendar, which is August 7 this year. Liqiu signifies the end of summer and ripening of crops. Chinese ancients are inclined to be sorrowful in autumn – a sense of desolation and melancholy emerges as the autumn wind arrives, carrying away the chirping birds, fragrant spring flowers and lush summer trees. In their hearts, when autumn begins, everything starts to wither, and severe winter follows. But for Liu Yuxi, a celebrated poet in the Tang dynasty, it evokes a completely different sentiment. He says:
Since olden days we feel in autumn sad and drear,
But I say spring cannot compete with autumn clear.
On a fine day a crane cleaves the clouds and soars high;
It leads the poet's lofty mind to azure sky.
– Song of Autumn / Translated by Xu Yuanchong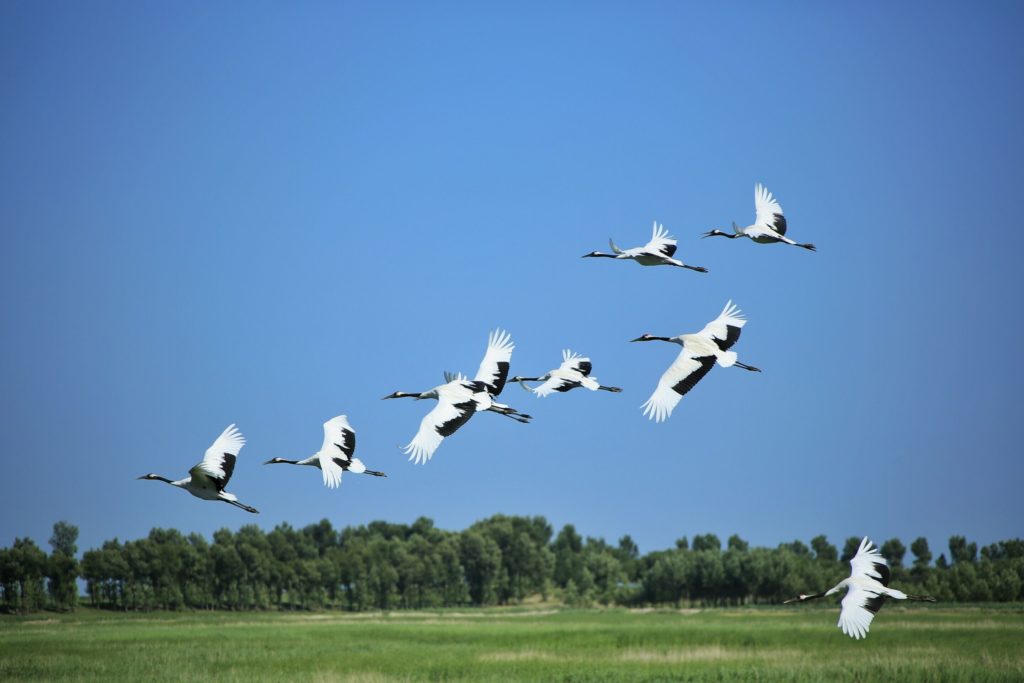 Cranes in Xianghai National Nature Reserve, Jilin province / Foto av 颜国良  Yan Guoliang

Moon River Longevity Village, Donglan county, Guangxi Zhuang Autonomous Region
Each solar term consists of 3 units ( "hou" in Chinese) with 5 days in each unit. Cool breeze comes in the first five days of Liqiu; white dew appears in the second five days and winter cicadas begin to sing in the third. However, it can still be hot around Liqiu, especially when Liqiu arrives during the three periods of the hot season this year. After the Beginning of Autumn, temperature is also expected to rise to more than 35℃ – a phenomenon literally translated as "autumn tiger", meaning that the heat is as strong as the tiger. Moreover, the ripe fruits add a touch of color brighter than spring and summer to the world, enabling people to enjoy precious gifts of the nature.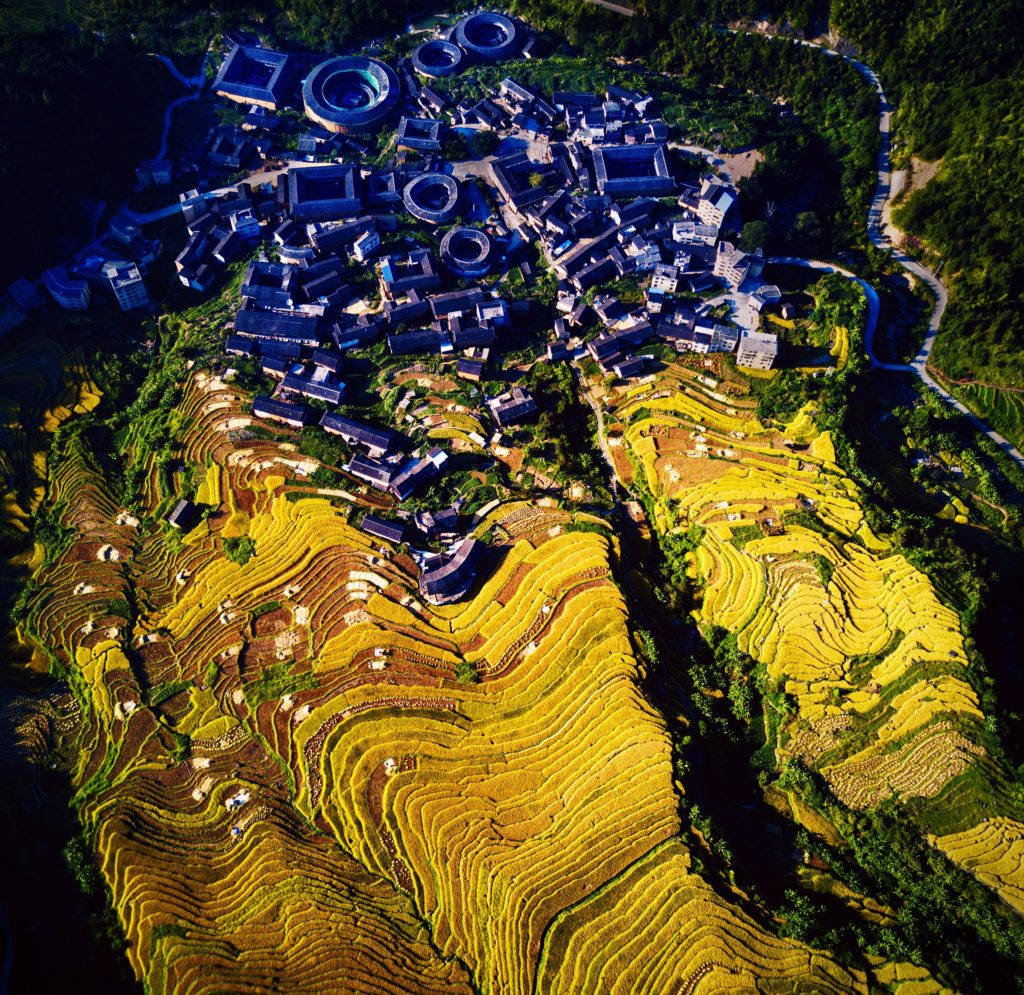 Tulou Cluster of Chuxi Village, Yongding county, Fujian province
Offering Sacrifices
Liqiu marks a season of harvesting. Therefore, people offer sacrifices to the Earth God to show their gratitude for the good yield.
In the mountainous areas in Hunan, Jiangxi, Anhui and other southern Chinese provinces, farmers use their houses, sills, roofs and other structures to keep the harvested crops dry and not mouldy.
Zhanli village, Guizhou province / 张琪 Zhang Qi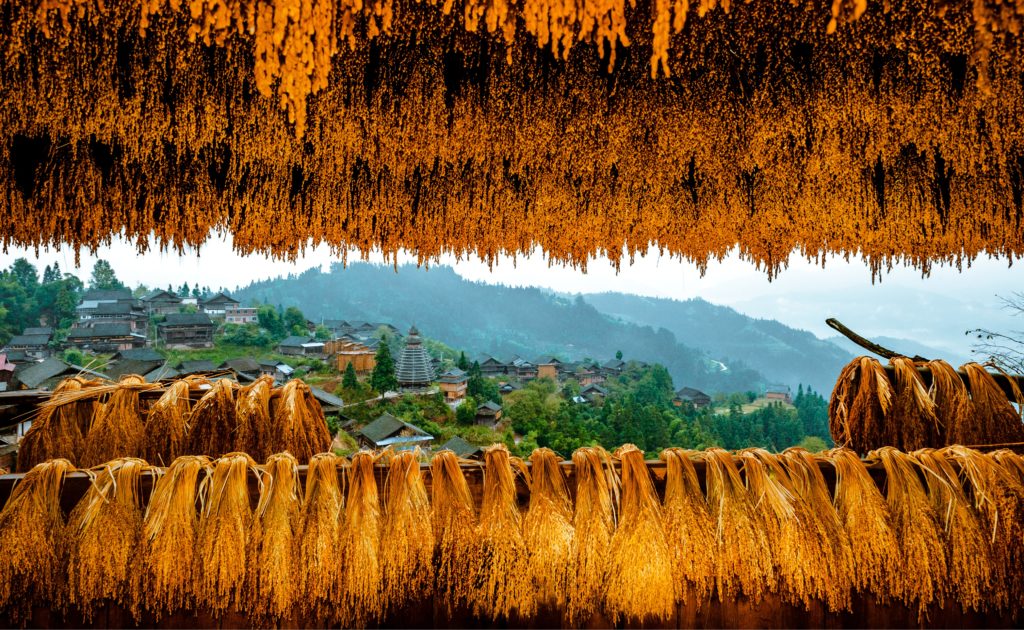 Dong village in Autumn, Guizhou province / 张建钊 Zhang Jianzhao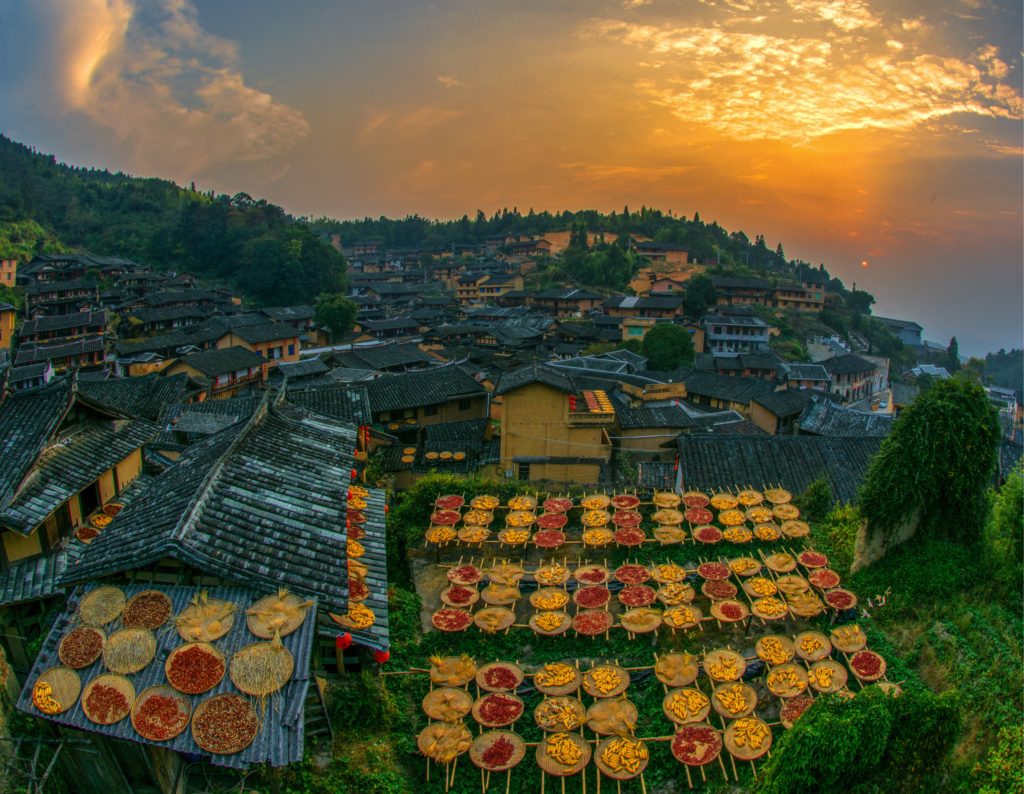 Guifeng village, Youxi county, Fujian province
People should eat watermelon or muskmelon on Liqiu, symbolizing a grasp of autumn after the sweltering summer and expressing the joy of harvest.
Compare your weight of Liqiu with that of Lixia (Beginning of Summer). If you have lost weight, you should eat more heavy food, especially meat, to make up for the loss of weight in summer and store energy for winter.
Peking Duck. World Federation of Chinese Catering Industry
Pork Stewed with Preserved Vegetables, Zhejiang province
Curry crab, Hainan province
.
"Mind autumn dryness when Liqiu arrives", as the old saying goes. Autumn is the season of harvesting, as well as the time when yang is receding and yin is growing. So according to the principles of traditional Chinese medicine, food that can ease the dryness and nourish the body, such as tremella, dried lily petals, honey, walnut, pear and water chestnut, etc., is highly recommended for this period of time.
Porridge with mung beans and dried lily petals
The first records of cricket in China can be found in The Book of Songs, the oldest existing collection of Chinese poetry. Cricket fighting can date back to  the Tang dynasty as a game loved by all walks of life, from emperors to ordinary people. Jia Sidao, a grand chancellor in the Southern Song dynasty, complied The Book of Cricket. Today, China's largest cricket-beeding site in Ningjin county, Shandong province attracts people across the nation to search for the cricket king.
Video provided by China Xinhua News Network Corporation
Chinese Rose and InsectsArtist:居廉 / Ju LianYear:UnknownDimension:23×28.8cm

Technique:Ink and color on paper

In the collection of National Art Museum of China
Autumn Leaves and InsectsArtist:齐白石 / Qi BaishiYear:1920sDimension:90.3×41.4cm

Technique:Ink and color on paper

In the collection of National Art Museum of China
Morning Glory and InsectsArtist:齐白石 / Qi BaishiYear:UnknownDimension:115×50cm

Technique:Ink and color on paper

In the collection of National Art Museum of China
Flowers and InsectArtist:齐白石 / Qi BaishiYear:1920Dimension:22.5×18.5cm

Technique:Ink and color on paper

In the collection of National Art Museum of China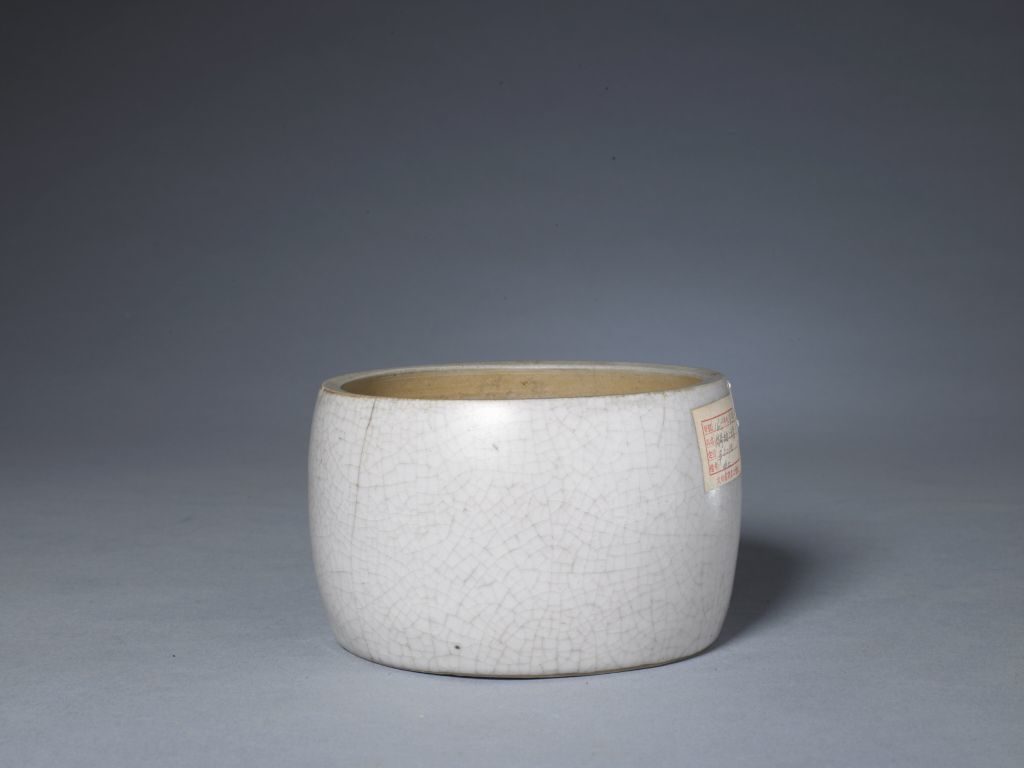 Cricket Jar with Ru Glaze
Ming dynasty. In the collection of the Palace Museum
Blue-and-white Cricket Pot with the Design of Dragon among Clouds Ming dynasty. In the collection of the Palace Museum
Polychrome Cricket Jar with Waves and Dragon-among-Clouds DesignMing dynasty. In the collection of the Palace Museum
Sources:
http://www.ihchina.cn
贵州省文化和旅游厅
吉林省文化和旅游厅
广西壮族自治区文化和旅游厅
福建省文化和旅游厅
浙江省文化和旅游厅
海南省旅游和文化广电体育厅
故宫博物院
中国美术馆
---
Facebook: China Cultural Center in Stockholm
https://www.facebook.com/China-Cultural-Center-in-Stockholm-110983273921638
https://www.tiktok.com/@cccinstockholm
Wechat: 斯德哥尔摩中国文化中心 or scan the QR code below