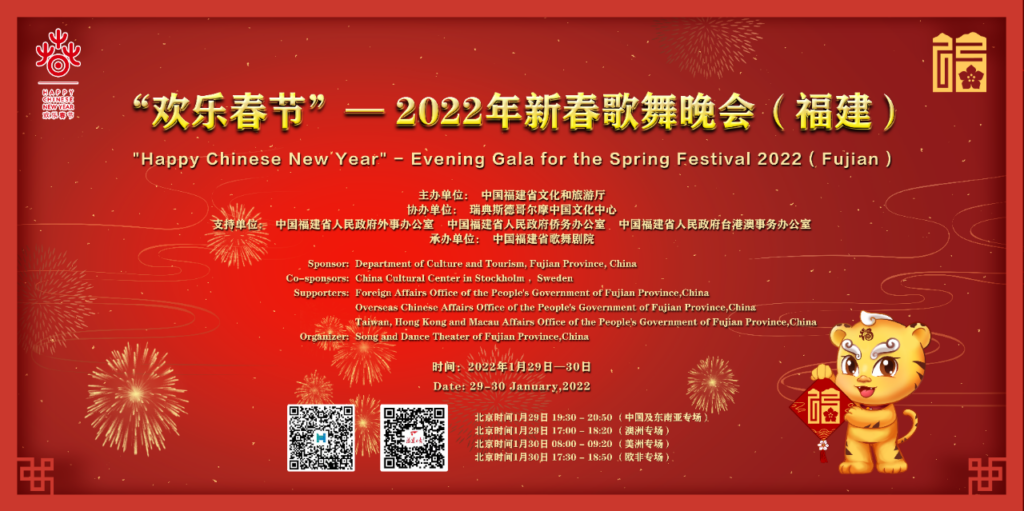 As we usher in the Year of the Tiger, China Cultural Center in Stockholm cooperates with Fujian Provincial Department of Culture and Tourism to present local Chinese and Swedish friends a splendid "Happy Chinese New Year" – Evening Gala for the Spring Festival 2022 (Fujian) highlighting unique features of Fujian province.
The gala selected art performances such as singing and dancing, instrumental music, acrobatics, opera and puppetry, presenting a wonderful feast to welcome spring and share joy. The grand dance Good Luck to Guests from All over the World kicked off the party. The beautiful melody is incorporated with Chinese martial arts elements, leading the audience into a festive atmosphere of the New Year; Nanyin along the Maritime Silk Road skillfully blends Nanyin with symphony, Liyuan Opera and ballet, showing the unique charm of the world cultural heritage; the dances Historic Charms of Ancient Residences and Tea Aromas and Butterfly Dance, which are brimming with regional characteristics of Fujian, make people indulge in the white walls, black tiles, green mountains and blue waters of the blessed land, highlighting the unique local brands of "Refreshing Fujian" and "Come to Where Fortune Smiles, Fujian Province"; Honors of Ice and Snow sings our enthusiasm for fulfilling dreams in the Winter Olympics; the Fujian puppet show Happy and Boisterous Spring Festival, the drama Real vs Fake Monkey King, the acrobatics Happy and Exalted Mood and other wonderful programs also await you, demonstrating the diverse, open and inclusive Fujian culture and conveying blessings for a vigorous and roaring Year of the Tiger.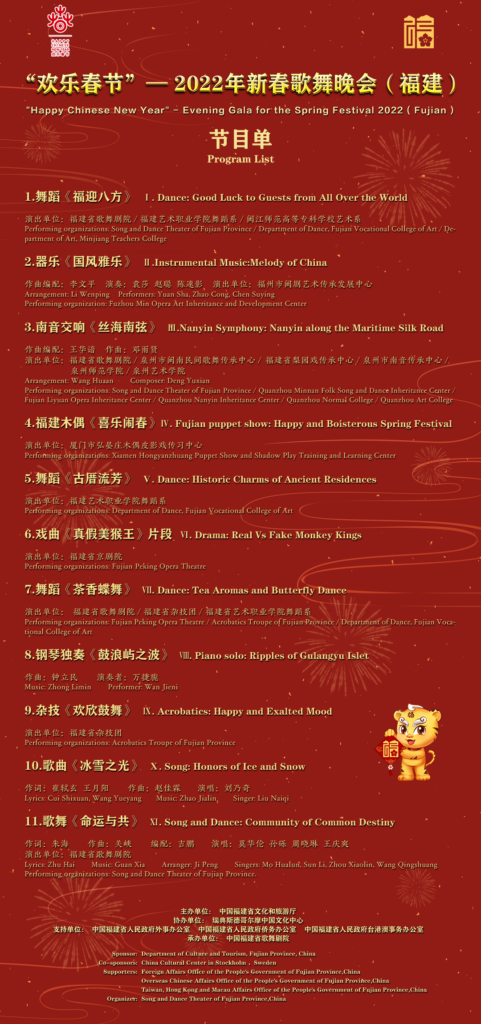 Happy Chinese New Year – Evening Gala for the Spring Festival 2022 (Fujian)
The show will also be streamed live online from 10:30 to 11:50 on January 30. Please scan the following QR codes.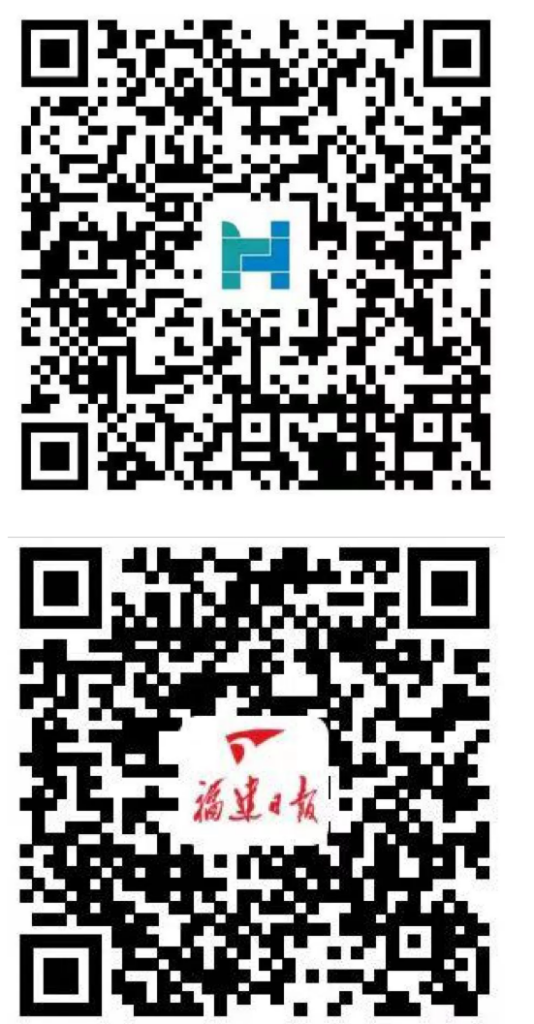 ---
Facebook: China Cultural Center in Stockholm
https://www.facebook.com/China-Cultural-Center-in-Stockholm-110983273921638
Instagram: chinaculturalcenterinstockholm
https://www.instagram.com/chinaculturalcenterinstockholm/
Youtube: China Cultural Center in Stockholm
https://www.youtube.com/channel/UCYqOYwuQtyTHC-iMNdfExsw
Tik Tok: cccinstockholm
https://www.tiktok.com/@cccinstockholm
地址/Address:
Västra Trädgårdsgatan 2, Stockholm