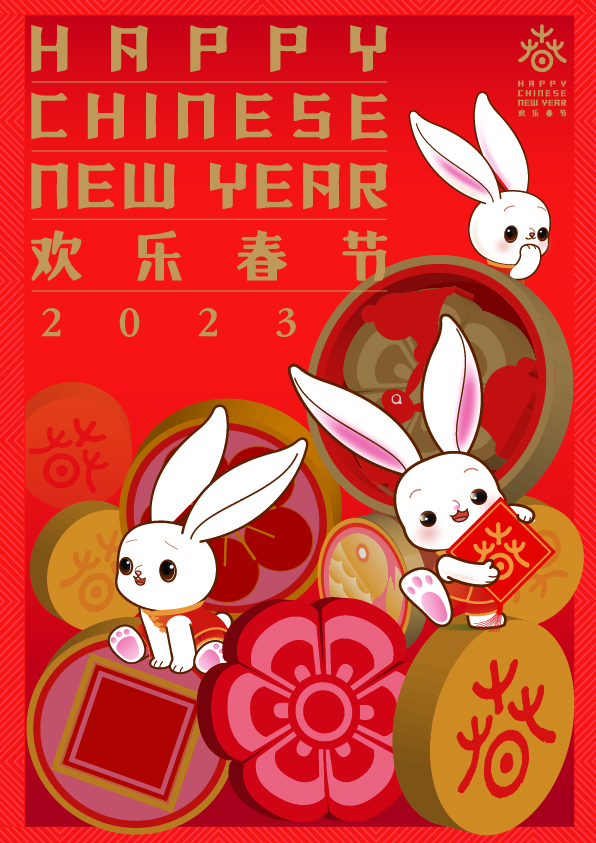 On January 14th, China Cultural Center in Stockholm was lit up by lanterns and the presence of guests as the "2023 Happy Chinese New Year" celebration kicked off. His Excellency Mr. Cui Aimin, Ambassador of China in Sweden, Madam Li Lihong, Dr. Chen Xiao, Cultural Counselor and Director of China Cultural Center in Stockholm, Ms. Nina Balabina, Founder of Lilla Akademien and around 150 representatives from Swedish cultural and art circles, academies and local Chinese communities in Sweden attended the event.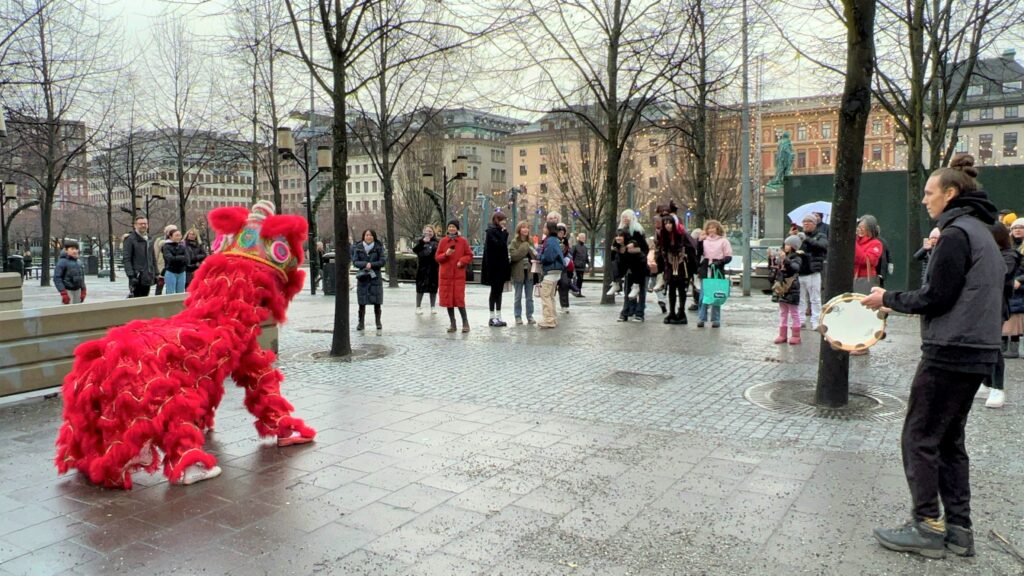 After the lion dance, accompanied by festive gongs and drums to greet the guests outside the Center, "2023 Happy Chinese New Year" event kicked off with the video clip Happy Chinese New Year in Inner Mongolia.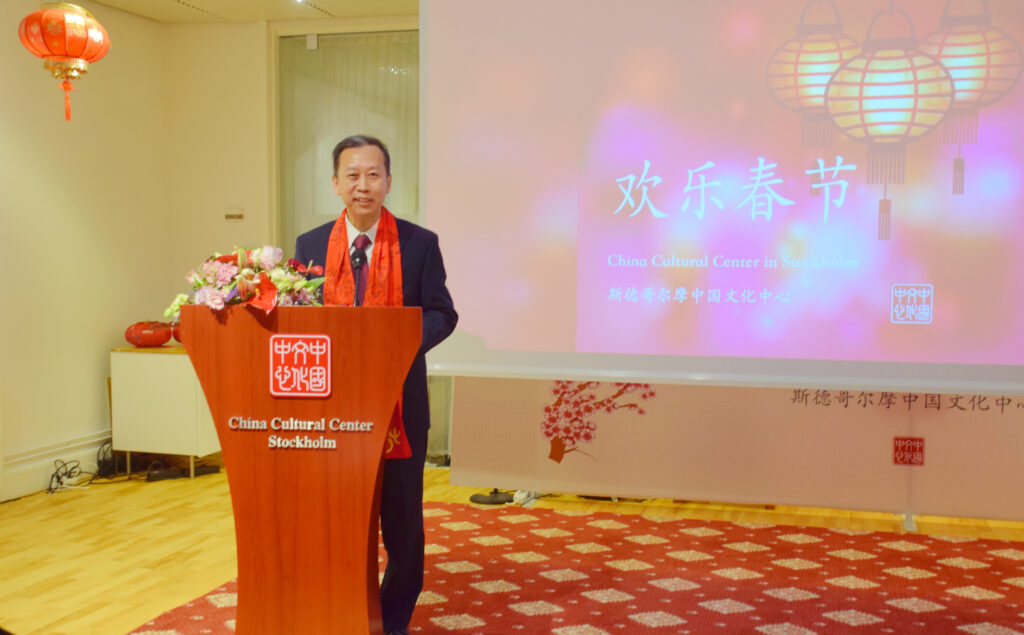 Ambassador Cui pointed out in his speech that 2023 marks the 20th consecutive year of "Happy Chinese New Year" in Sweden. Over the past two decades, the Chinese and Swedish people have met, known and cherished each other through Happy Chinese New Year activities, and the Chinese culture and Swedish culture appreciate and learn from each other on this platform, fully reflecting their strong inclusiveness and openness.
Ambassador Cui introduced that the essence of Chinese Spring Festival culture is "the unity of man and nature", which embodies the culture of harmonious coexistence between all people and between human and nature. Therefore, we believe that all countries in the world should respect the diversity of civilizations, overcome cultural misunderstanding, clash and supremacy through exchanges, mutual learning and coexistence, so as to jointly respond to various global challenges and build a community with a shared future for mankind.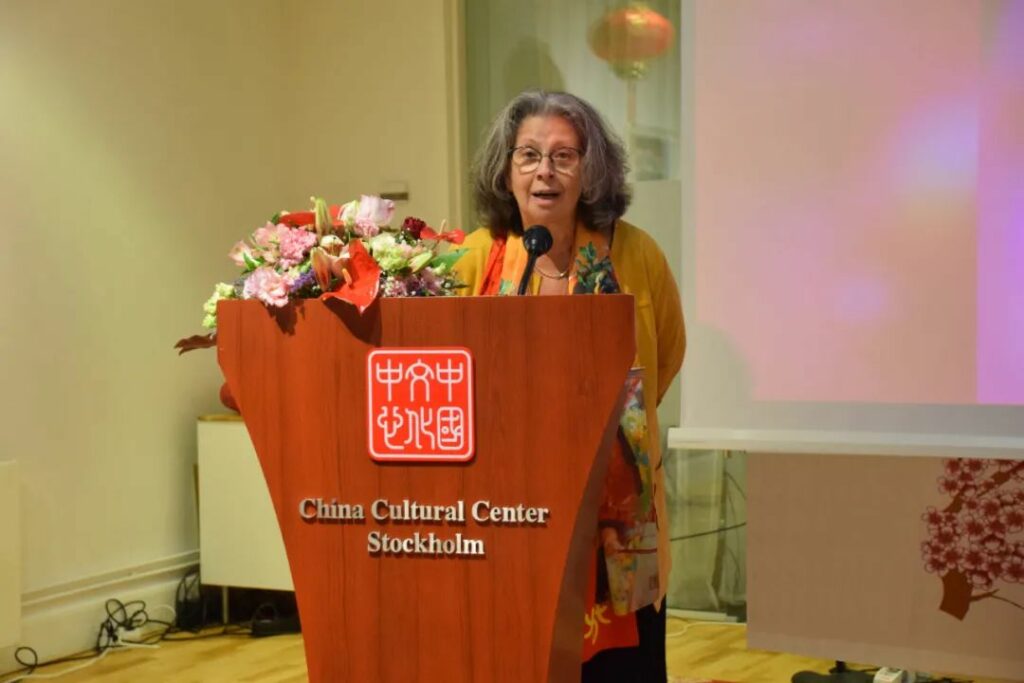 Ms. Nina Balabina said that music is the universal language of all mankind with the power to directly influence the soul and transcend national boundaries. Over the years, Lilla Akademien has forged long-lasting friendship with the Embassy of China in Sweden and China Cultural Center in Stockholm. She hopes to take students to visit China again in the near future, and initiate widespread exchanges with Chinese artists and art educators.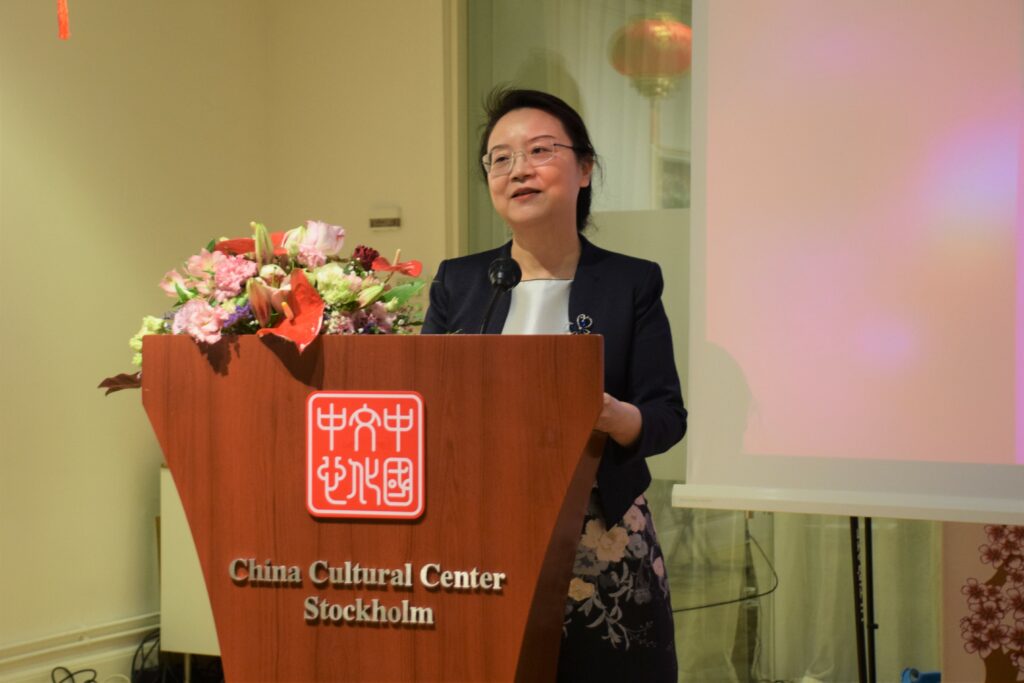 Director Chen Xiao stated that celebrating the 20th "Happy Chinese New Year" with all the guests is a joyful occasion. China Cultural Center in Stockholm was established in 2016, and has held nearly 200 online and offline cultural events in the past 4 years, in which Chinese and Swedish cultures have engaged in mutual learning and appreciation, while upholding the beauty and the diversity of each country. She wished everyone a prosperous and auspicious new year and expressed her gratitude to all the guests and friends for their continuous support over the years.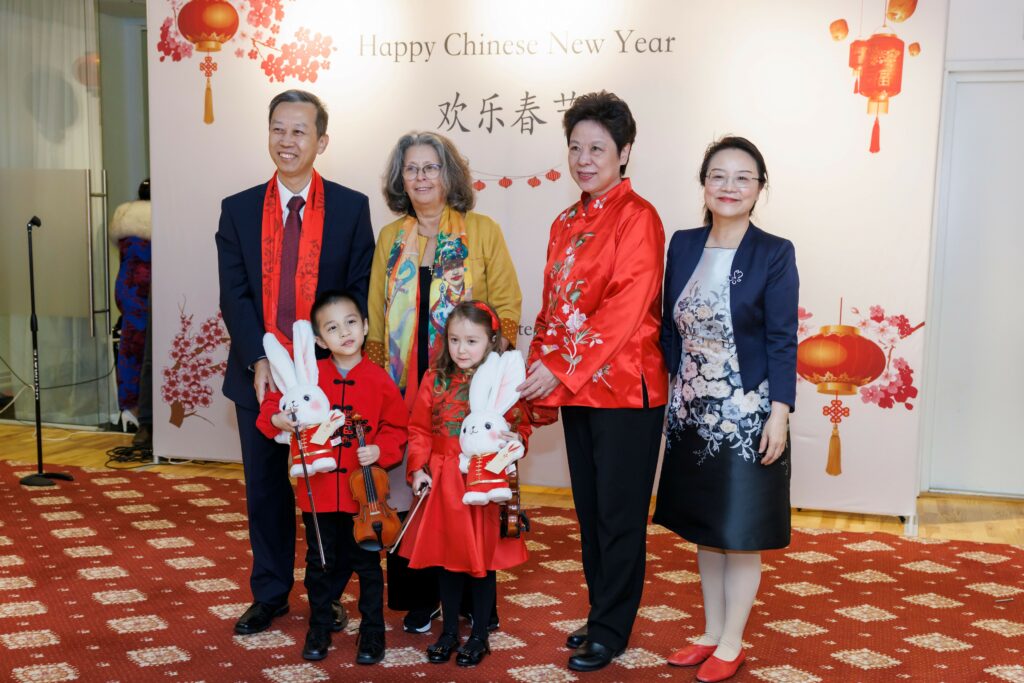 To consolidate the friendshiop with Lilla Akademien, Ambassador Cui offered a tiger kite from Weifang to Ms. Balabina as a gift. She said that she would display it in the school museum so more students could learn about this beautiful artwork from China.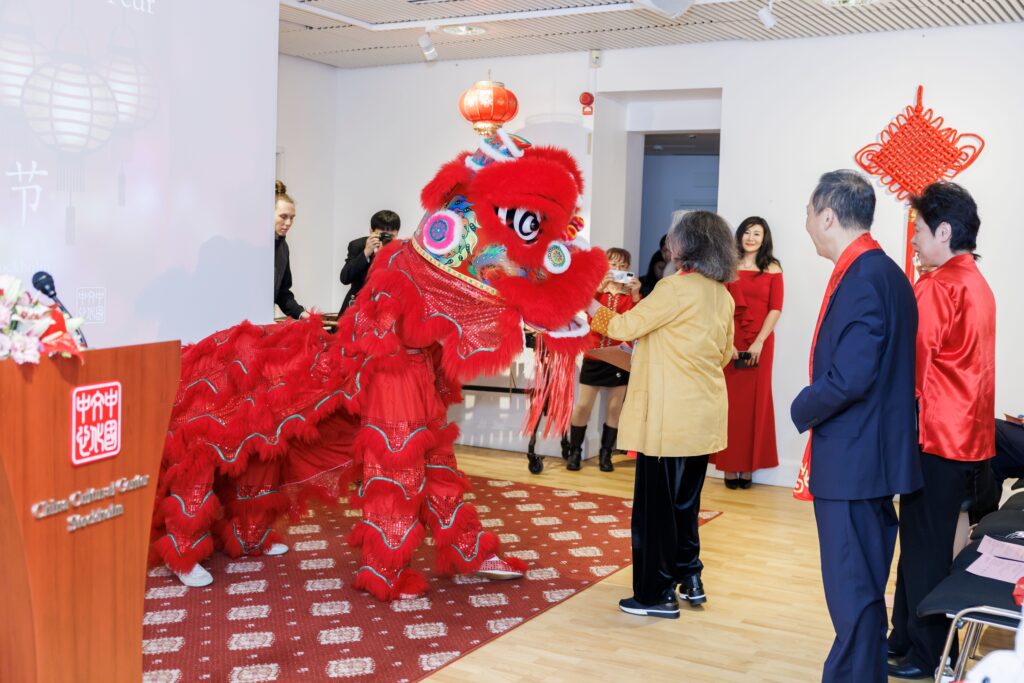 Lion dance performers: Timothy Pilotti 天木,Tomio Araki,Benjamin Black
The celebration culminated in a fantastic performance integrating Chinese and Swedish cultural elements. Performers from China and Sweden dazzled the audience with resonant or melodic singing and beautiful tunes of Eastern and Western musical instruments, expressing their good wishes for the new year and coming spring. The audience were immersed in the enchanting melodies and gave rounds of warm applause.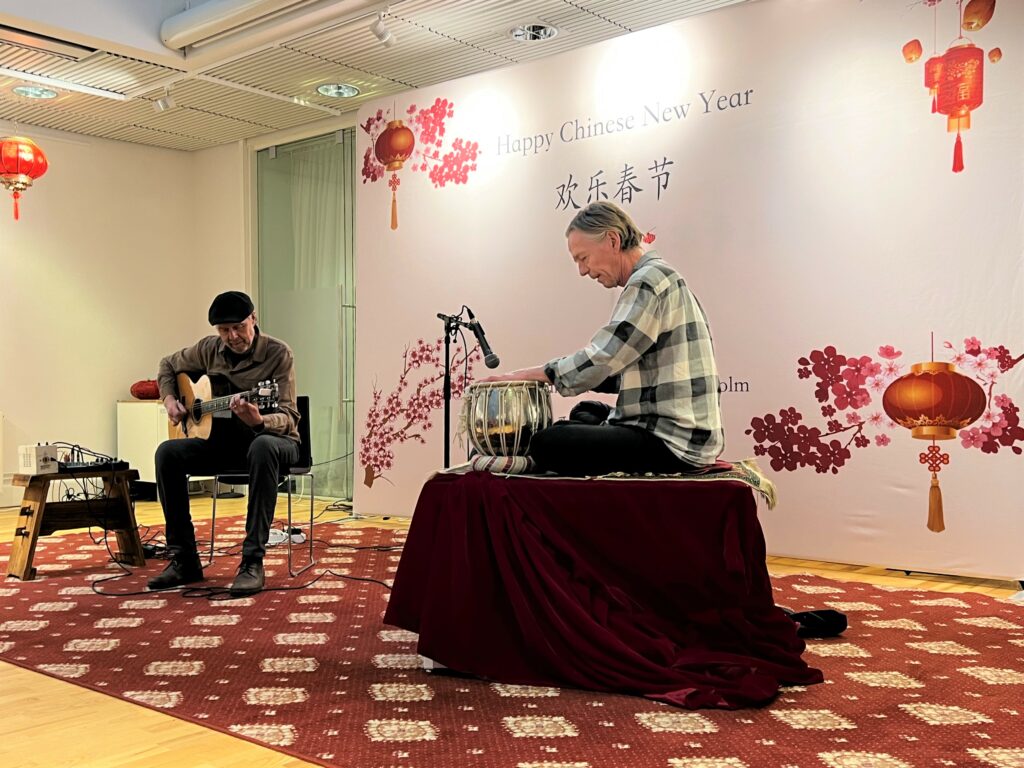 Performers:Mikkel Nordsø(guitar),Ole Theill (tablas)
《Mellow Day》composed by Nordsø
《Life Flow》composed by Theill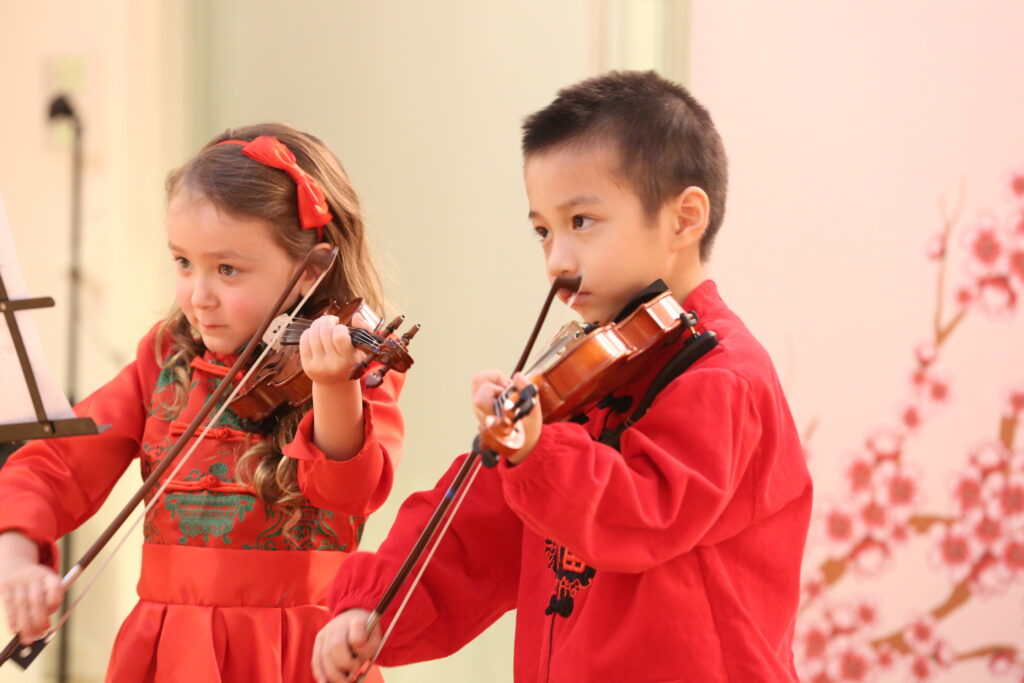 Performers: Eleanor Hörnquist, Oliver Ding Gong (Lilla Akademin)
Violin Duet: Jasmine Flower 《茉莉花》
Violin Solo: March, Gavott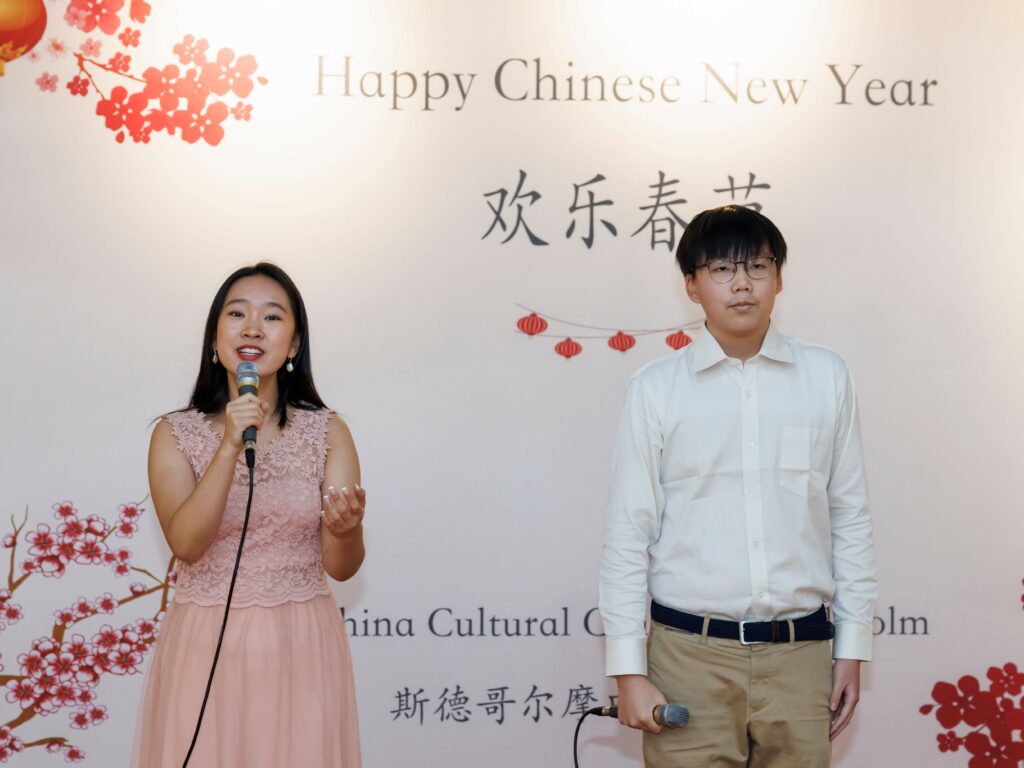 Performers: Zhao Xinhui, Zhou Yiming
Duet Song: Eternal Land 《万疆》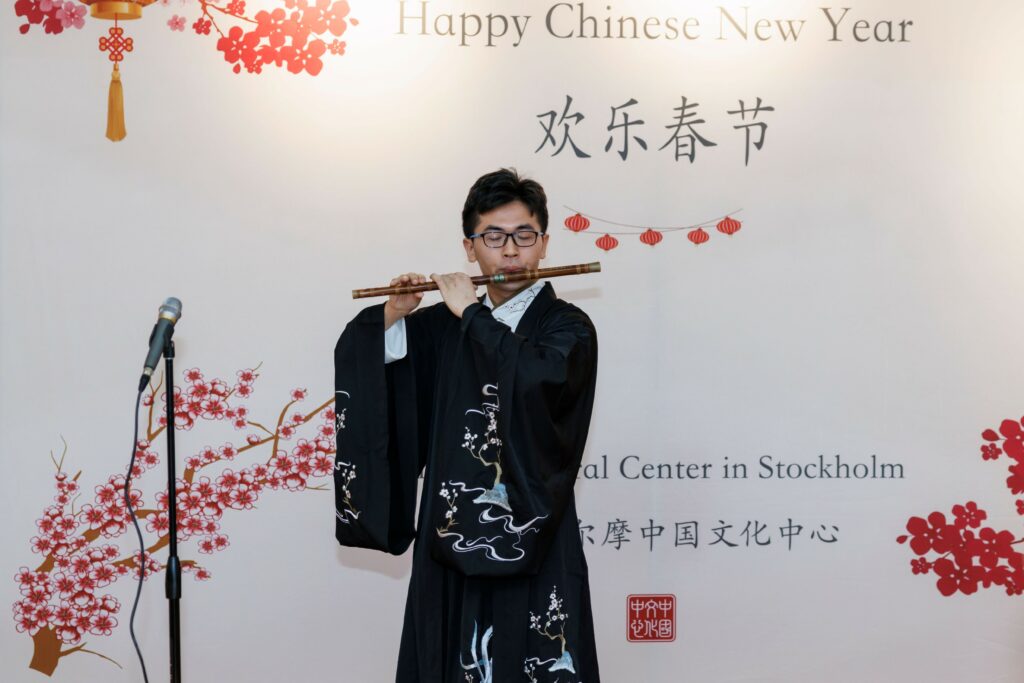 Performer: Xia Jing (Chinese Bamboo Flute, Dizi)
Solo: Spring Comes to Xiangjiang River 《春到湘江》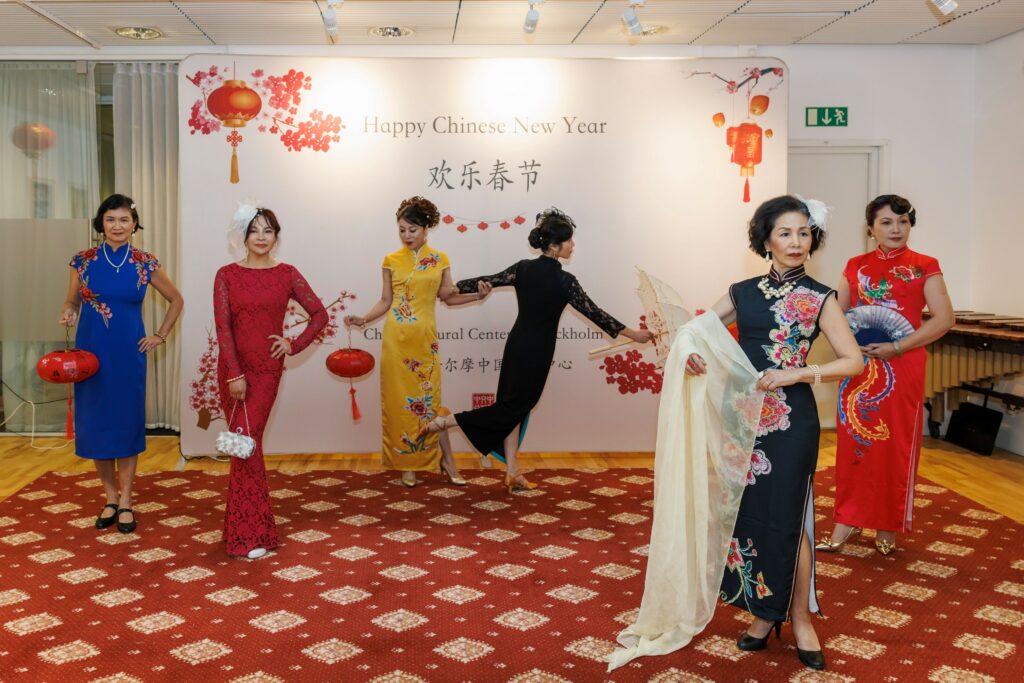 Qipao Show
Performers: Chinese Qipao Team in Stockholm – Zhou Hong, Kuang Xiaoyan, Zhang Yumei, Li Ying, Sun Yali, Yang Ping

Marimba Solo:《Czardas》 Composer: Vittorio Monti
Performer: Maksimiljan Savnik (Lilla Akademin)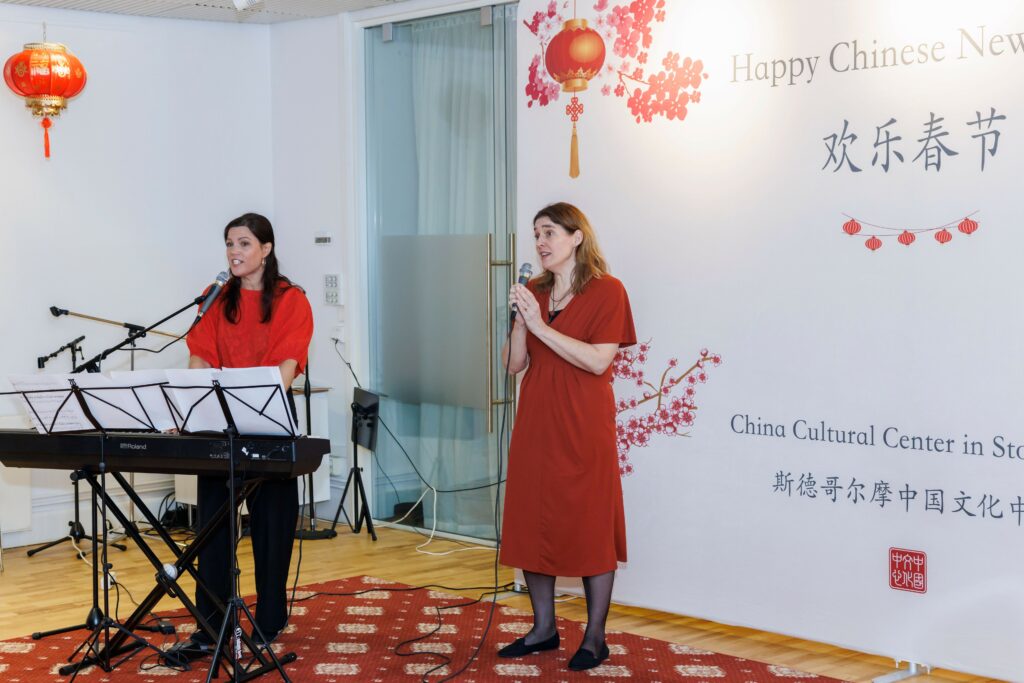 Performers: Anna Smedendahl Rosén, Camilla Walles Malinowsky
Duet Song and Piano
《Morning Has Broken》By Eleanor Farjeon
《Fri som en fågel》Composer: Georg Riedel; Lyrics: Christina Lövestam
Performers: Ictus Chamber Music Ensemble in Sweden – Anders Delin (Guitar), Rebecca Courtar (song)  Diana Parhizgar (violin), Yan Shuang Lindblom (piano)
Four Seasons – Ensemble of musical instruments and vocals
Spring: 《Spring Festival Overture》 (Composer: Li Huanzhi )
Summer and Autumn: 《Make You Feel My Love》
Winter: 《Journey to the West Theme Song》 – Yungong Xunyin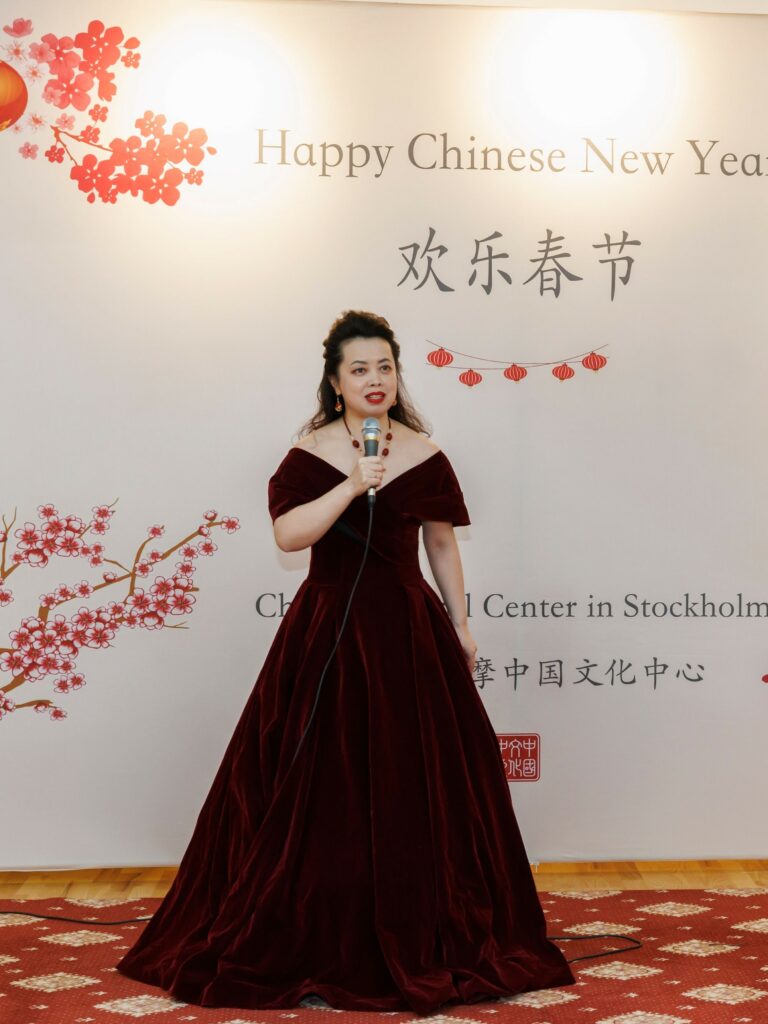 Performer: Yang Xiaoyin
Female Solo Song: 《Spring Breeze Across a Hundred-Thousand Miles》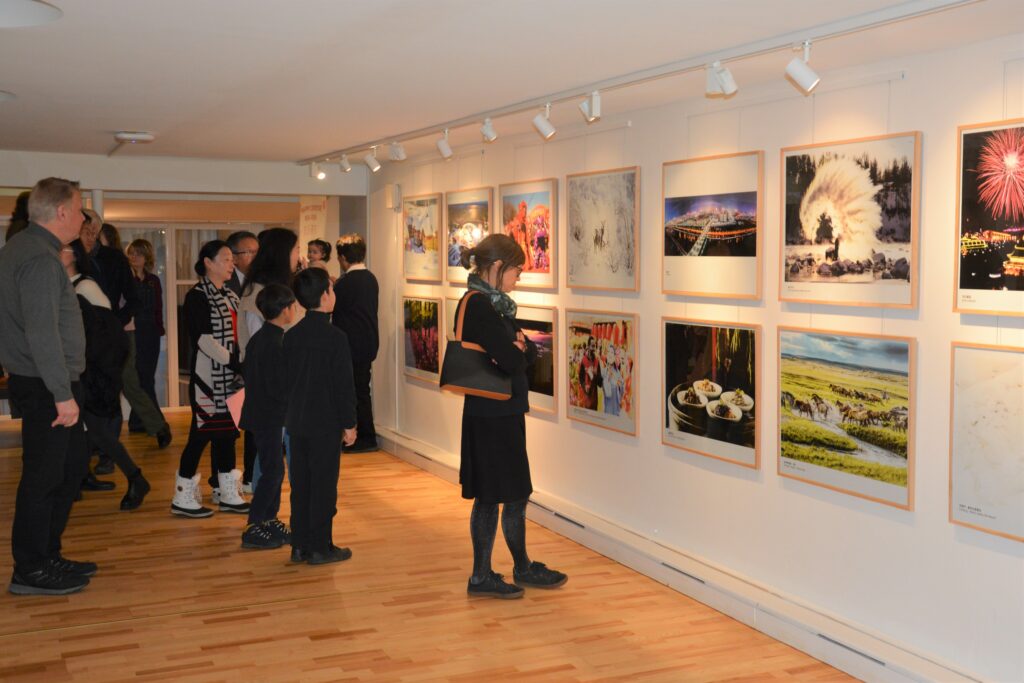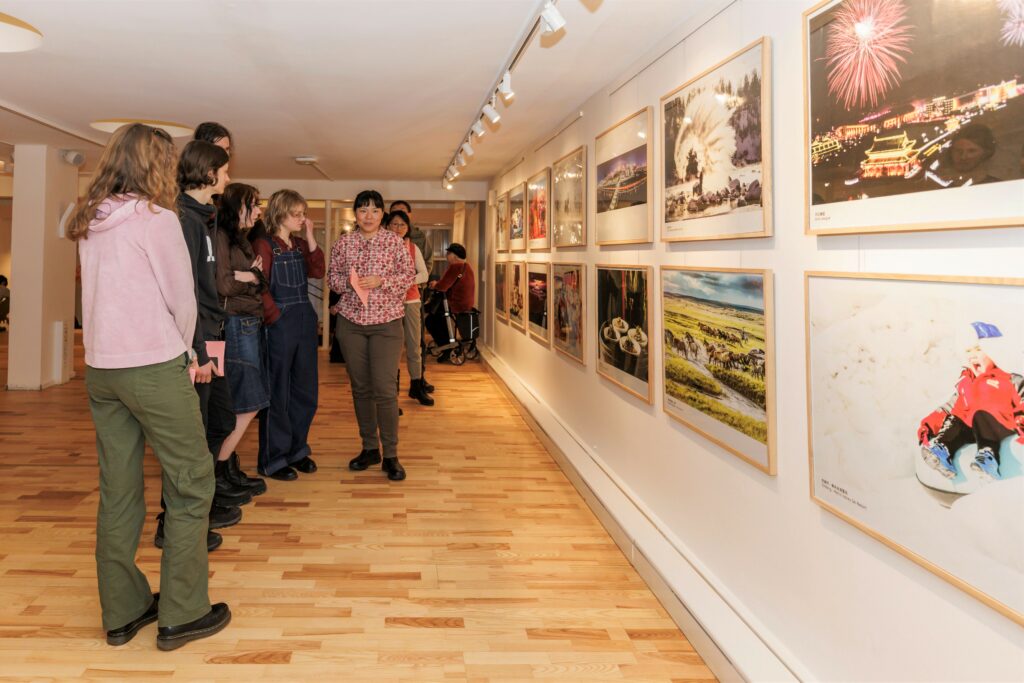 After the performance, the guests continued to watch the "Happy Chinese New Year in Inner Mongolia" photo exhibition. A series of exquisite pictures brought people to Inner Mongolia, which has a vast territory and colorful folk customs. The forest and snow field made the Swedish guests feel at home, while the snow-covered desert, nomadic fishing and hunting, milk wine and local cuisines are both novel and intriguing.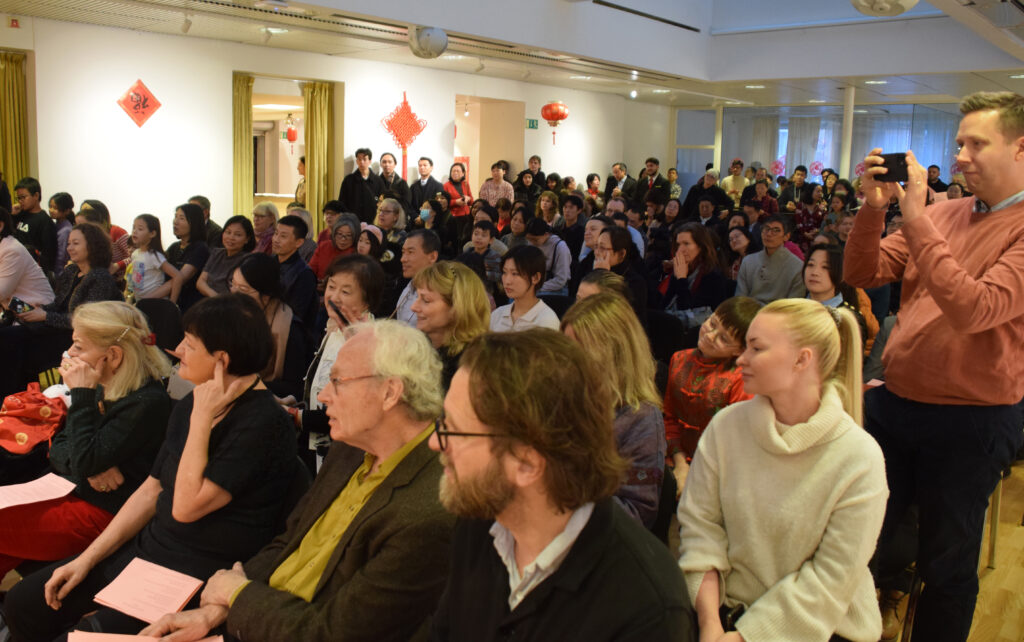 After tasting the sweet, crispy and delicious Chinese snacks, the guests were pleasantly surprised with the gifts of bunny toys of the Year of the Rabbit or Happy Chinese New Year T-shirts.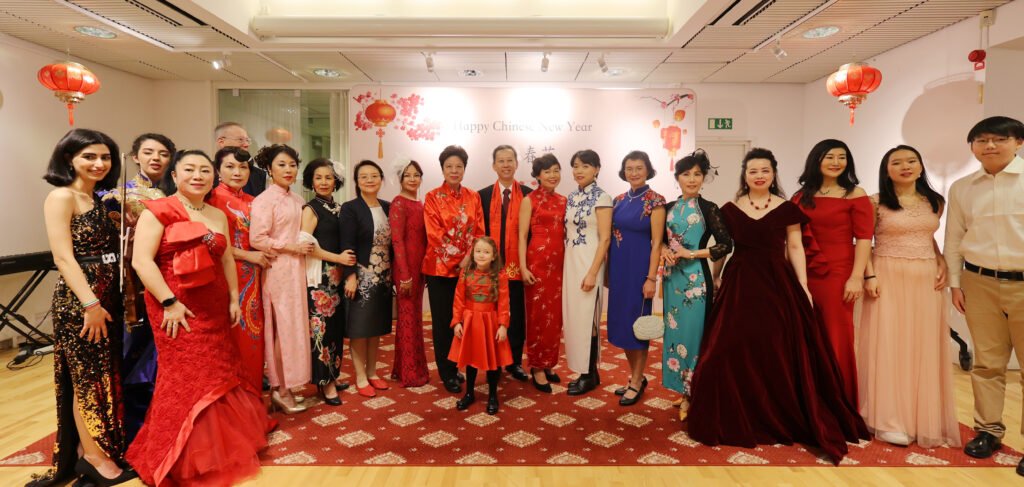 Shortly before the event, the Center had shared a live stream link of 2023 "Happy Chinese New Year" launch ceremony and "Harmony and Shared Future" Concert on various online platforms. A wide variety of online projects will be released during the Spring Festival until the Lantern Festival on February 5, including "Intangible Cultural Heritage of Xinjiang", "A Taste of China, Journey of Ningxia Cuisine", "Celebrating a Happy New Year in Sichuan", "Qin Era's Bright Moon and Border-pass Stay the Same – Picture Exhibition of the Landscape along the Silk Road", "Landscape of Northern Shaanxi and West of Gansu along the Silk Road Showcased Online".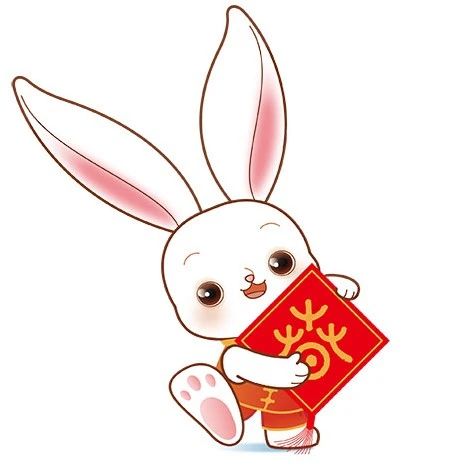 China Cultural Center in Stockholm
Facebook: China Cultural Center in Stockholm
https://www.facebook.com/China-Cultural-Center-in-Stockholm-110983273921638
Instagram: chinaculturalcenterinstockholm
https://www.instagram.com/chinaculturalcenterinstockholm/
YouTube: China Cultural Center in Stockholm
https://www.youtube.com/channel/UCYqOYwuQtyTHC-iMNdfExsw
Tik Tok: cccinstockholm
https://www.tiktok.com/@cccinstockholm
Twitter: CCCinStockholm