Peking Opera is the quintessence of China. Today, Peking Opera has a wide influence and global popularity. In Sweden, there is a 35-year-old theater actor named Timothy Pilotti who is in love with Peking Opera. He also goes by Tiammu, an easy-to-remember Chinese name. From his 20s to the present, he has been a fan of the martial arts in Peking Opera.
Swedish theater actor Tianmu: My name is Tianmu, and I am (currently) playing Liu Lihua, a Wuchou role (combining comedy with martial arts) in "Sanchakou".
The name Tianmu was given to him by his Chinese teacher, because the two characters are easy to write and catchy for foreigners.
Swedish theater actor Tianmu: I studied acting at a Finnish university. During the third year in school, each student had to go to another country to study one of their traditional operas. I knew that Jackie Chan studied Chinese Opera (Peking Opera), so I told my teacher that I wanted to go to China to study Peking Opera.
Swedish theater actor Tianmu: There is a saying in China: "one minute on stage takes ten years of practice off stage". It has become my guideline, and I will not stop practicing throughout my life. My Chinese teacher helped me a lot. If my teacher hadn´t been so strict, I wouldn't be able to acquire what I've known about Peking Opera and performance.
In 2017, Tianmu participated in the Chinese Opera Culture Week.
Swedish theater actor Tianmu: This move of hopping over the other bent leg (tie men kan) – I could do 21 times when I was young (in Beijing). My teacher told me to jump onto the chair, stand on one leg, lift the other ankle to the knee and hop over the bent leg. It was so difficult that it took me two or three months to do it. My performances at the National Academy of Chinese Theatre Arts attracted many students to watch.
After returning to Sweden from China, Tianmu often participated in performances organized by local Chinese communities in Sweden, where he met his wife. He said it is the opera that brought them together.
Swedish theater actor Tianmu: (If I) hadn't gone to the National Academy of Chinese Theatre Arts, I might not be able to speak Chinese, I wouldn't know much about traditional Chinese culture, and I wouldn´t meet my wife.
Now Tianmu is a theater director, an actor, and a theater teacher. He said that Peking Opera has really developed his potential as an actor.
Swedish Peking Opera actor Tianmu: The stage of Peking Opera is fairly simple. As long as there are actors, a table and a chair, you can start the performance, doing all kinds of moves and letting the story unfold. I think Peking Opera is fascinating, because it really develops the actors to their full potential. For me, Peking Opera and other Chinese classical operas are one of the most interesting parts of Chinese culture, which also makes me more interested in other parts of Chinese culture.
Nowadays, Tianmu also incorporates elements of Peking Opera into his own works.
Swedish Peking Opera actor Tianmu: Peking Opera has taught me a lot. The special movements, music and martial arts in Peking Opera are also very helpful in my acting career in Sweden. I can use a Peking Opera movement in each play to add some flavor to it.
When a traditional Chinese festival arrives, Tianmu would write, direct and act in a small play. In 2021, China Cultural Center in Stockholm invited him to participate in the "Mid-Autumn Festival: A Moonmoment to Remember" online celebration. He created a Peking Opera martial arts movie The Last Mooncake adapted from a famous Peking Opera story, in which he performed acrobatic moves in front of the Royal Palace of Stockholm, Stockholm City Hall, Royal Opera House and other landmarks. In 2022, he was again invited to perform in 2022 China-Sweden Happy Chinese New Year Online Gala. With the theme of lion dance, he made the mini movie My Little Lion: A Story About Chinese New Year to tell a sweet story of growth and companionship.
Swedish theater actor Tianmu: It was adapted from two Peking operas Sanchakou and Stopping the Horse. The story is simple but with cool movements and eye appeal. I think many foreigners can understand it.
Tianmu also adapted plays based on Chinese myths, legends and characters such as Jingwei Filling the Sea and the Monkey King for Swedish children, so that more Swedish children can understand Chinese culture.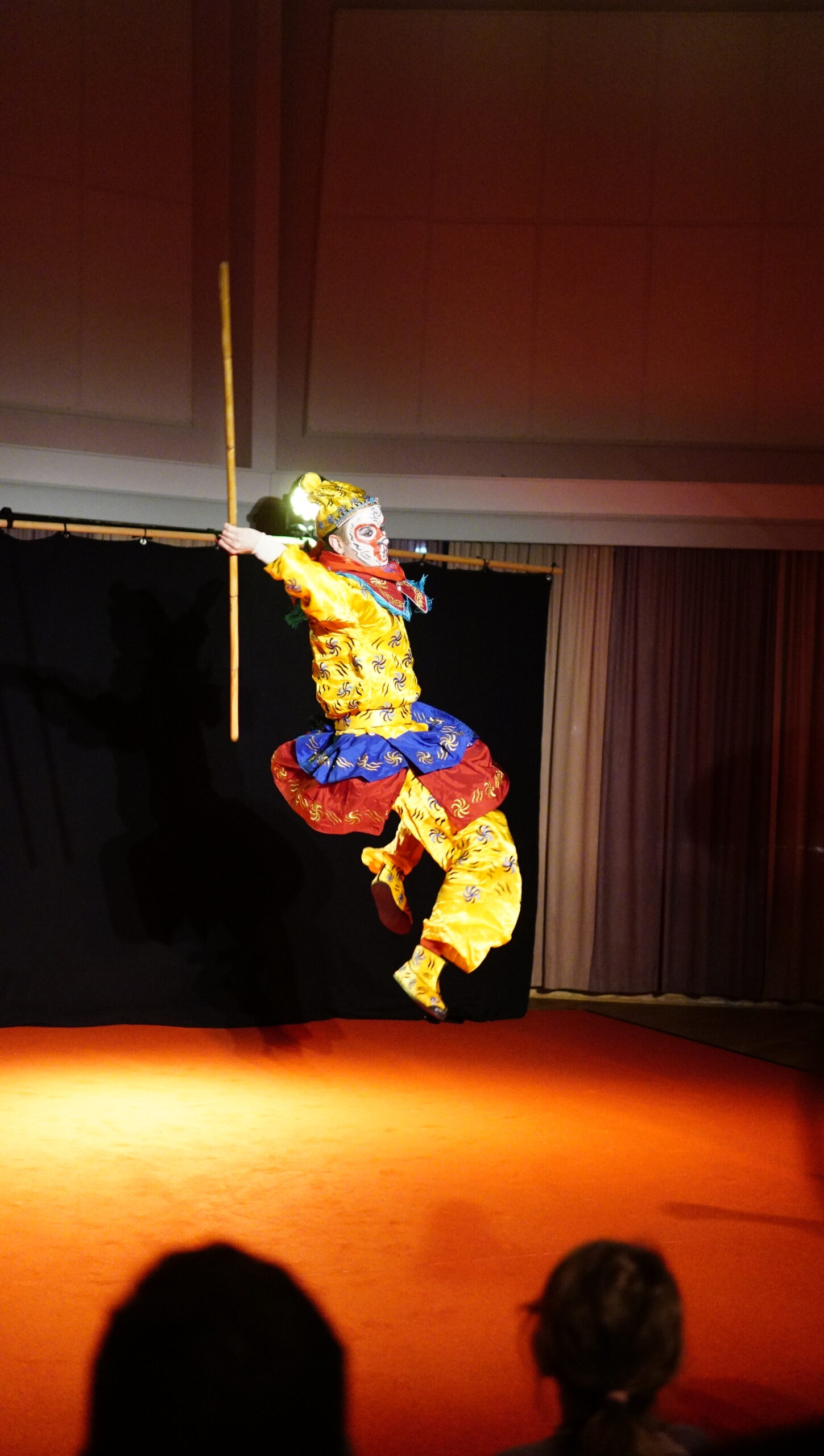 Swedish theater actor Tianmu: Sun Wukong (The Monkey King) is such a popular character in China that all children know who he is, so I wanted to make a play to introduce the story of the Monkey King, his role and the movements in Chinese opera to Swedish children. In this play I can speak both Swedish and Chinese, and the children were certainly intrigued. I asked if they can try to say my name, and they all learned to say, "Sun Wukong, Sun Wukong".
Swedish theater actor Tianmu: I think Peking Opera has great influence in Chinese society, because as a form of classical opera, it inherits traditional Chinese art and shows what people were like a long time ago. These ancient heroes depicted in Peking Opera are also displayed on stage. I think this is a brilliant way of education, I learned the saying that "everyone is responsible for the rise and fall of the world."
"Spreading Chinese culture is my favorite job", says Tianmu. He hopes that more Swedes love Chinese culture as much as he does.
Swedish theater actor Tianmu: My dream is to make a big play with Peking Opera troupes and Swedish actors. I love Chinese traditions, and I think all Swedes can learn about traditional Chinese culture. I wish you a healthy and auspicious Year of the Rabbit. Gong Xi Fa Cai!
Republished from cctv.com
---
Facebook: China Cultural Center in Stockholm
https://www.facebook.com/China-Cultural-Center-in-Stockholm-110983273921638
Instagram: chinaculturalcenterinstockholm
https://www.instagram.com/chinaculturalcenterinstockholm/
YouTube: China Cultural Center in Stockholm
https://www.youtube.com/channel/UCYqOYwuQtyTHC-iMNdfExsw
Tik Tok: cccinstockholm
https://www.tiktok.com/@cccinstockholm
Twitter: CCCinStockholm
https://twitter.com/CCCinStockholm
地址:
Västra Trädgårdsgatan 2, Stockholm