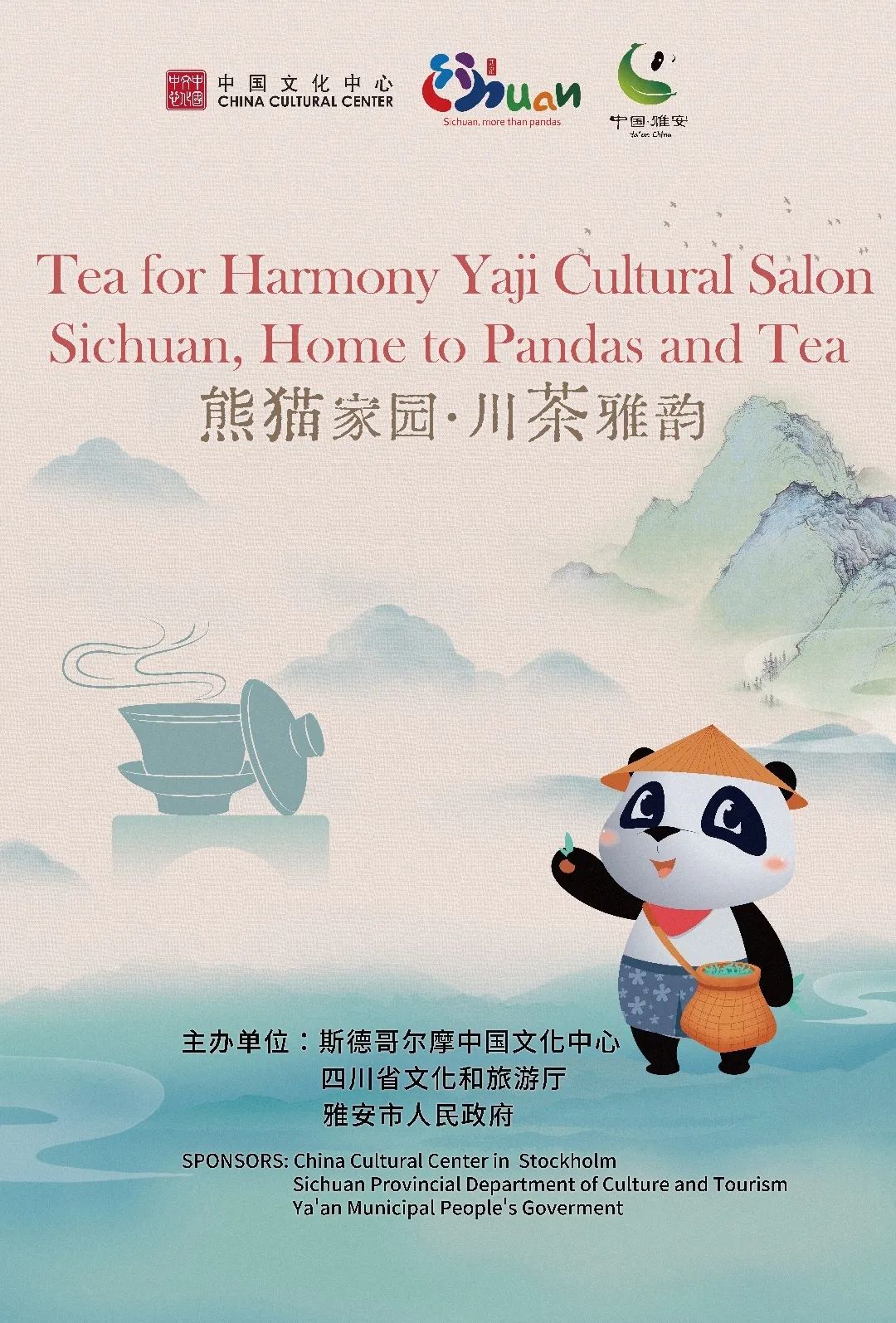 On 7 May, Ambassador Cui Aimin attended the Tea for Harmony Yaji Cultural Salon in China Cultural Center in Stockholm and delivered a speech. The full text of the speech is as follows:
Distinguished Ms. Susanne Andersson, CEO of Visit Sweden, Distinguished Ms. Song Qiu, Deputy Director-General of the Department of Culture and Tourism of Sichuan Province, Distinguished Mr. Zheng Huyong, Vice Mayor of Ya'an, Sichuan Province, Guests and friends,
Good afternoon!
Spring arrives in Sweden in May. The warm sunshine brings everything back to life. Today, the China Cultural Center in Stockholm and the Department of Culture and Tourism of Sichuan Province are jointly hosting the event of Tea for Harmony Yaji Cultural Salon, which gathers friends from all walks of life for an afternoon of tea tasting, art enjoyment and scenery appreciation. The guests will be provided with an opportunity to immerse themselves in the natural beauty and cultural richness of Sichuan Province, which is creative, unique and enjoyable.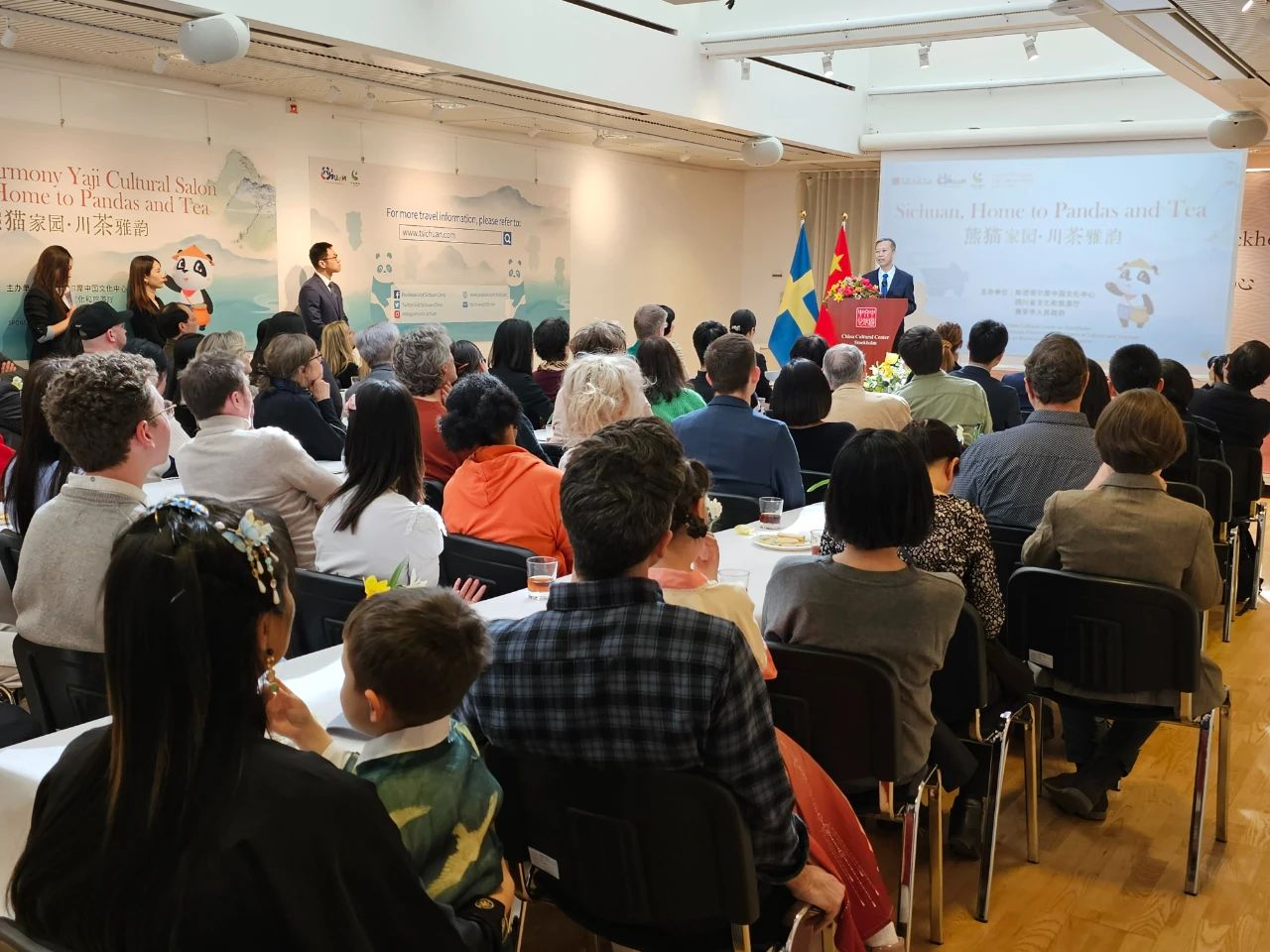 China is the birth place of tea. Tea is used as medicine and food. It has over 4000 years of history. Over 1400 years ago in the Tang Dynasty, it became a popular drink for the people. Nowadays, there is a rich variety of Chinese tea and ways of tea-making. Different regions and ethnic groups have formed different ways of tea-drinking and traditions. In 2022, China's traditional tea processing techniques and associated social practices were incorporated into the UNESCO Intangible Cultural Heritage of Humanity, becoming part of the valuable asset shared by the whole humanity.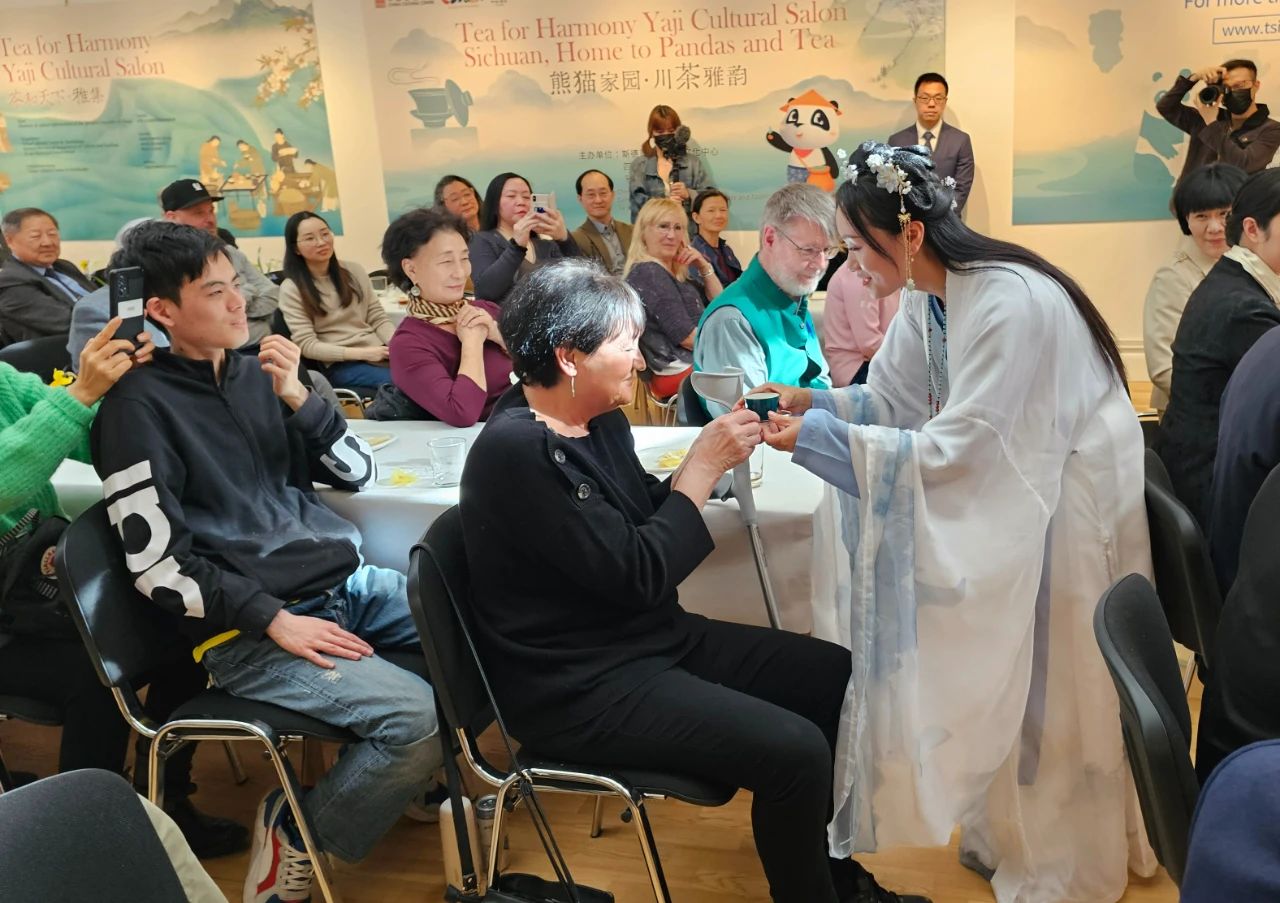 Tea is a part of the Chinese people's life. As Chinese people often say, "the seven basic necessities of daily life for a typical Chinese person are: firewood, rice, oil, salt, sauce, vinegar, and tea". Not only is tea a daily necessity, it is also a habit and lifestyle. Tea plays an important ceremonial role in building relations, socializing, showing hospitality and celebrations, forming a rich tea culture of tea traditions, tea performance, tea food and tea appreciation. Tea has become a common means through which people tell stories and express emotions. They put their aspirations, friendships and dedication to the country into their works of literature, painting and music, and passed on many brilliant works and touching stories.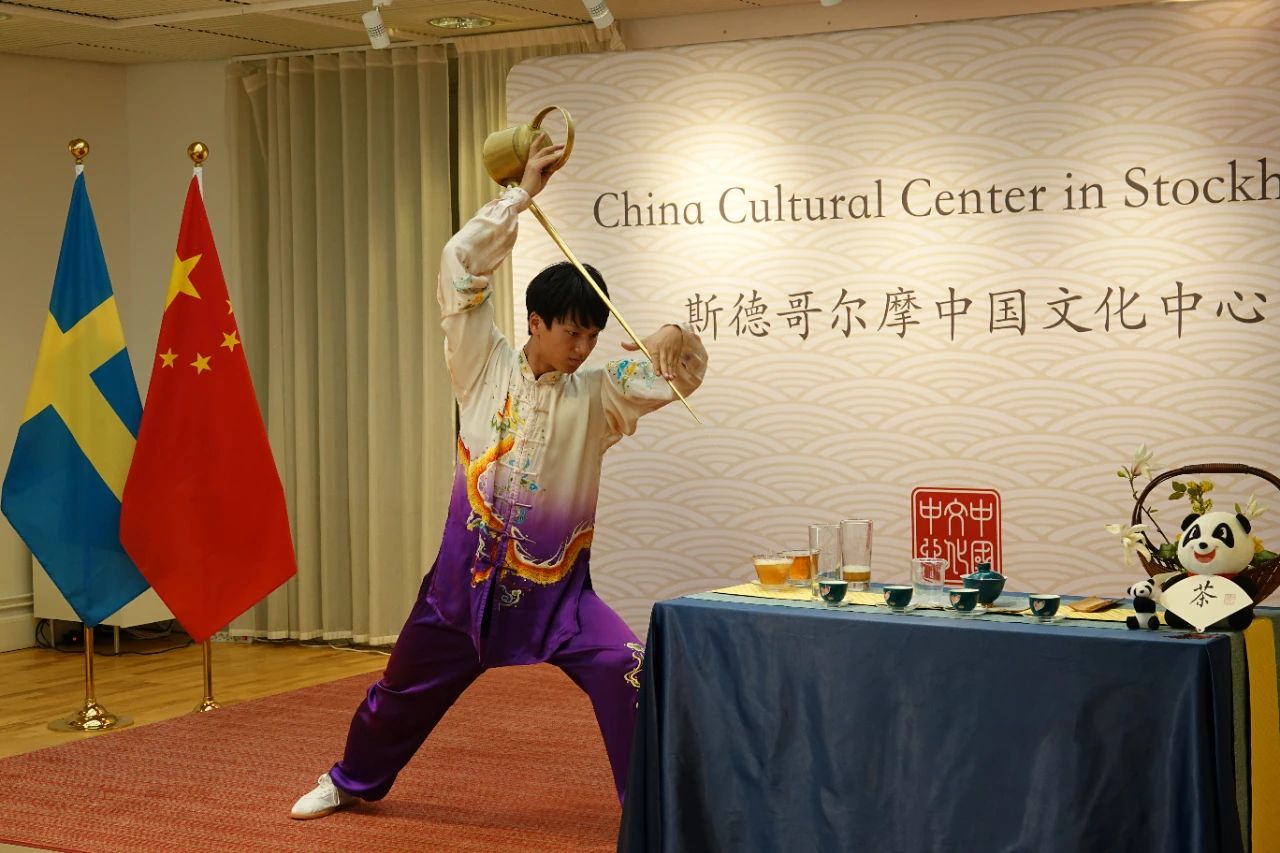 Tea is the spiritual symbol of the Chinese nation. The Chinese character of "tea" is composed of "grass", "people" and "wood", and in the character "people" is between "grass" and "trees". It reflects the close connection between people and nature. Tea, water, fire, utensils are the elements of tea tasting. Combined with different occasions and environments, they reflect the harmony between human and nature. The core of Chinese tea culture is the tea ceremony, which emphasizes "harmony, tranquility, joy and genuineness". The soul of Chinese tea ceremony is "harmony", which means openness and inclusiveness, moderation and harmony between man and nature. It can be said that Chinese tea culture contains the common values and moral norms of the Chinese nation. Today, the Chinese people pay more attention to the health benefits, pleasure, and cultural functions associated with drinking tea, and give tea more connotations such as health improvement, character-cultivation and fostering relations. A variety of tea, together with food, cultural products and tea-themed performances or travel experiences, has become a sought-after fashion item. In this new era, the tea culture is glowing with vigor and vitality that has become stronger and stronger over time.
Tea is the link and bridge connecting China and the world. Since more than 2000 years ago, tea has been an important commodity in China's trade with other countries. Through the Silk Road, the Ten Thousand Miles Tea Route and the Tea Horse Road, accompanied by the sound of camel bells, Chinese tea traveled to and took root in various parts of the world, and became part of the local life, forming a rich and diverse tea culture of the world. Tea is now produced in more than 60 countries and regions. Nearly three billion people from over 160 countries and regions drink tea. Tea, coffee, and cocoa have become the world's three major non-alcoholic beverages. Tea is a precious gift from China to the world. With its rich material and cultural value, it promotes exchanges and mutual learning among human civilizations.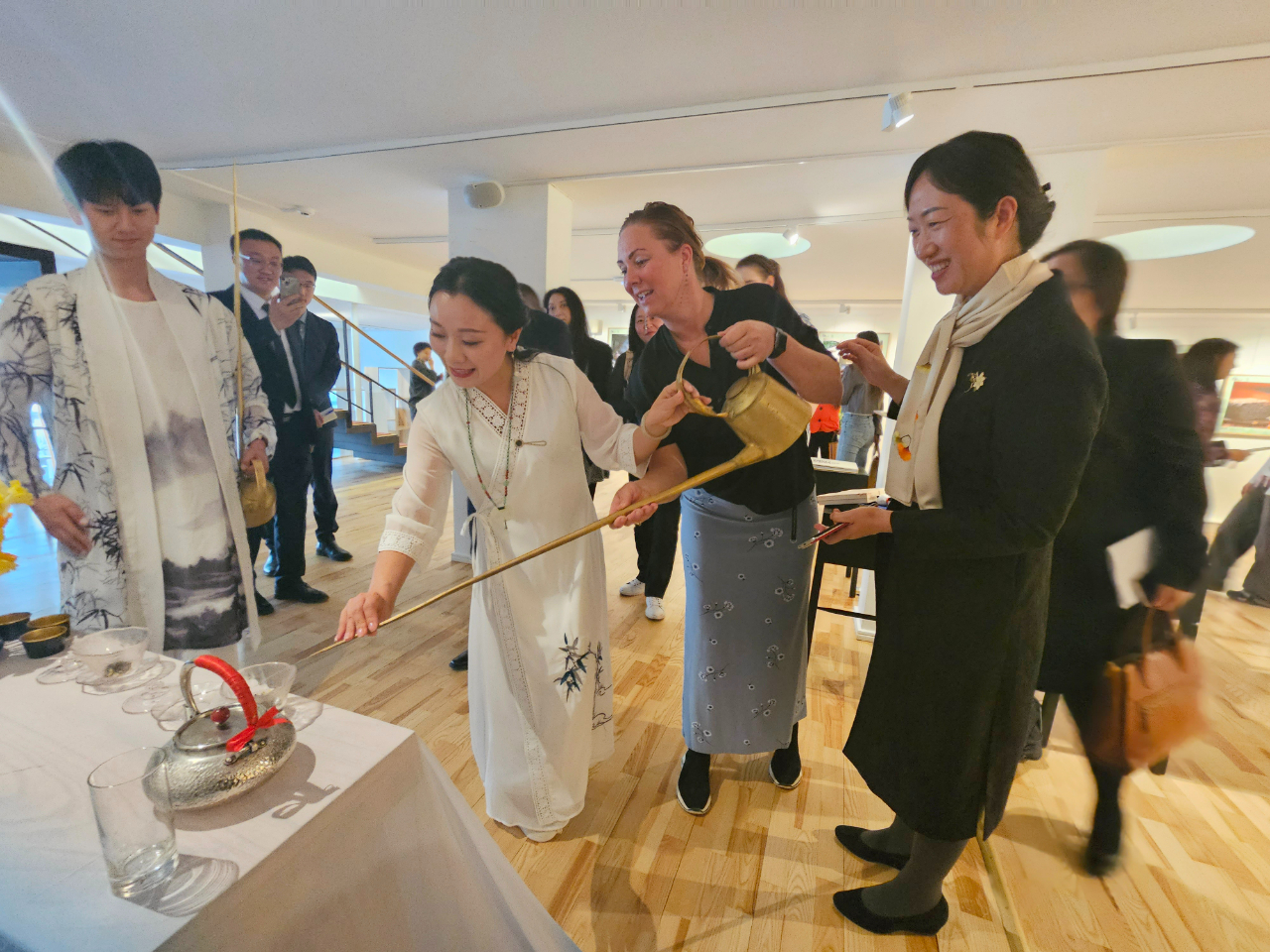 It is worth mentioning here that in 1739, the ship Götheborg sailed to China, bringing Swedish graphite and cotton to China, and returned to Sweden with a full load of tea, silk and porcelain. This voyage opened the exchanges between China and Sweden, as well as the maritime Silk Road between the two countries. Today, not only are many Swedish friends tea drinkers and lovers, but also there are many shops in Sweden specializing in Chinese tea and tea sets. The stories of tea continue to be told and unfold.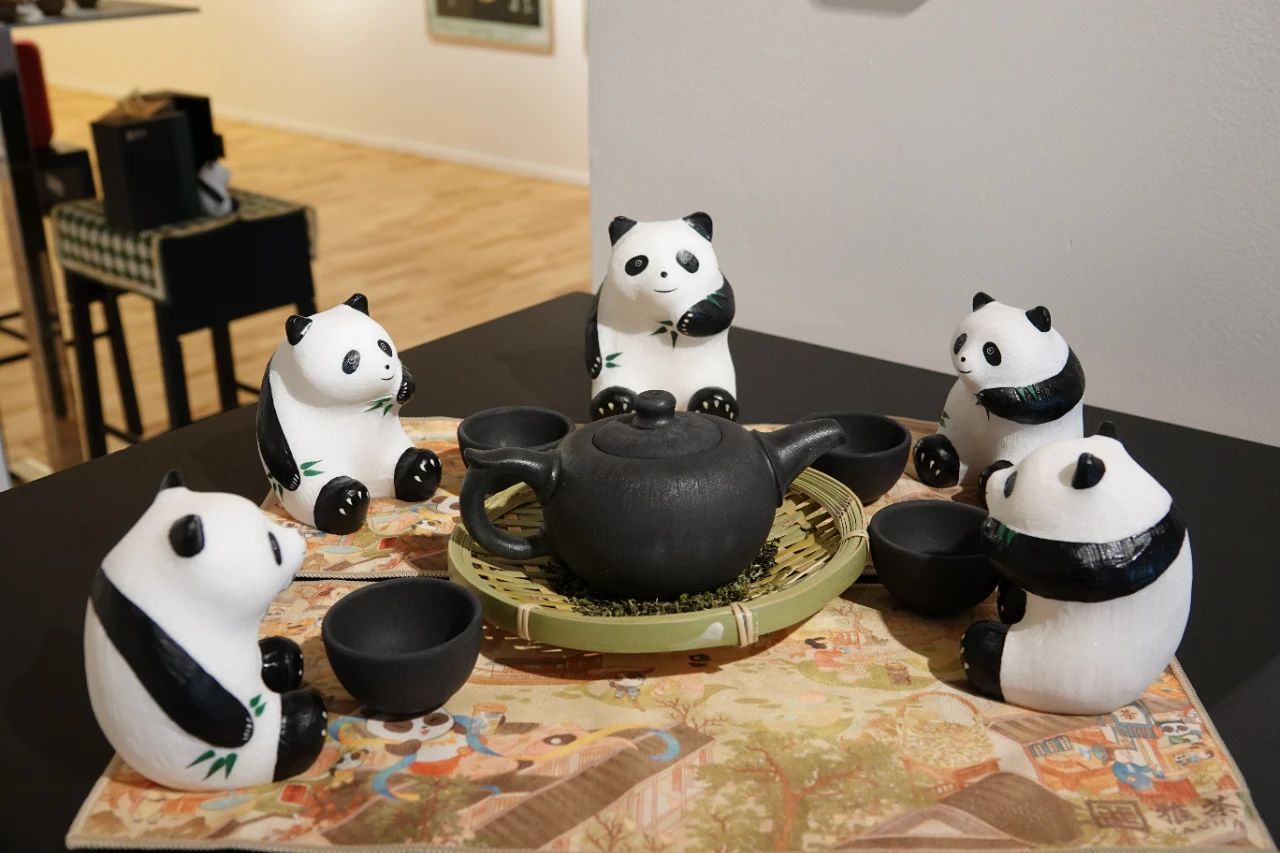 Sichuan Province is one of the earliest regions in China to plant and drink tea. It has a long history of tea culture. Next, we will taste some tea from Ya'an, Sichuan Province – the birth place of Chinese tea culture. We will also enjoy the scenery and appreciate the traditions from Sichuan, the "hometown of pandas" and the "land of the abundance". Let us enjoy the Sichuan tea fika.
I hope you will have a pleasant afternoon of tea tasting and exhibition viewing. Let me conclude by wishing the event a full success.
Thank you!
---
Facebook: China Cultural Center in Stockholm
https://www.facebook.com/China-Cultural-Center-in-Stockholm-110983273921638
Instagram: chinaculturalcenterinstockholm
https://www.instagram.com/chinaculturalcenterinstockholm/
YouTube: China Cultural Center in Stockholm
https://www.youtube.com/channel/UCYqOYwuQtyTHC-iMNdfExsw
Tik Tok: cccinstockholm
https://www.tiktok.com/@cccinstockholm
Twitter: CCCinStockholm
https://twitter.com/CCCinStockholm
地址:
Västra Trädgårdsgatan 2, Stockholm