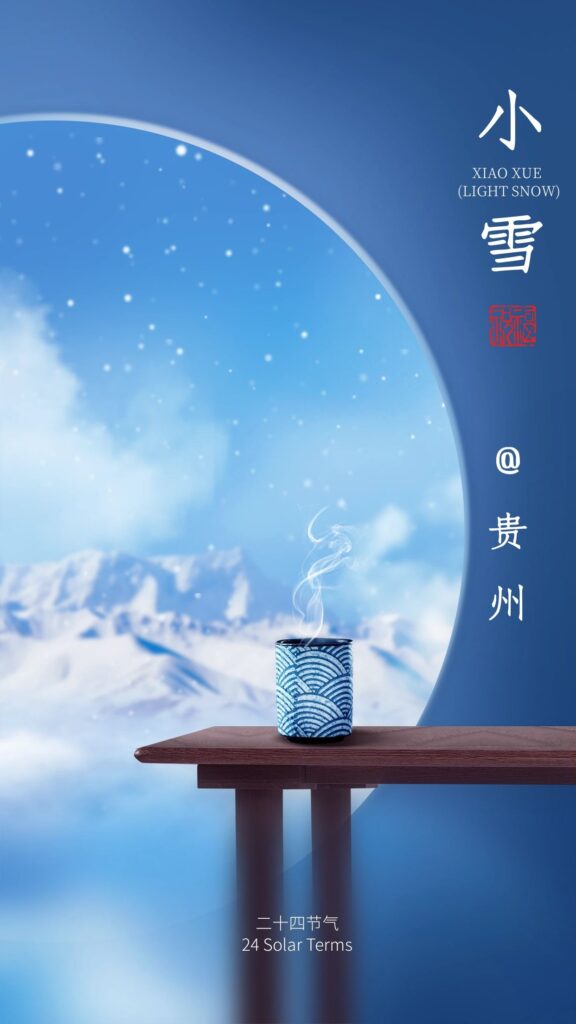 On November 22, or the eighth of the tenth month of Chinese lunar calendar, the 20th solar term – Xiaoxue (Light Snow) arrives. As winter begins, snow starts to descend in some northern parts of China. Northwest wind brings colder air to China, just as grey clouds have brought continuous rain back to Stockholm.
Video provided by China Xinhua News Network Corporation
Eating glutinous rice cake
In some southern Chinese provinces, people have the tradition of eating ciba, a kind of glutinous rice cake used to be a festive offering to the god of cow. Round-shaped ciba signifies harvest, joy and reunion; rectangle-shaped ciba implies good luck, prosperity and longevity.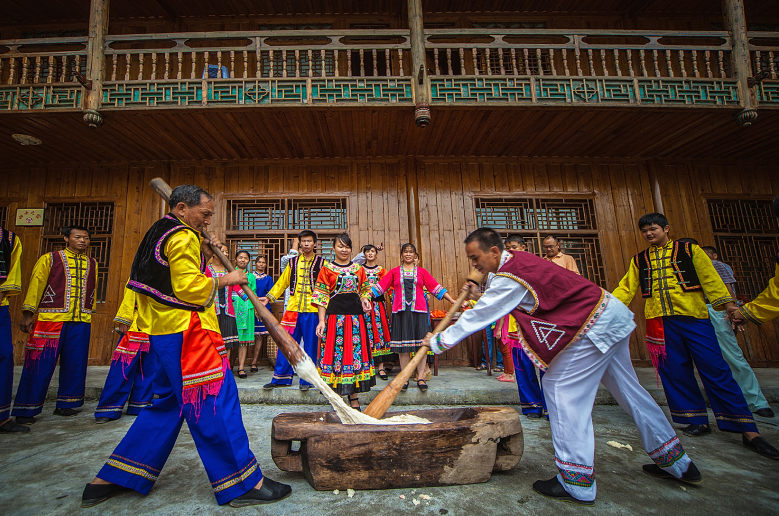 Pounding Ciba (glutinous rice cake) at Chengbu Miao Autonomous County, Shaoyang, Hunan province
Making preserved meat, picked vegetables
Temperature declines sharply and the air becomes dry around Xiaoxue (Light Snow), making it the best time to prepare preserved meat, mostly pork, for winter and the Chinese Spring Festival. In the past, people cured and air-dried food to prolong preservation time and prepare for winter when food was scarce; nowadays, such tradition and dietary habit remain popular even though food storage and transportation in winter is no longer a problem.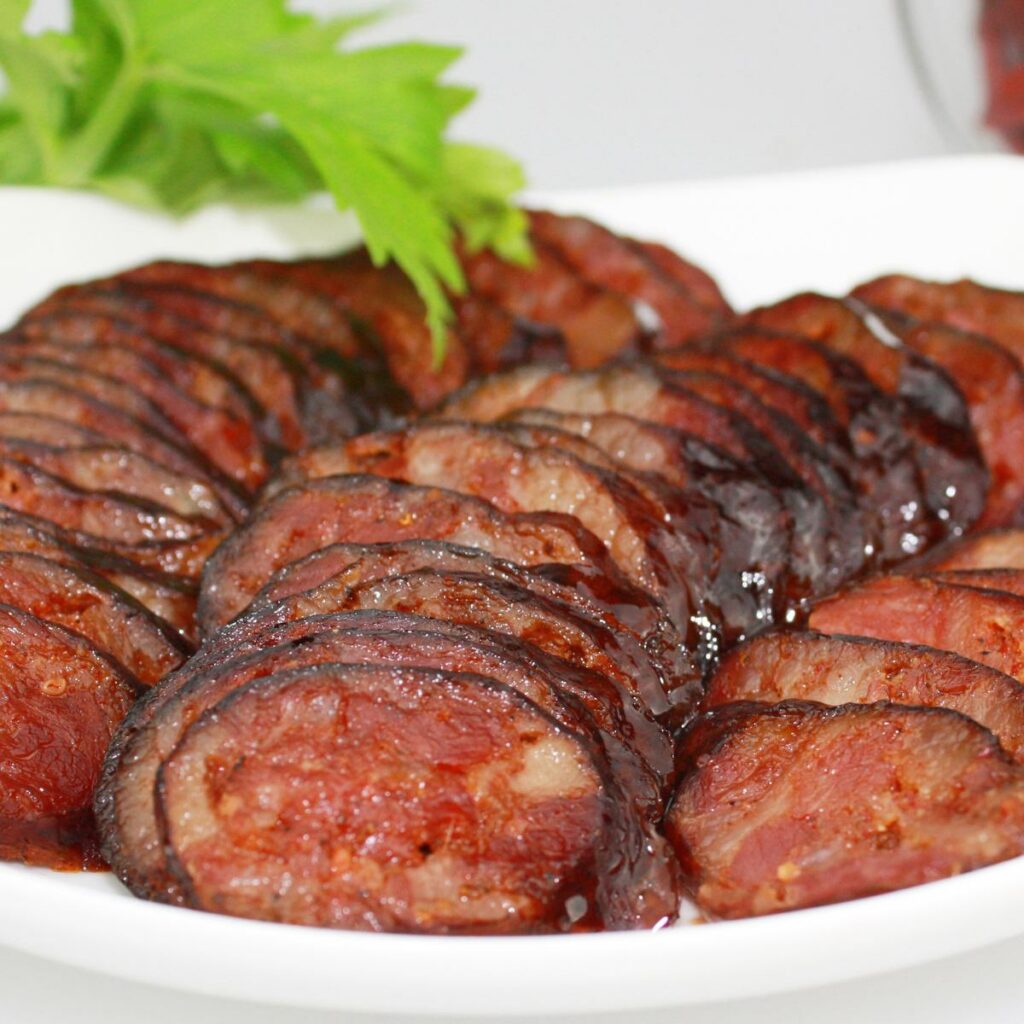 Guanling sausage
After Xiaoxue, farmers begin to enjoy the fruits of a whole year of hard work, while the Miao people celebrate their New Year, which is the most important festival of Miao ethnic group. It is celebrated at different times in different regions, but is generally held somewhere from the ninth to the eleventh month of the Chinese lunar calendar, after autumn harvest has been completed. The celebration of Miao New Year is to commemorate Chiyou, the ancestor of the Miao ethnic group who was killed in the tribal war more than 5000 years ago. It is also to celebrate the harvest of the year and to worship ancestors and maple, bamboo, rock mother, water well and what Miao people regard as guardian gods.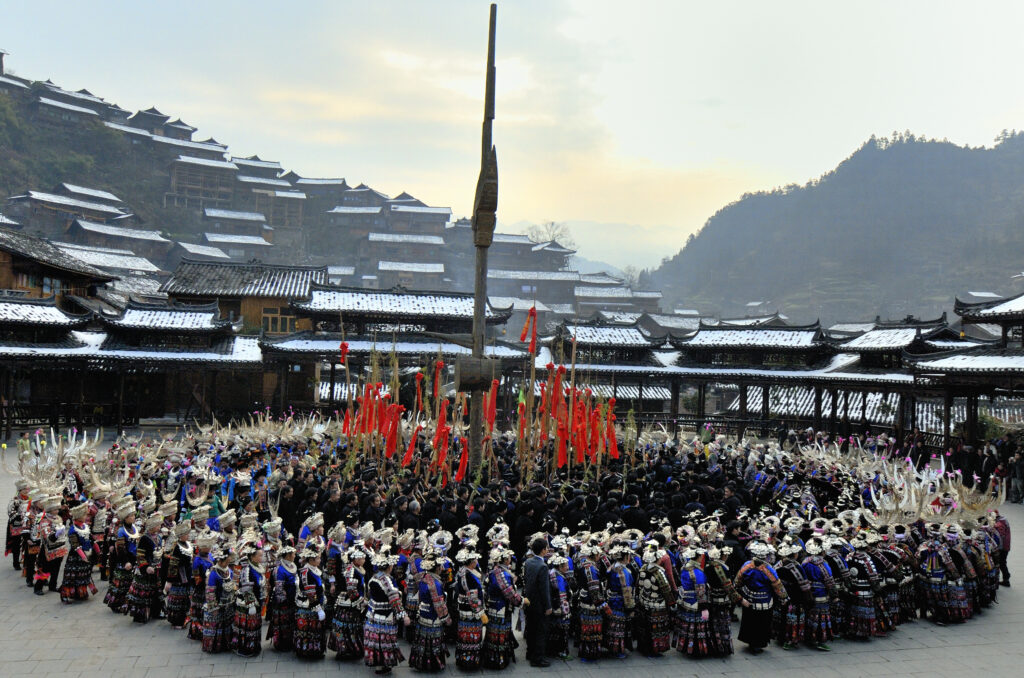 Miao New Year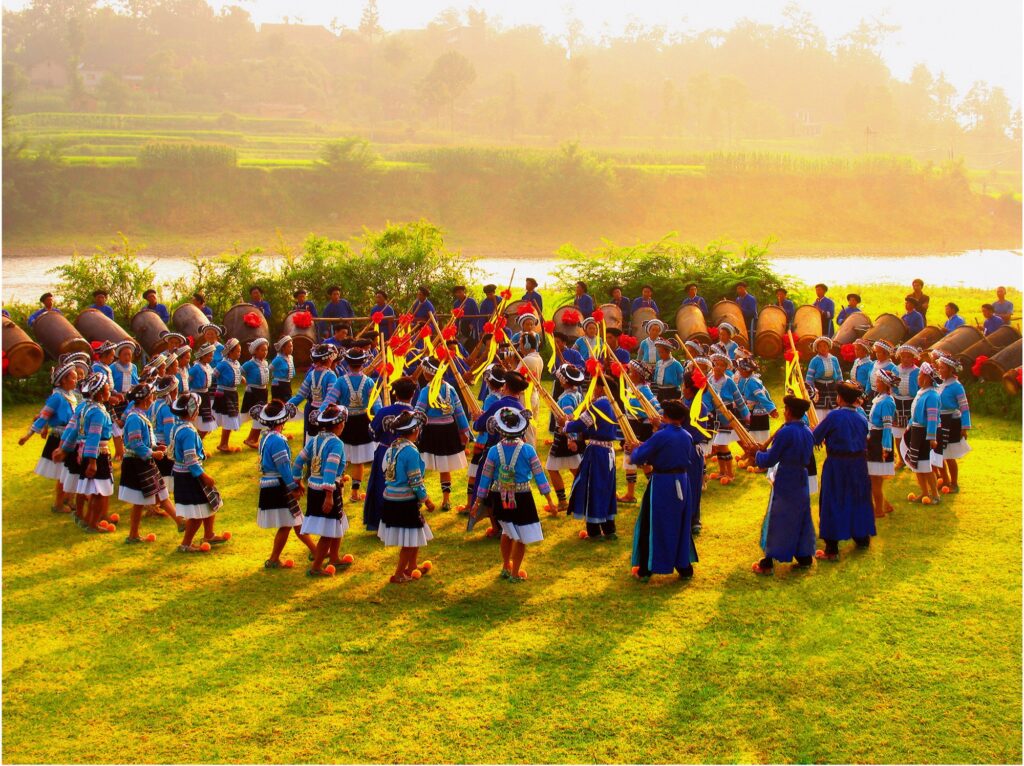 Miao's Lusheng Long-drum Dance / 王清扬 Wang Qingyang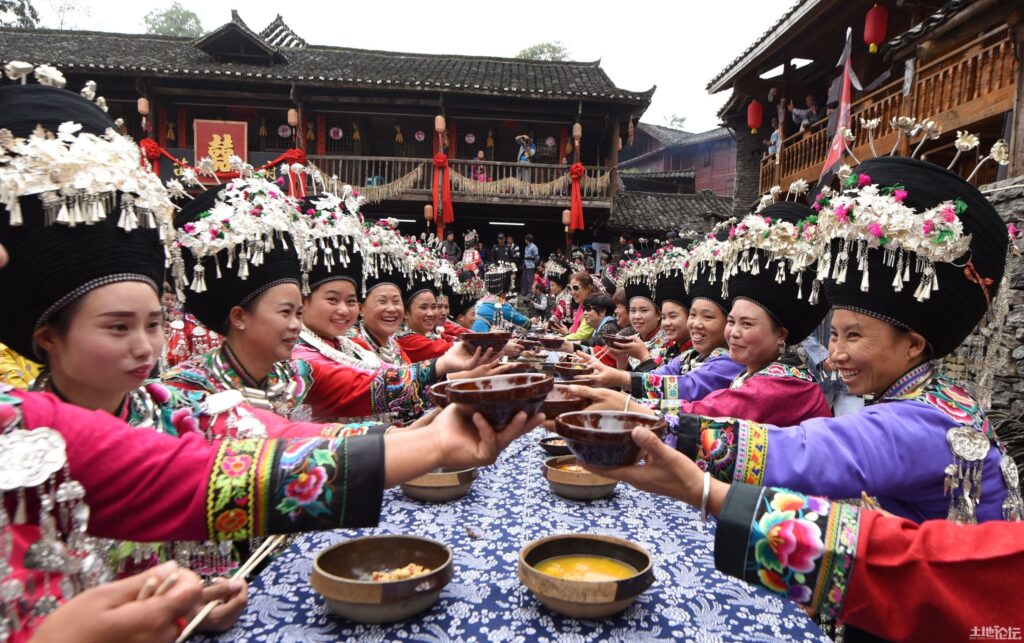 Long table feast
The Miao people in Leishan county, Guizhou province celebrate the New Year in the first half of the tenth month of the Chinese lunar calendar. People go from village to village, offering sacrifices to ancestors, killing new year pigs, pounding ciba, attending long table feasts and Lusheng dance. In some areas, bullfights, bird fights and singing competitions are also held. Festive celebrations can last all winter. Though the tradition has been celebrated for thousands of years, Leishan began holding official events in 2000 and has since developed it into a tourism brand to protect and present unique songs, dances, embroidery, silver forging technique, etc. of the Miao people. In 2008, Miao New Year celebration was listed as an item of national intangible cultural heritage.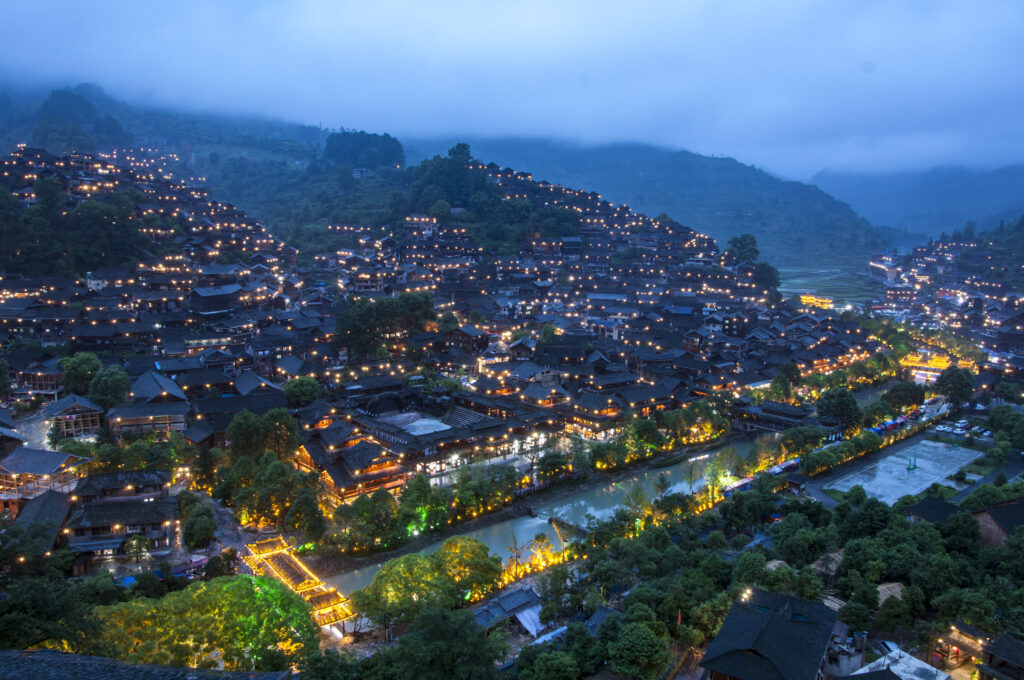 Xijiang Qianhu Miao Village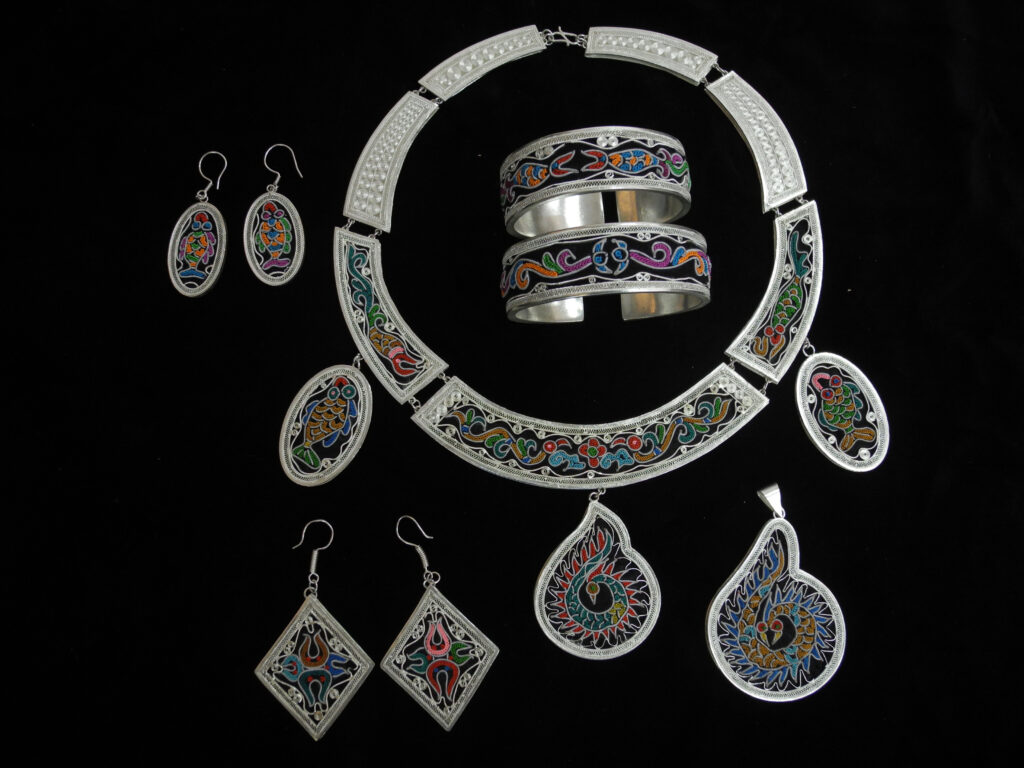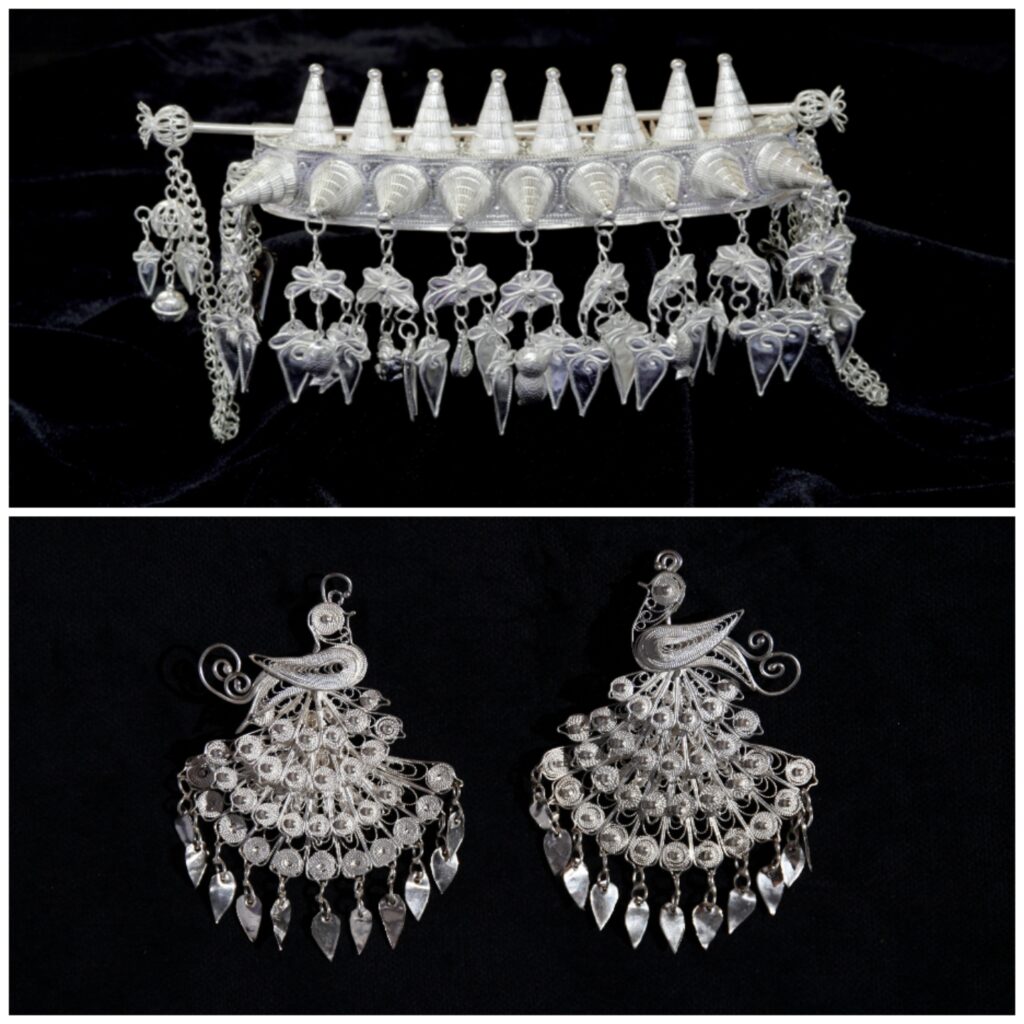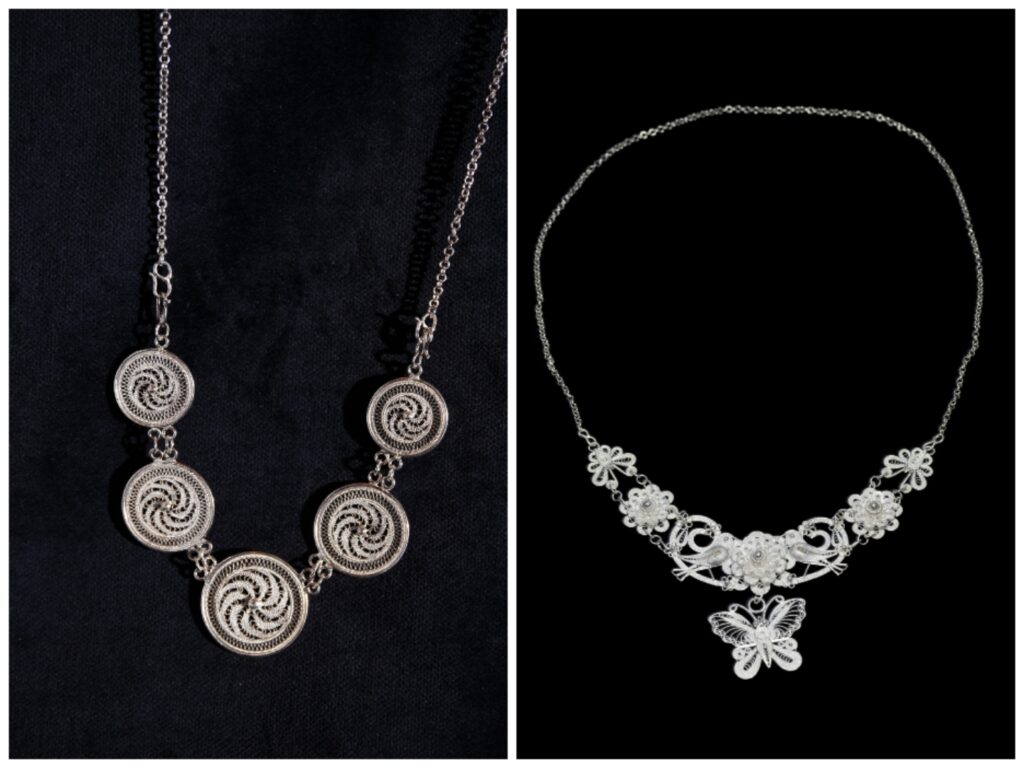 Miao Silver Jewelry
Celebrate Miao New Year in the season of Light Snow.
A new experience in Guizhou in winter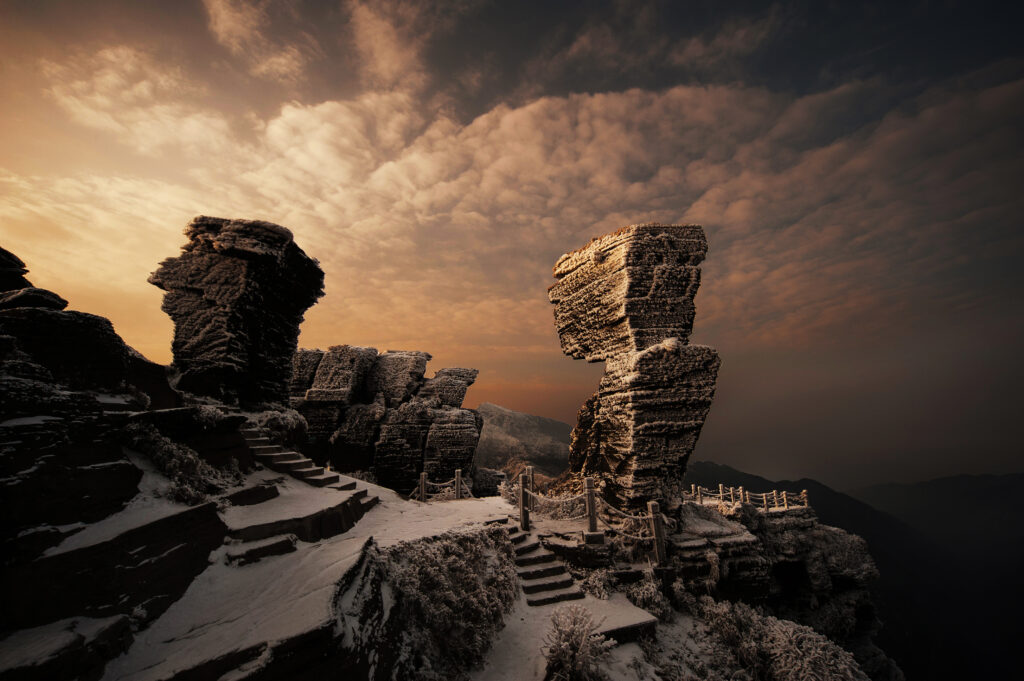 Fanjing Mountain, Tongren, Guizhou province / 郭建军 Guo Jianjun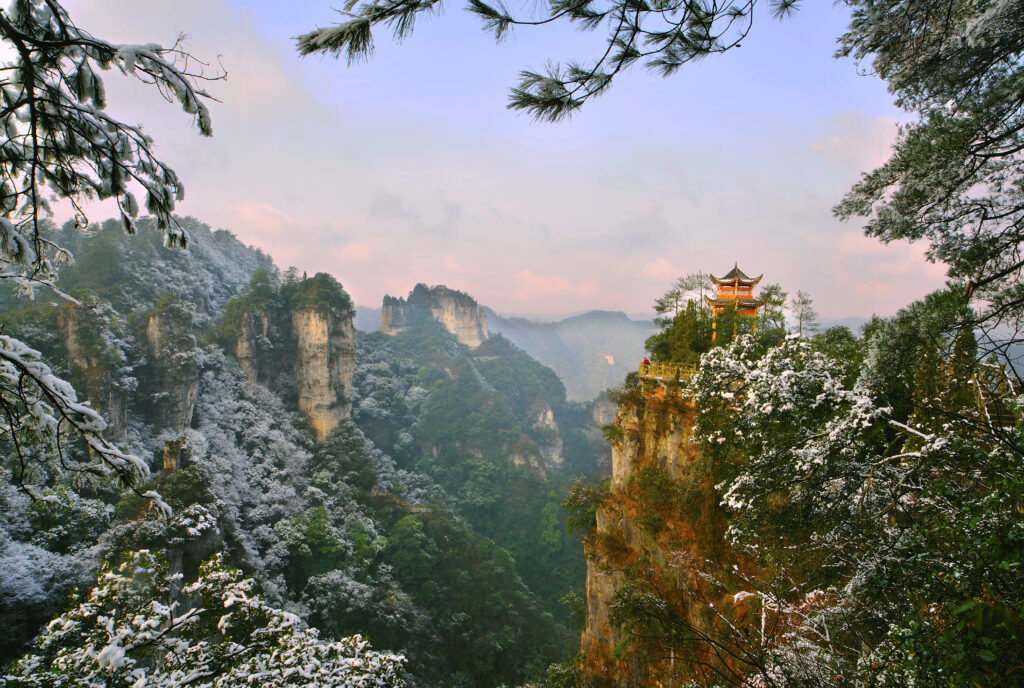 Yuntai Mountain, Shibing county, Guizhou province
Sources:
http://www.ihchina.cn
http://www.chinadaily.com.cn
贵州省文化和旅游厅
---
Facebook: China Cultural Center in Stockholmhttps://www.facebook.com/China-Cultural-Center-in-Stockholm-110983273921638

Instagram: chinaculturalcenterinstockholm

https://www.instagram.com/chinaculturalcenterinstockholm/

Tik Tok: cccinstockholm

https://www.tiktok.com/@cccinstockholm

Wechat: 斯德哥尔摩中国文化中心 or scan the QR code below