2020年尚未过半,已经见证山火、蝗虫等灾害的侵扰。新冠病毒在全球的爆发更限制了人们的出行。好在我们有便捷的网络和丰富的线上资源,可以为我们打开一扇窗,领略自然和人文的美好。在这春暖花开的季节,斯德哥尔摩中国文化中心特意为瑞典朋友们开辟了一个"云·游中国" 网络频道,让大家足不出户即可感受中国的大美自然景观、历史人文风情与创新旅游体验,丰富大家疫情期间的文化生活。
The first quarter of 2020 has witnessed wildfire, grasshopper invasion and a series of disasters. Travel restrictions are further imposed as COVID-19 is spreading worldwide. Fortunately, a wide variety of online resources provide us with an accessible gateway to experience the beauty of nature and culture. Therefore, in the blooming spring, China Cultural Center in Stockholm releases "Visiting China Online" series exhibition on our website so that Swedish friends can enjoy Chinese natural and cultural landscape, innovative travel experience and an enriched cultural life during the pandemic.
尽管中瑞两国相距遥远,但两国人民心意相通,人文交流源远流长。我们相信,只要我们众志成城,同心抗疫,必定会迎来云消雨霁、玉宇澄清的美好明天。
Although China and Sweden are apart, the two peoples share interlinked minds and long-standing cultural exchanges. We believe that with a unified effort, the obstacles will be overcome and a bright future will be secured.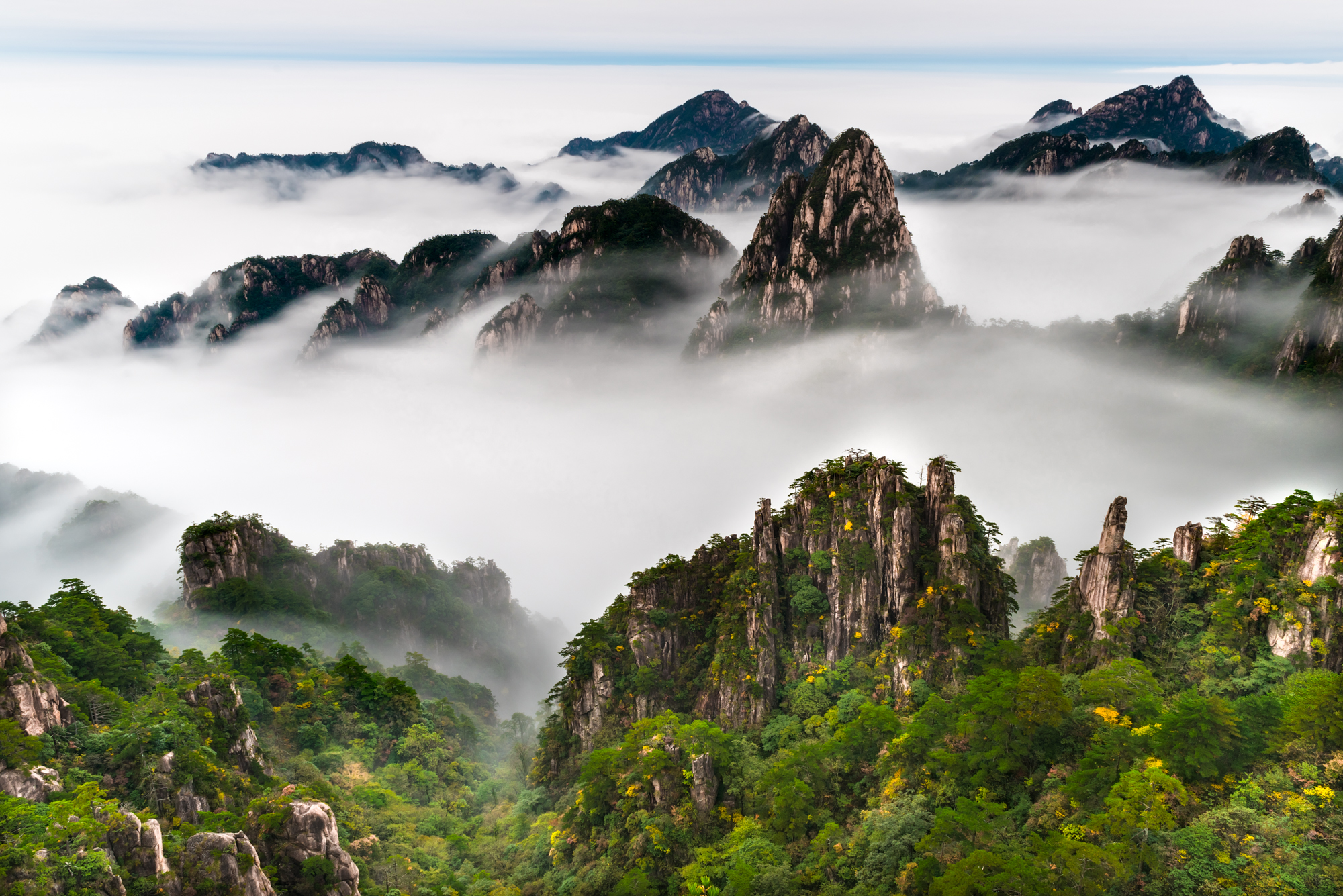 安徽省黄山市-黄山云海-汪桂敏
Huangshan City, Anhui – Sea of Clouds of Mount Huangshan – Photo by Wang Guimin
---
安徽省  Anhui Province
五岳归来不看山,黄山归来不看岳
The Five Great Mountains surpass all mountains, Mount Huangshan surpasses the Five
安徽省地处中国华东地区,长江三角洲腹地,跨越长江、淮河两岸,联通南北两方。由北至南,两条河流将全省划分为淮北平原、江淮丘陵和皖南山区三大地域,覆盖暖温带与亚热带气候的过渡地区。兼具南北的气候与地理环境,演化出兼容多样的人文特质,孕育出丰富多彩的自然与文化旅游资源。
Anhui Province lies in the Yangtze Delta in Eastern China, connecting Northern and Southern China. Yangtze River and Huai River divide the area into Huaibei Plain, Jianghuai Hilly Rigion and Mountainous Area of Southern Anhui, covering the transition zone between warm temperate zone and subtropical region. Such climate and geographical environment give rise to diverse cultural features and colorful natural and cultural tourism resources.
_______________________________________________
大美山河  Natural Beauty
世界文化与自然双遗产黄山,历来有着"五岳归来不看山,黄山归来不看岳"的美誉,以"奇松、怪石、云海、温泉、冬雪"五绝闻名于世。黄山共大小七十二峰,莲花峰、光明顶、天都峰为三大主峰。黄山脚下,群山环抱之中,翡翠谷、太平湖碧波荡漾,呈坎、唐模古村点缀其间。
As a UNESCO world cultural and natural heritage site, Mount Huangshan is famed for its "strangely-shaped pines, grotesque rock formations, sea of clouds, hot springs and winter snow". Among the 72 peaks, Lotus Peak (Lianhua Feng), Bright Summit Peak (Guangming Ding) and Celestial Capital Peak (Tiandu Feng) are the highest. Emerald Valley (Feicui Gu) and Taiping Lake ripple under the mountain; while ancient villages, such as Chengkan and Tangmo, scatter around the area.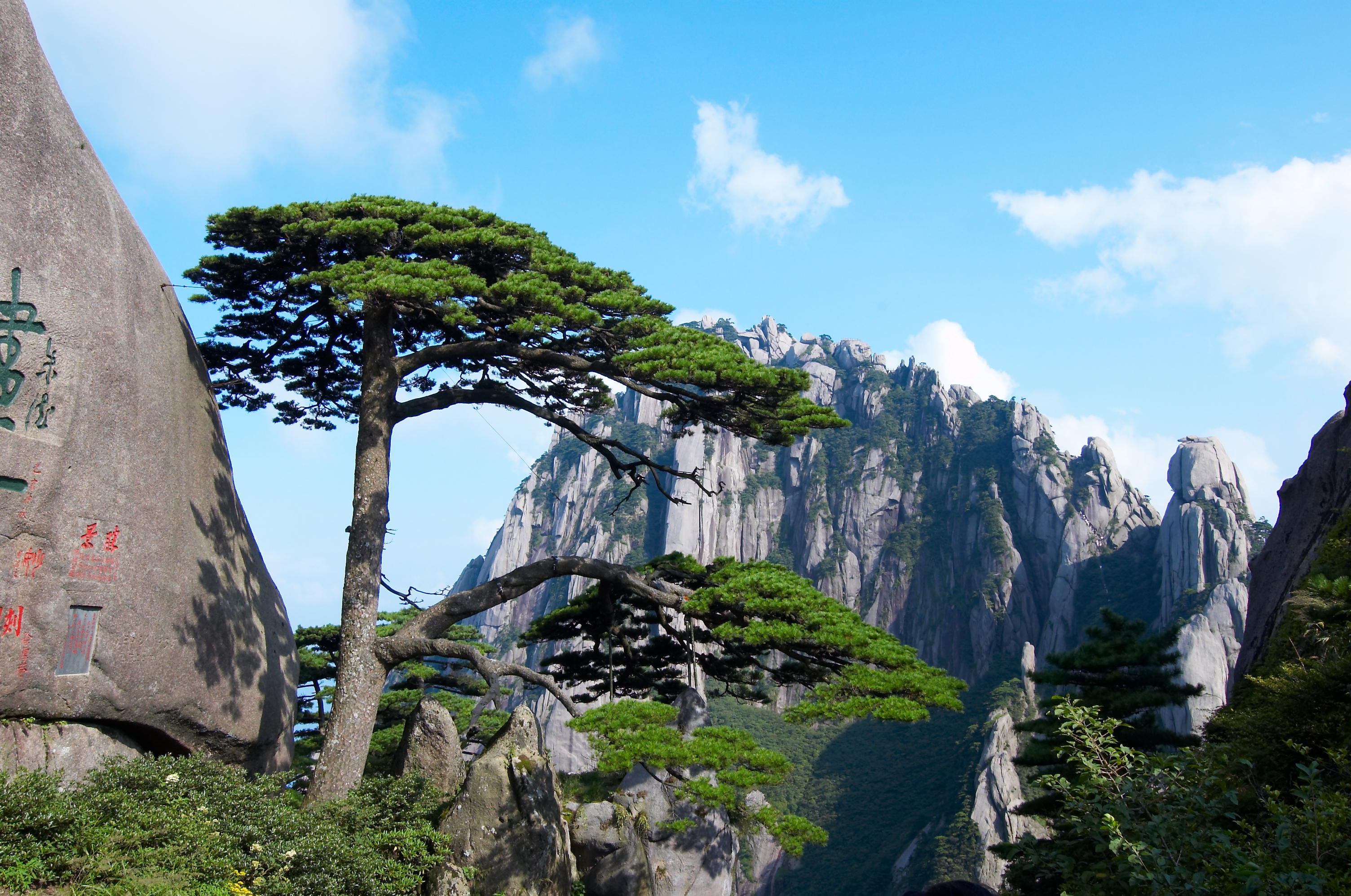 安徽省黄山市-黄山迎客松-汪根华
Huangshan City, Anhui – The Pine Greeting Guests – Photo by Wang Genhua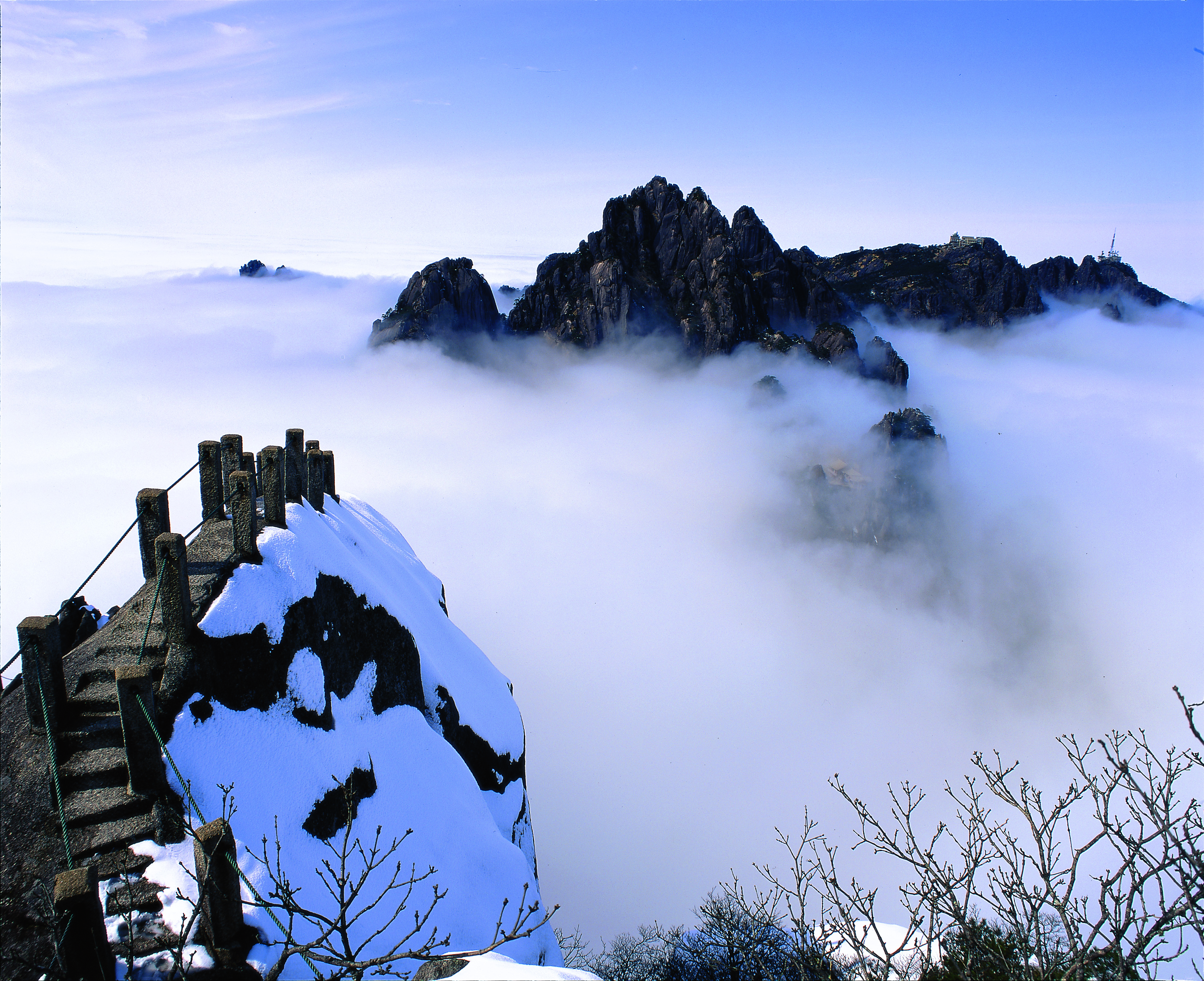 安徽省黄山市-黄山鲫鱼背-汪根华
Huangshan City, Anhui – Carp's Backbone of Mount Huangshan – Photo by Wang Genhua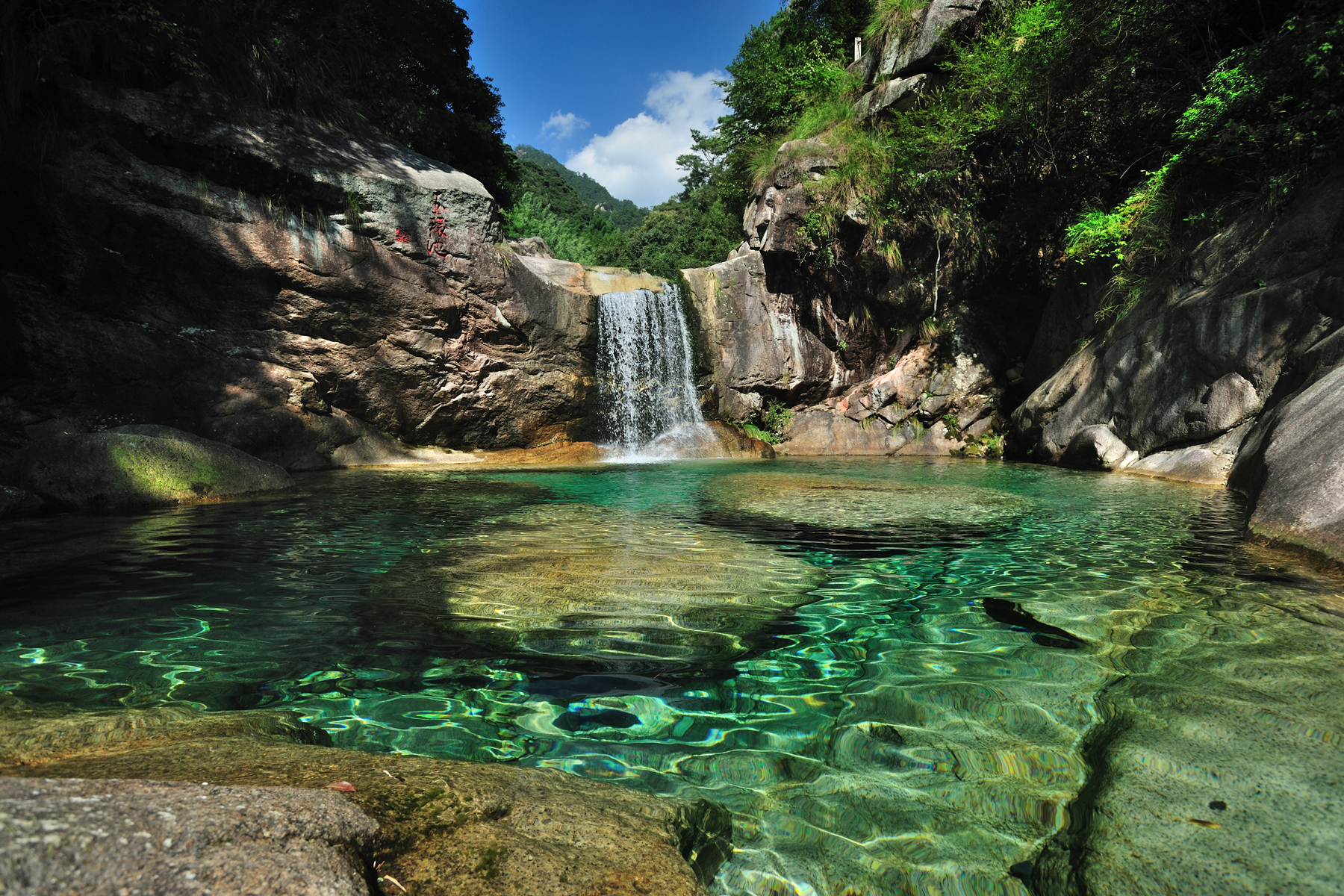 安徽省黄山市翡翠谷-彩池
Huangshan City, Anhui – Colorful Pond of Emerald Valley
---
国家文化与自然双遗产、"中国佛教四大名山"之一九华山,奇峰、静水、翠竹、古刹,雄异灵秀,相映成趣。九大主峰如九朵莲花浮于云海之上,连绵山峰形成天然睡佛,在"佛光"普照下彰显自然神力。
Mount Jiuhua distinguishes itself as one of the Four Sacred Mountains of Buddhism and a national cultural and natural heritage site. Peculiar peaks, placid streams, lush bamboos and ancient temples complement the contrast of sublime and elegance. The peaks resembling a sleeping Buddha embody the magic of nature under the "light of Buddha" with the highest nine peaks floating above the sea of clouds like nine lotuses.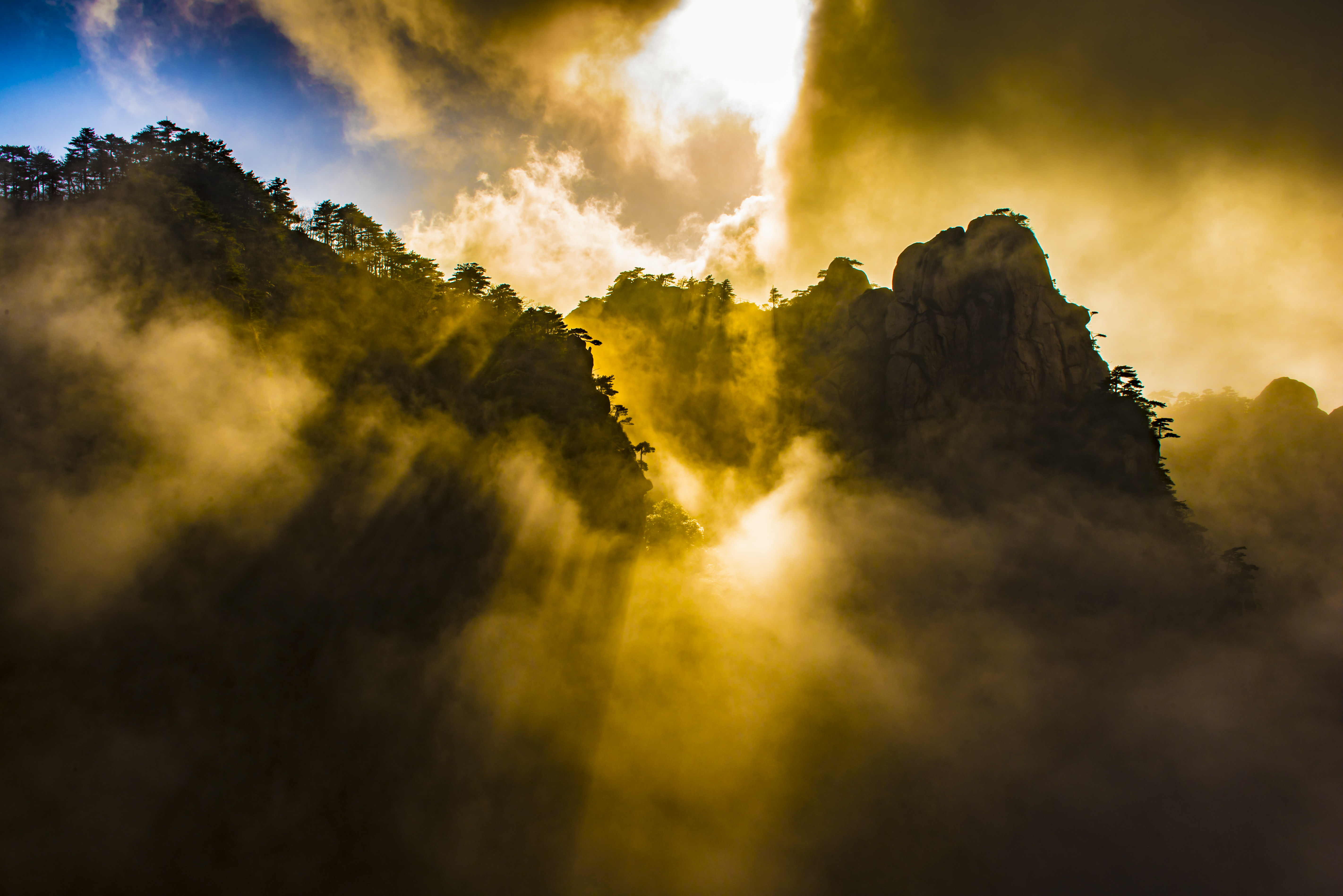 安徽省池州市-九华山
Chizhou, Anhui – Mount Jiuhua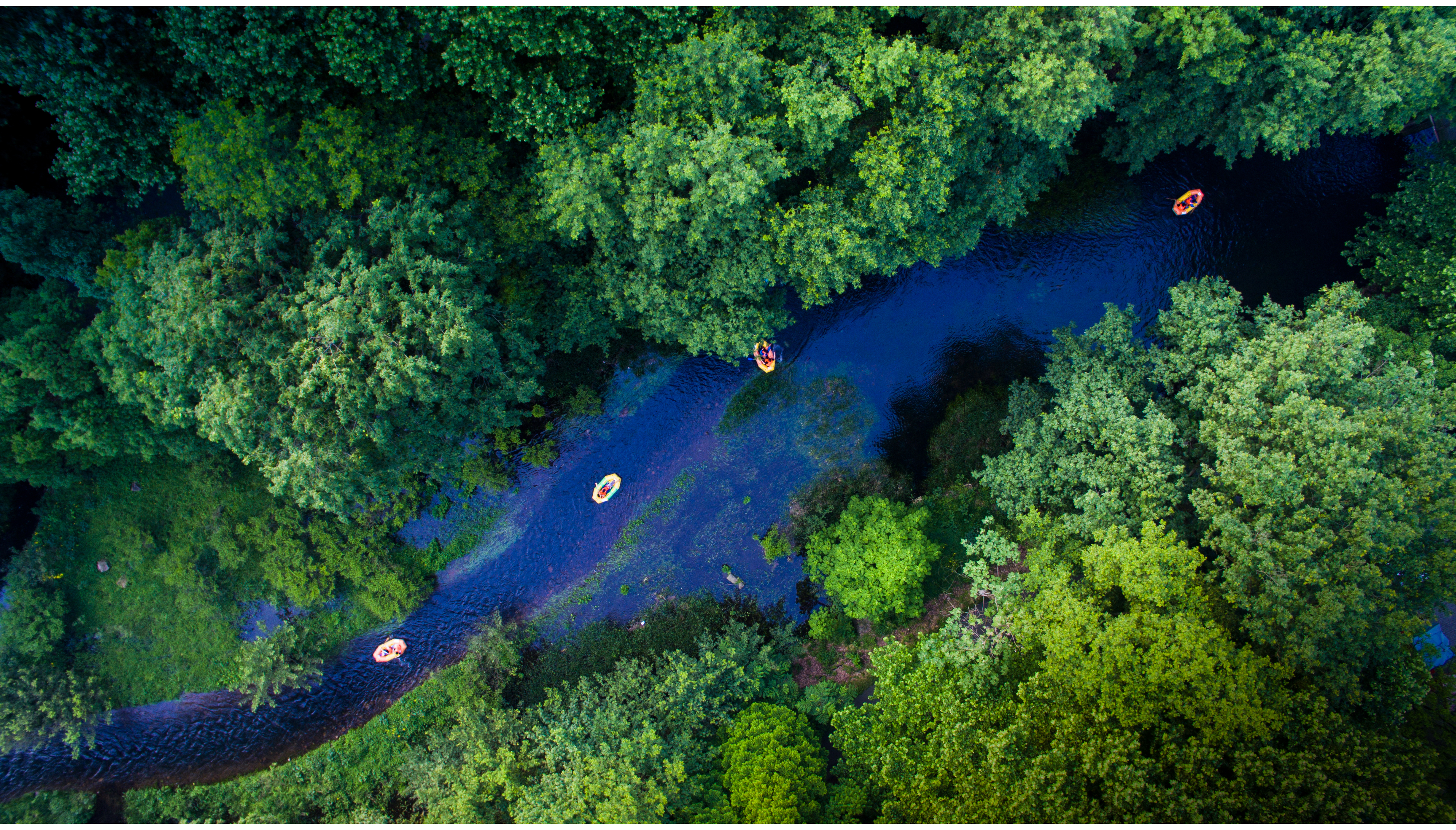 安徽省池州市九华天池-蓝色的冰河谷-徐昌寿
Chizhou, Anhui – Blue Ice River Valley (Binghe Gu) – Photo by Xu Changshou
---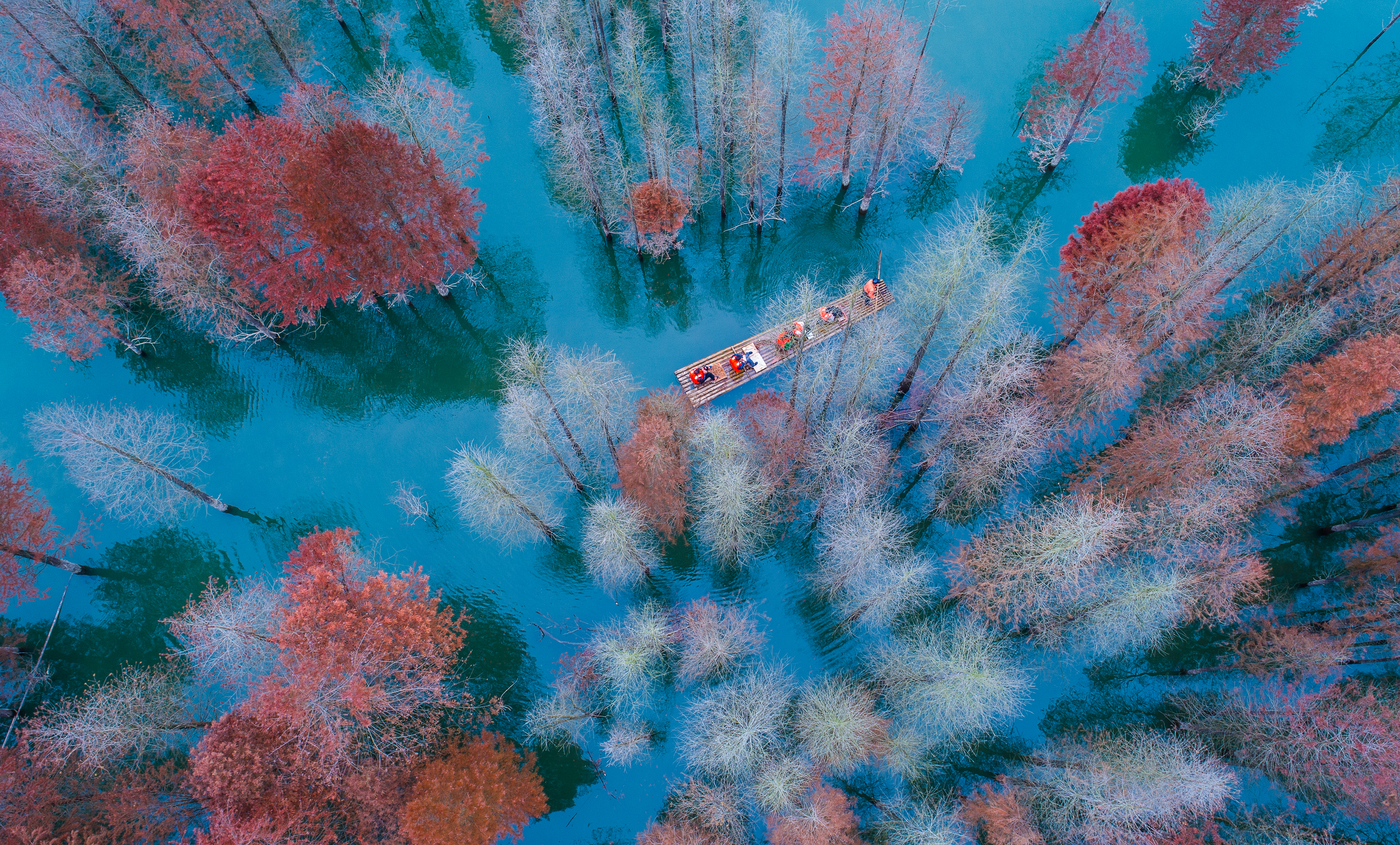 安徽省宣城市皖南川藏线-醉美红杉湾-帅林飞
Xuancheng, Anhui – Enchanting Red Cedar Bay – Photo by Shuai Linfei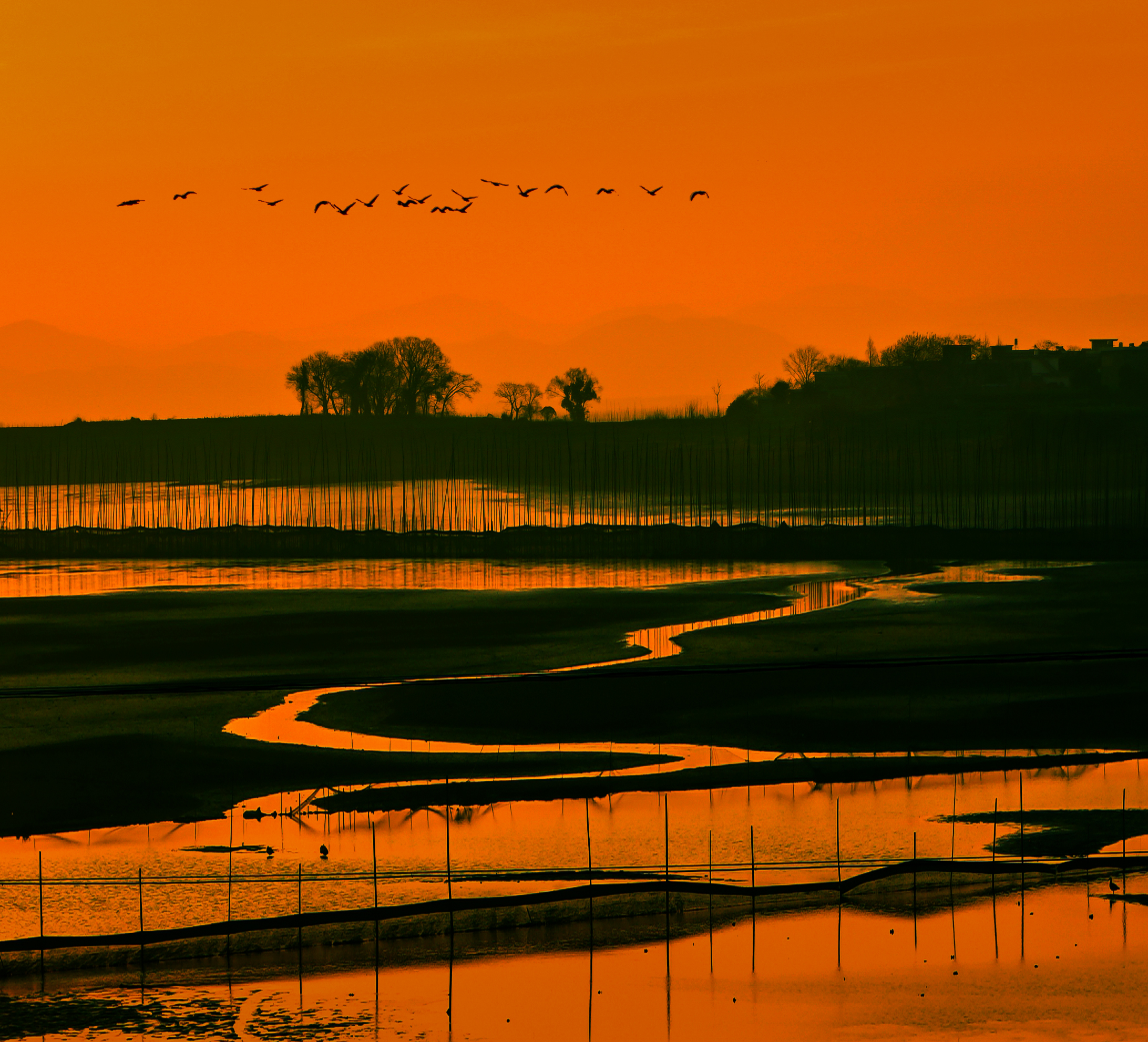 安徽省池州市-曙光初照升金湖-叶兴安
Chizhou, Anhui – Sunrise over Shengjin Lake – Photo by Ye Xing'an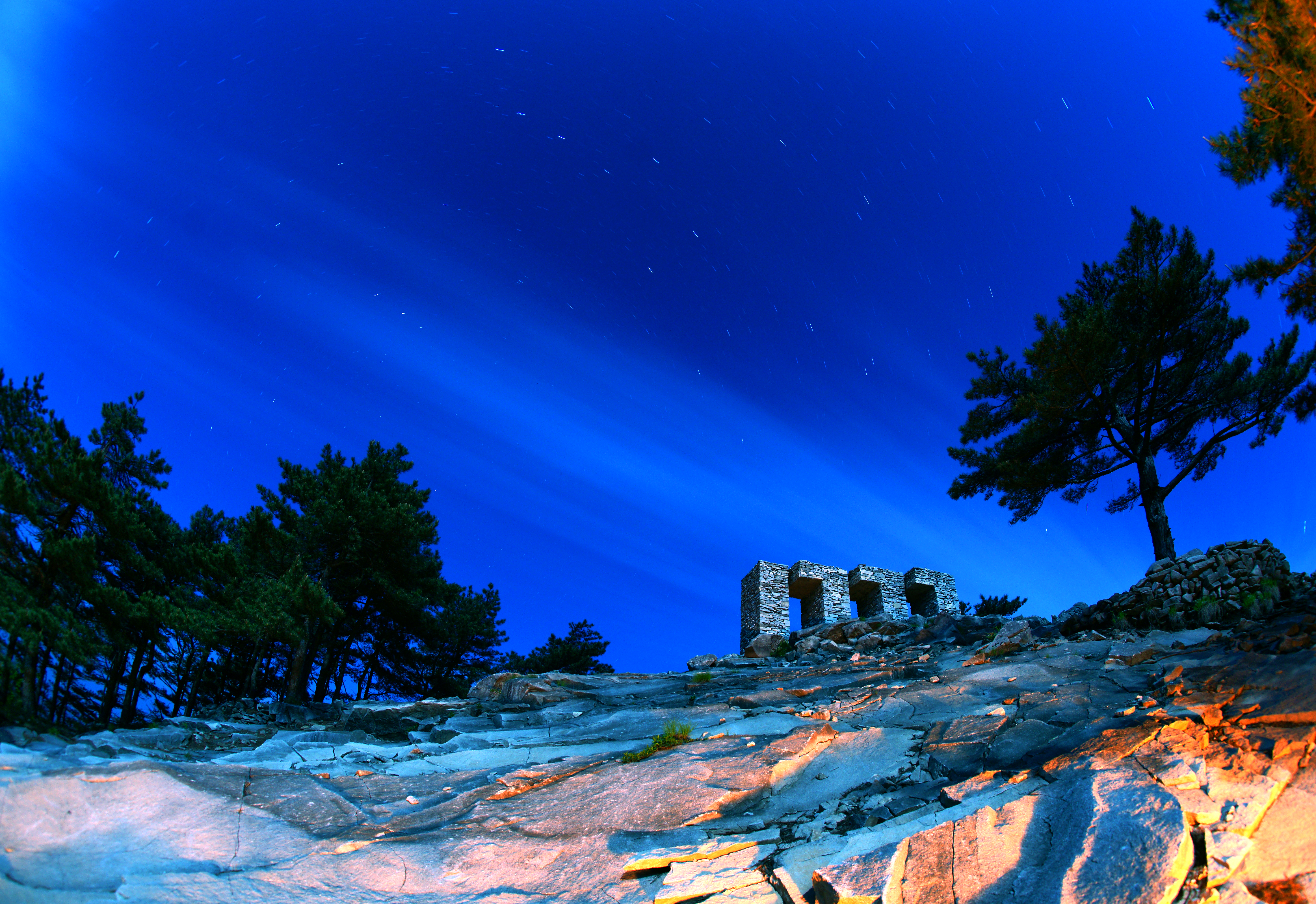 安徽省六安市-夜幕下的白马尖
Liu'an, Anhui – White Horse Peak (Baimajian) at Nightfall
___________________________________________________________________
天人合一  Unity of Man and Nature
以距离黄山30余公里的世界文化遗产西递、宏村古民居为代表的徽派建筑,是中国最重要的传统建筑流派之一。粉壁黛瓦马头墙,汲取自然灵气,讲究层楼叠院、高脊飞檐,极富装饰艺术;布局协调、风格典雅,融入山水之间。移步换景,石、木、砖雕镂错落的老屋,又蜕变为极简主义的抽象剪影,营造黑白辉映的水墨画境,追求清逸古雅的诗意栖居,实现中国传统文化"天人合一"的哲学境界。
Hui-style architecture represented by Xidi and Hongcun ancient villages 30 kilometers away from Mount Huangshan is one of the major traditional Chinese architectural styles. Horse-head white walls and black tiles reflect the elegance of nature; multi-layered structure, high ridges and upturned eaves represent the aesthetics of decoration; organized layout and sophisticated style enable harmonious coexistence with nature. With one step back, the ancient structures of stone, wood and brick turn into a minimalist abstract silhouette resembling a traditional Chinese ink painting, which embodies the long-standing pursuit of quaint and poetic dwelling and the realization of traditional Chinese philosophical state – that "man is an integral part of nature".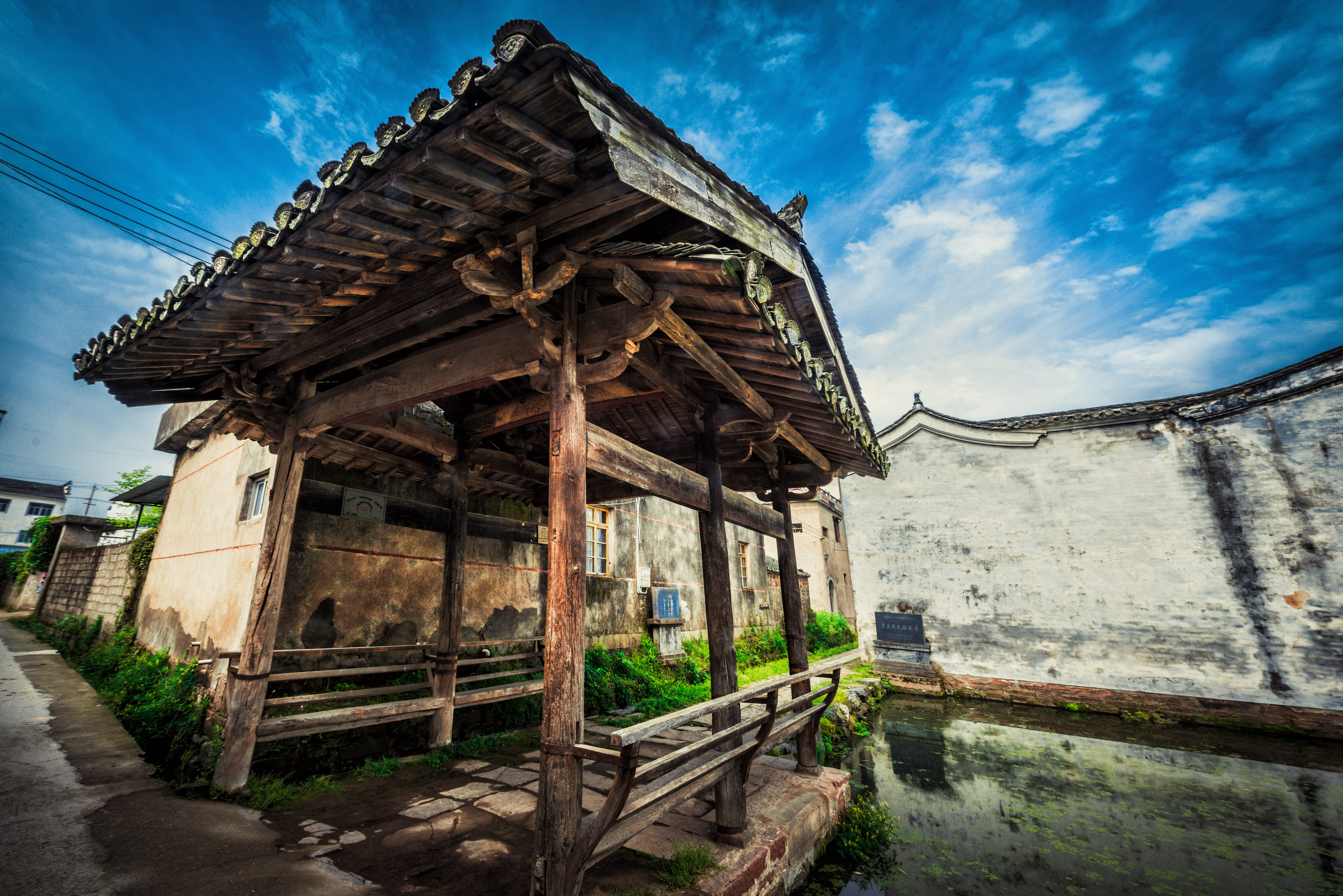 安徽省黄山市西溪南-老屋阁及绿绕亭
Xixinan Village, Huangshan City, Anhui – Wuxi's Residence, Lyurao Pavilion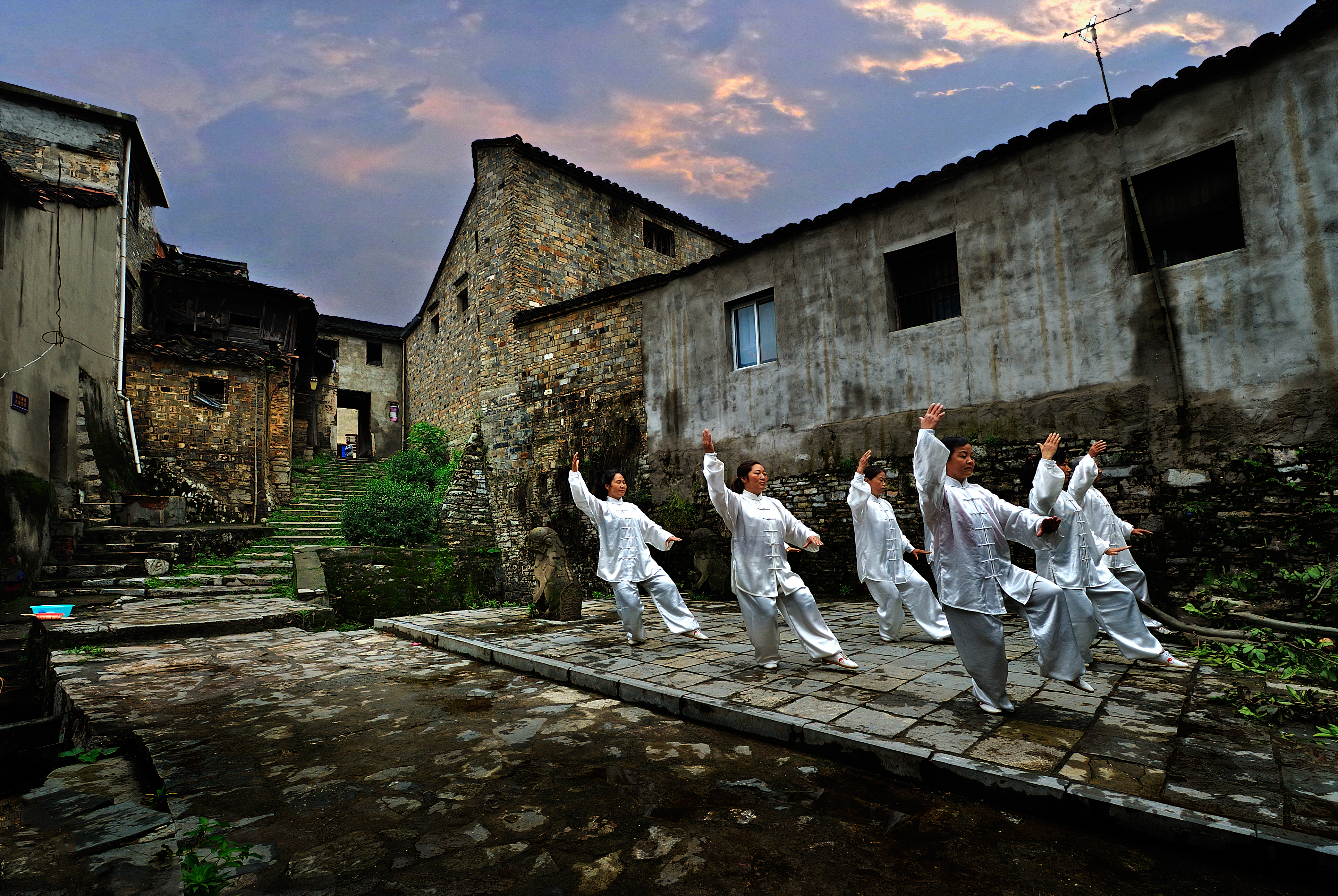 安徽宣城市水东古镇-古今十八踏-徐智寿
Shuidong Ancient Town, Xuancheng, Anhui – Shibata Lane from Past to Present – Photo by Xu Zhishou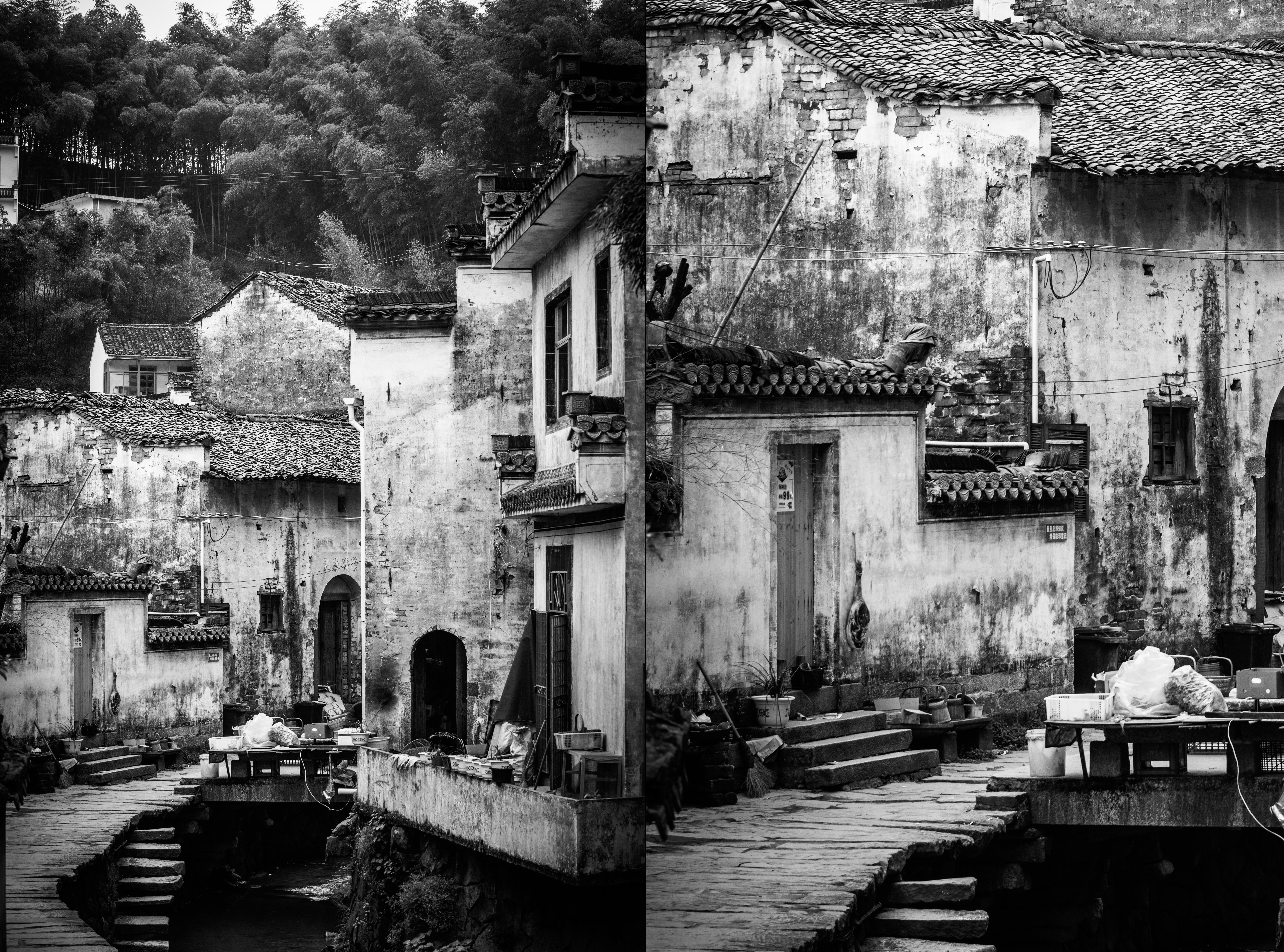 安徽省黄山市呈坎镇-灵山古村落
Chengkan Town, Huangshan City, Anhui – Lingshan Ancient Village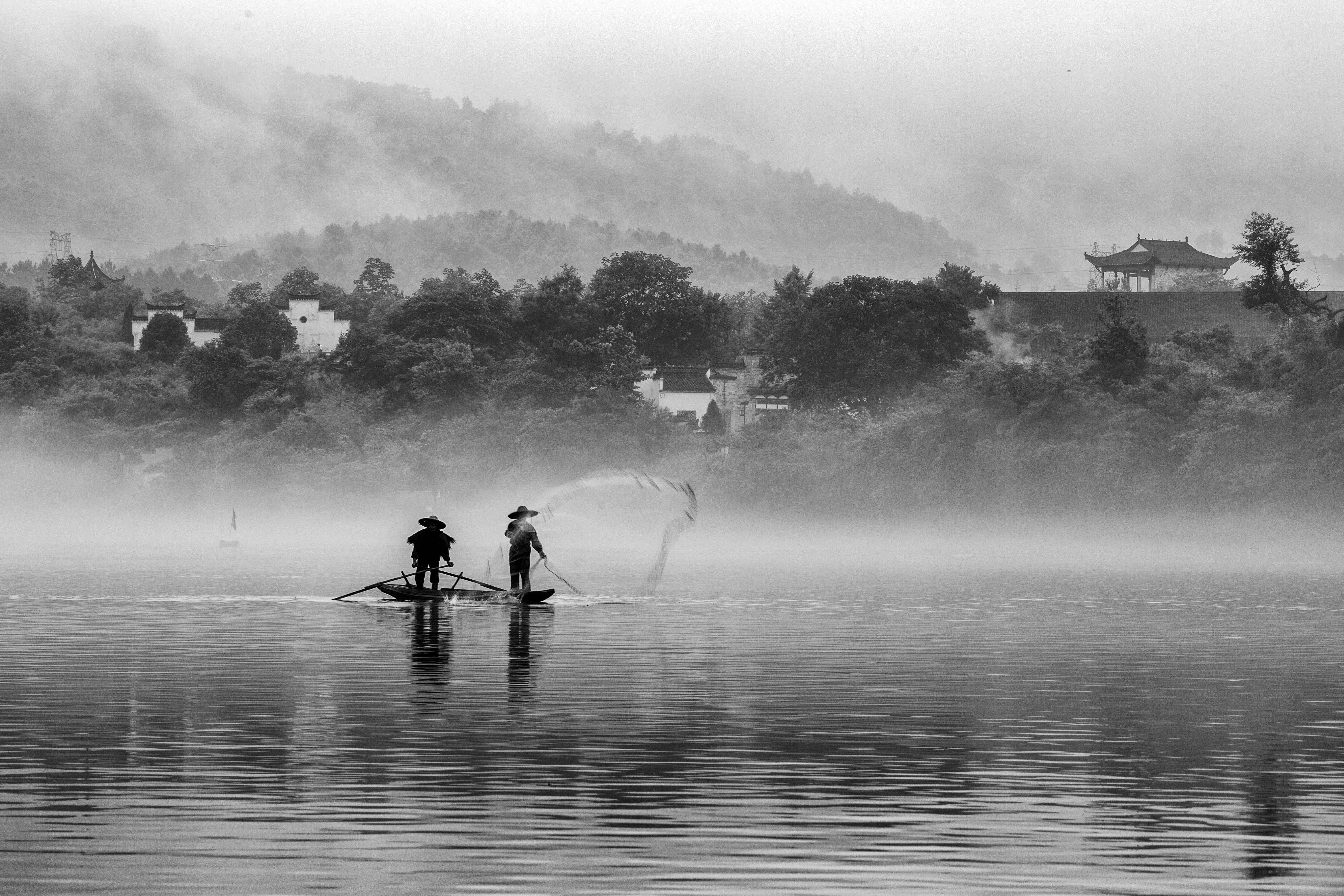 安徽宣城市-桃花潭里人家
Xuancheng, Anhui – Residents by Peach Blossom Lake (Taohua Tan)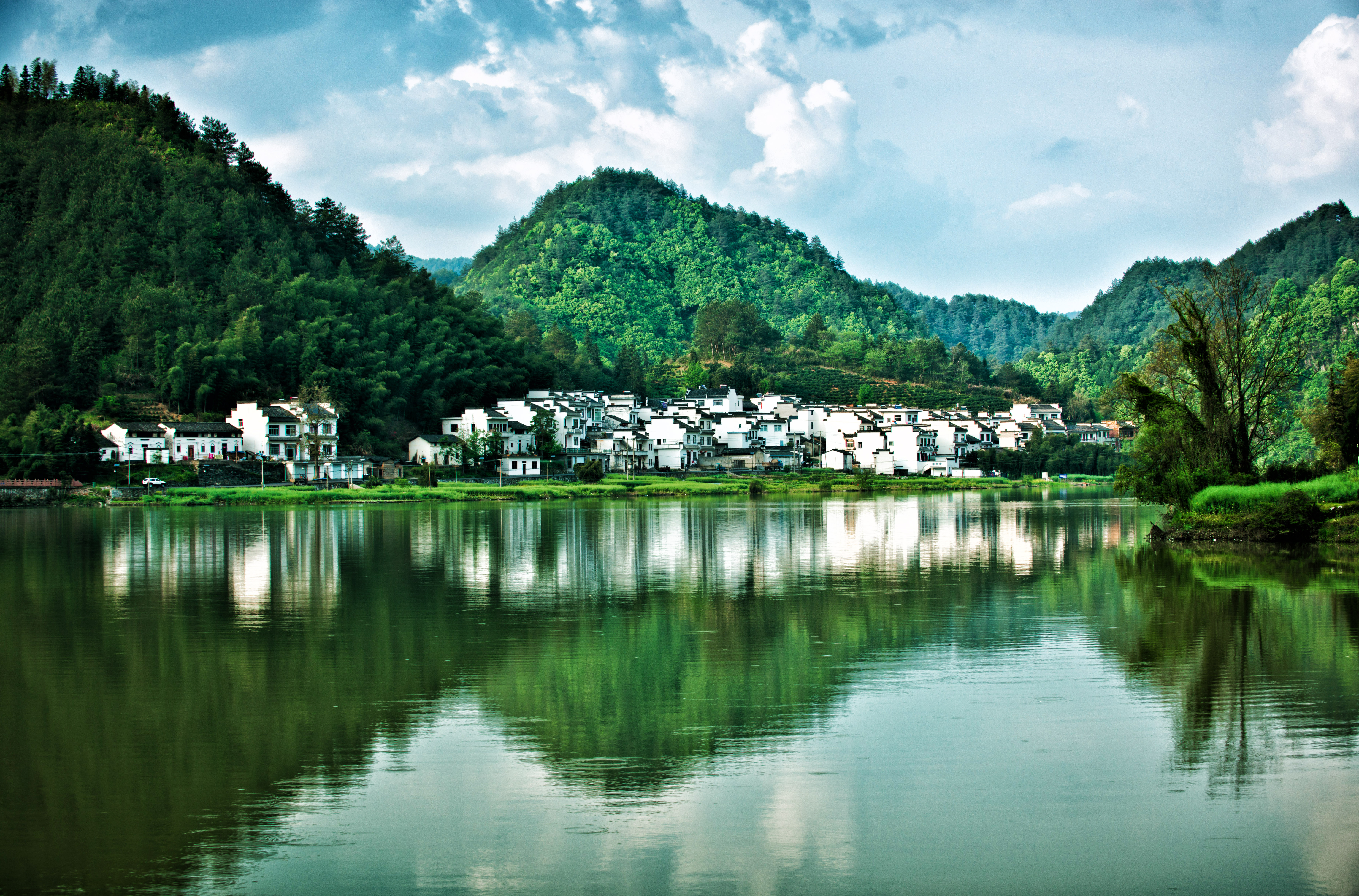 安徽省黄山市西溪南镇-鸳鸯湖
Xixinan Town, Huangshan City, Anhui – Mandarin Duck Lake (Yuanyang Hu)
___________________________________________________________________
传古立新  Inherit the Ancient, Establish the New
安徽是中华文明的重要发祥地之一,拥有众多珍贵的物质、非物质文化遗产与文物古迹。其中,安徽宣纸和徽州传统建筑营造技艺分别于2009年和2010年入选联合国教科文组织非物质文化遗产名录。从山间幽刹到运兵古道,从花戏楼到油布伞,无不凝结着古人的智慧境界与今人的借鉴传承。
As one of the major cradles of Chinese civilization, Anhui is rich in precious tangible, intangible cultural heritage and cultural relics. Anhui's traditional handicrafts of making Xuan paper was inscribed in 2009 on the Representative List of the Intangible Cultural Heritage of Humanity. In 2010, the traditional architectural craftsmanship for Hui-style architecture was included in the List. From secluded temples in the mountains to ancient pathway of transporting soldiers, from Huaxi Guild Hall to oil-cloth umbrella, all represent wisdom of the ancients and inheritance of the modern people.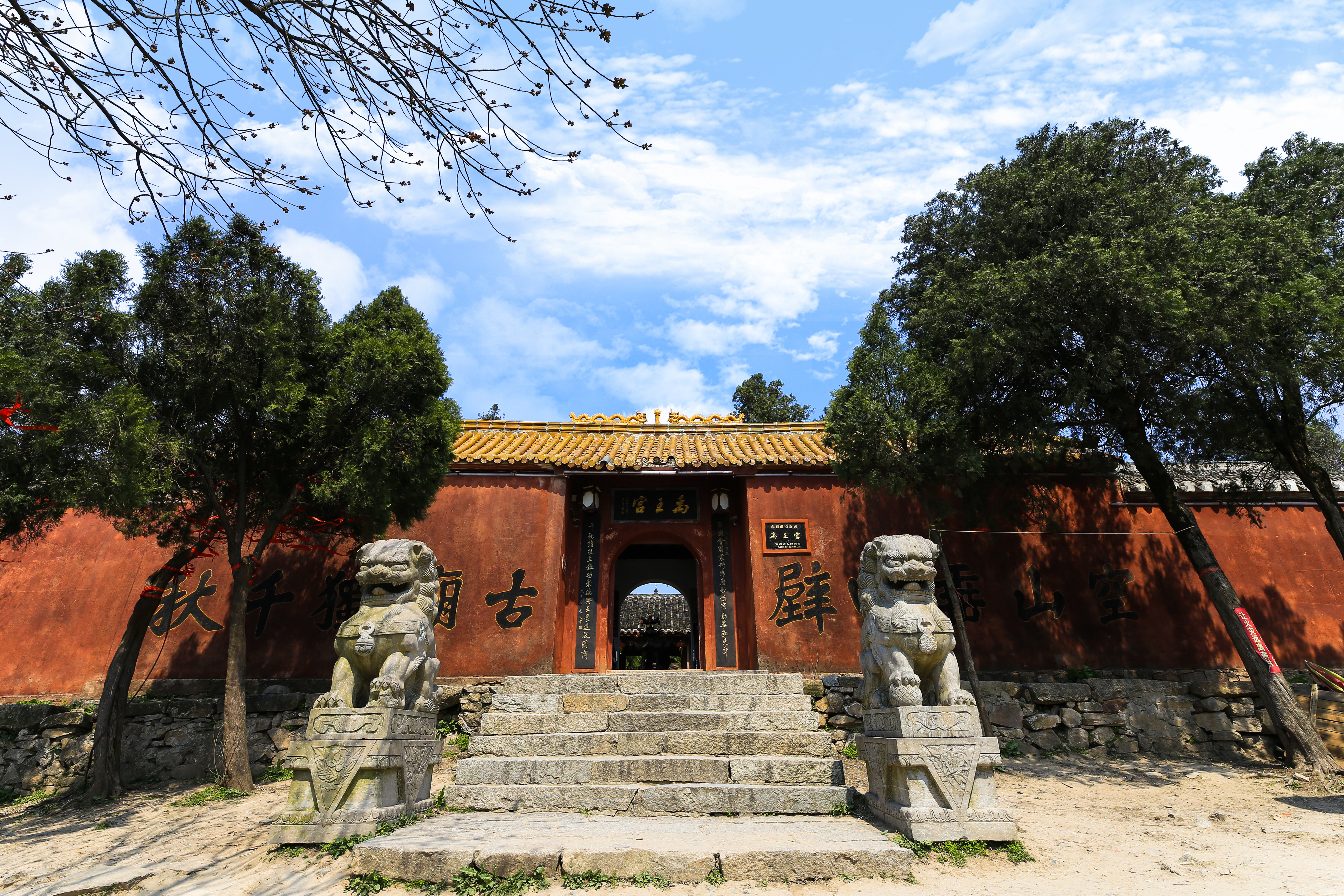 安徽省蚌埠市-涂山
Bengbu, Anhui – Tushan Mountain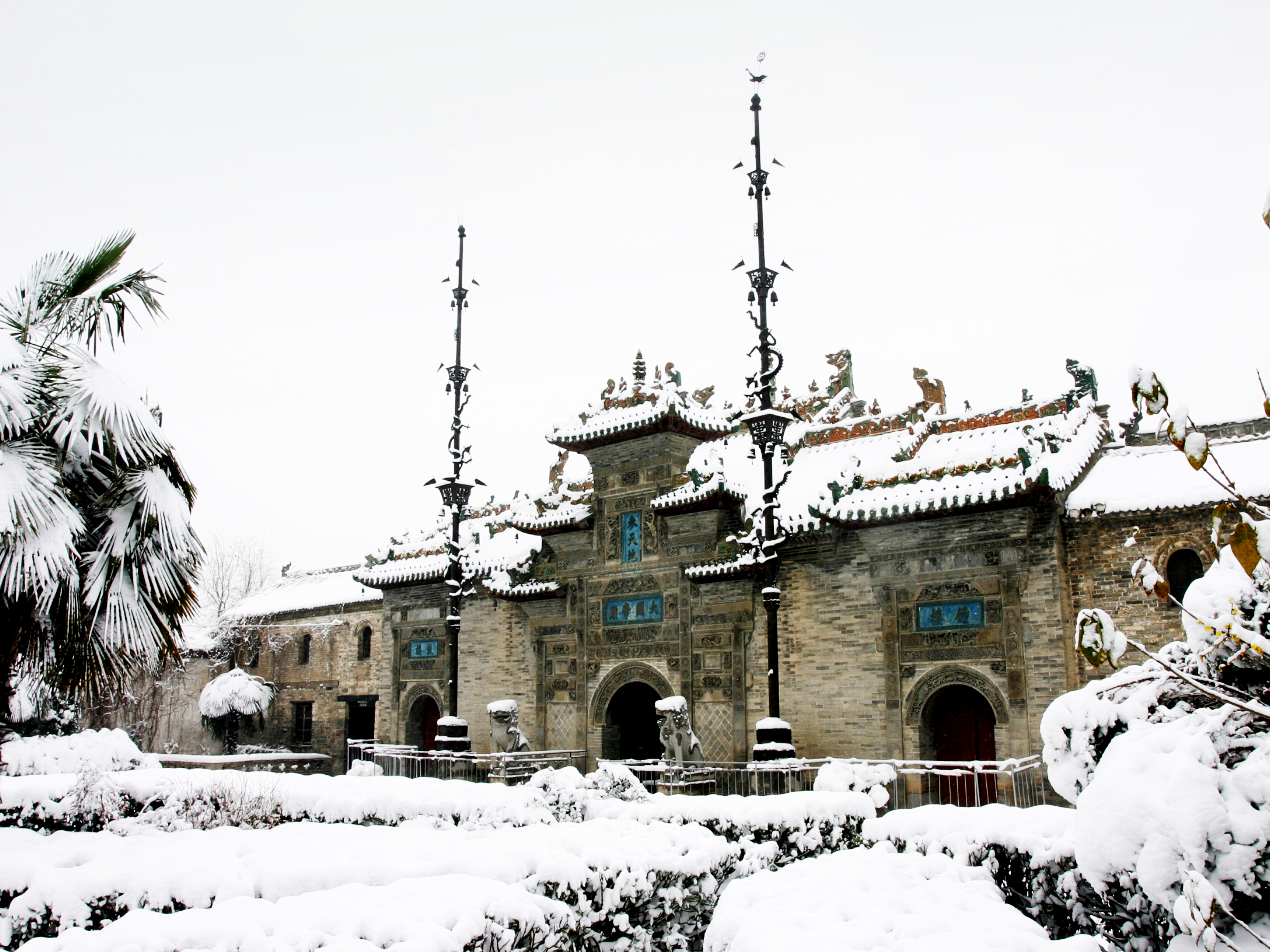 安徽省亳州市-花戏楼-王文成
Bozhou, Anhui – Huaxi Guild Hall – Photo by Wang Wencheng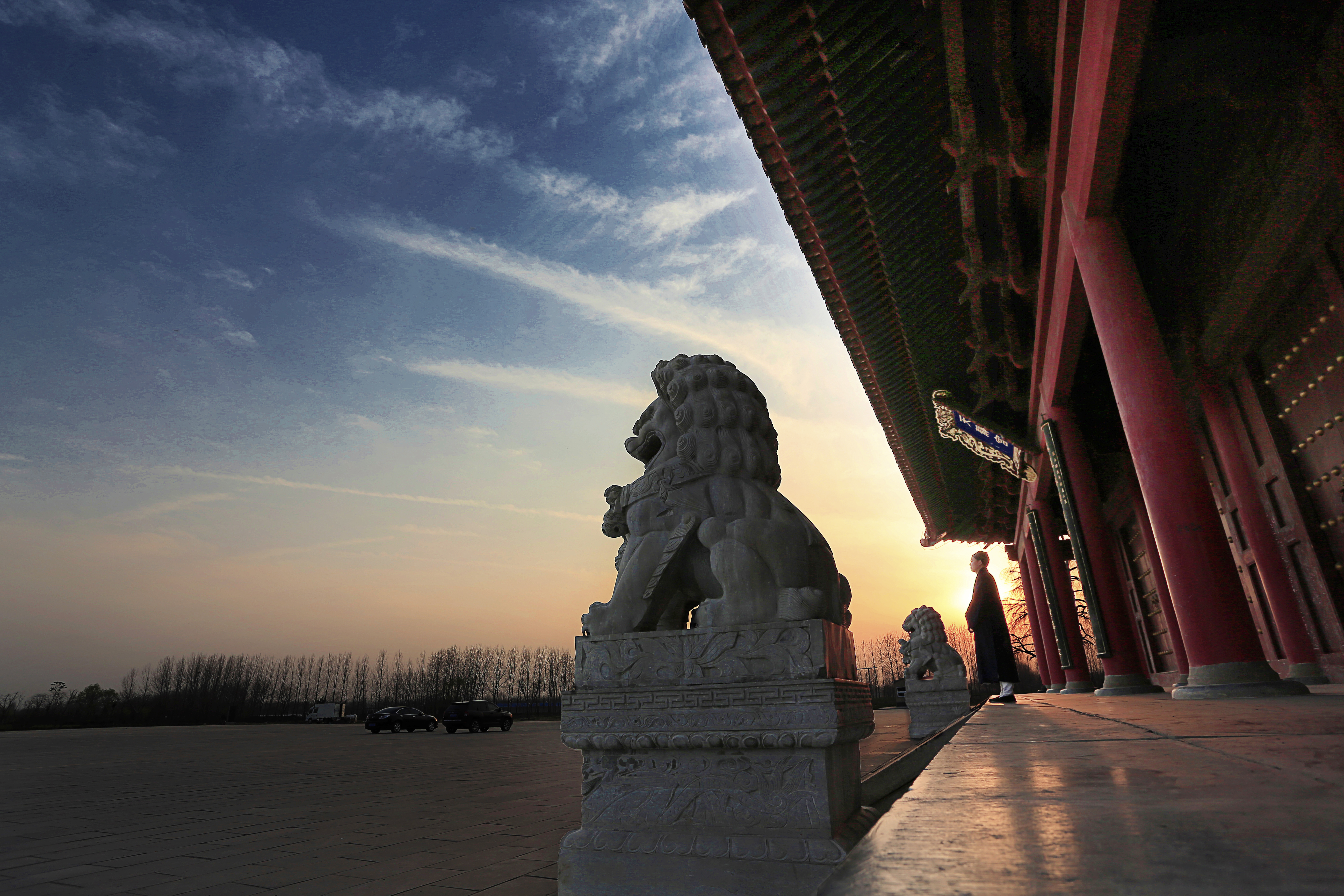 安徽省亳州市-问道天静宫-潘子丰
Bozhou, Anhui – Find Tao in Heavenly Peace Palace – Photo by Pan Zifeng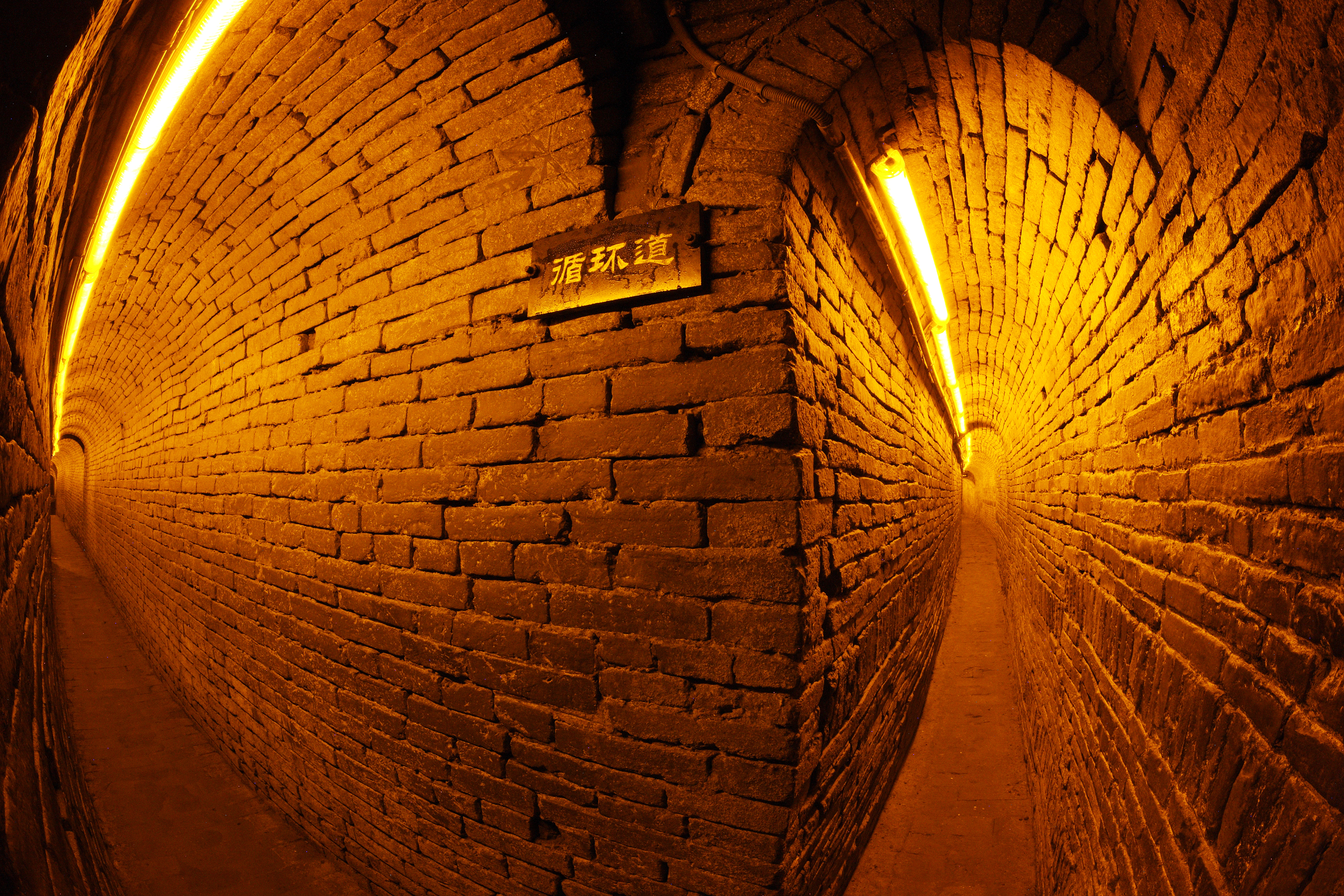 安徽省亳州市-曹操运兵道
Bozhou, Anhui – Cao Cao's Pathway to Transporting Soldiers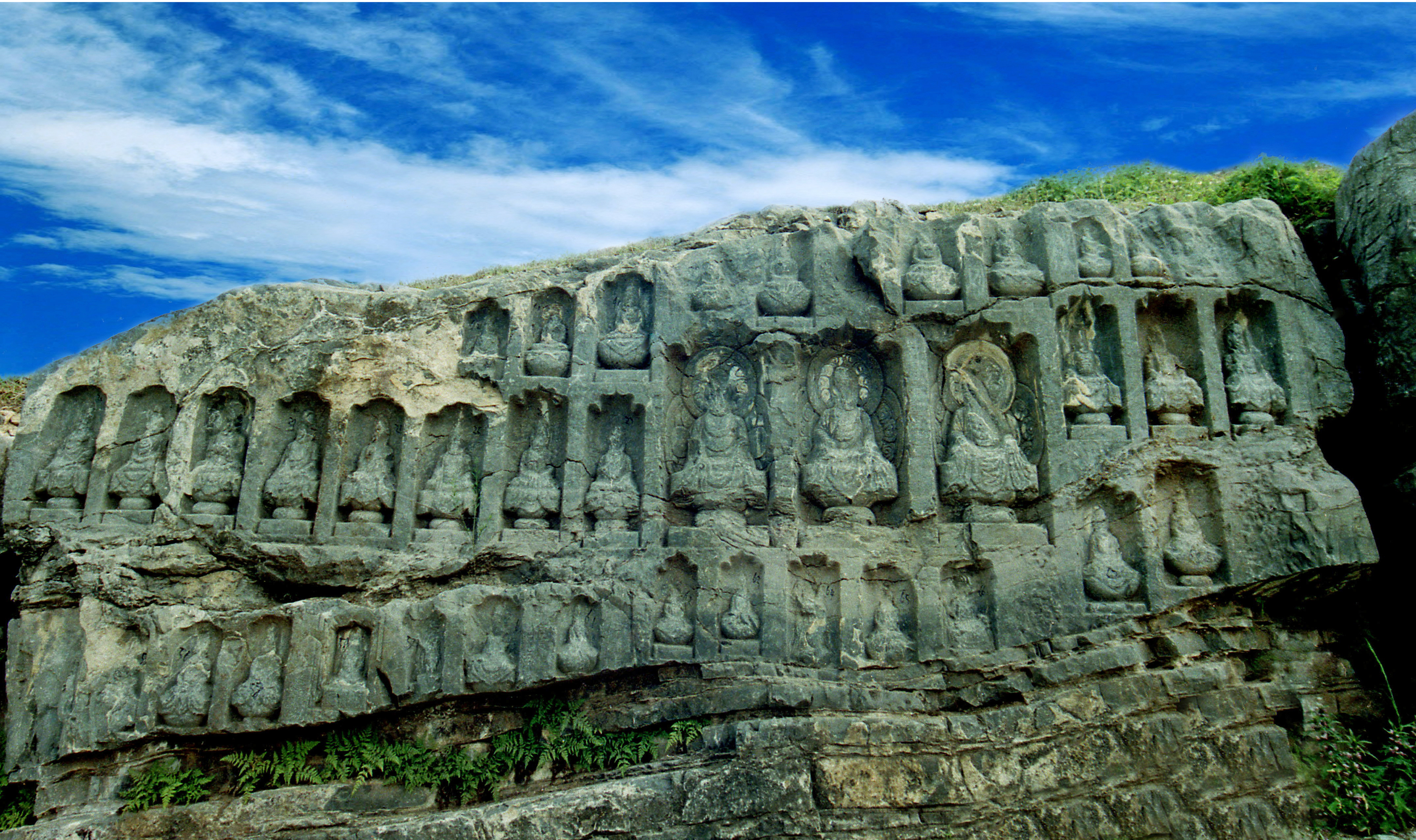 安徽宿州市-磬云山国家地质公园摩崖石刻
Suzhou, Anhui – Stone Engraving of Qingyunshan National Geopark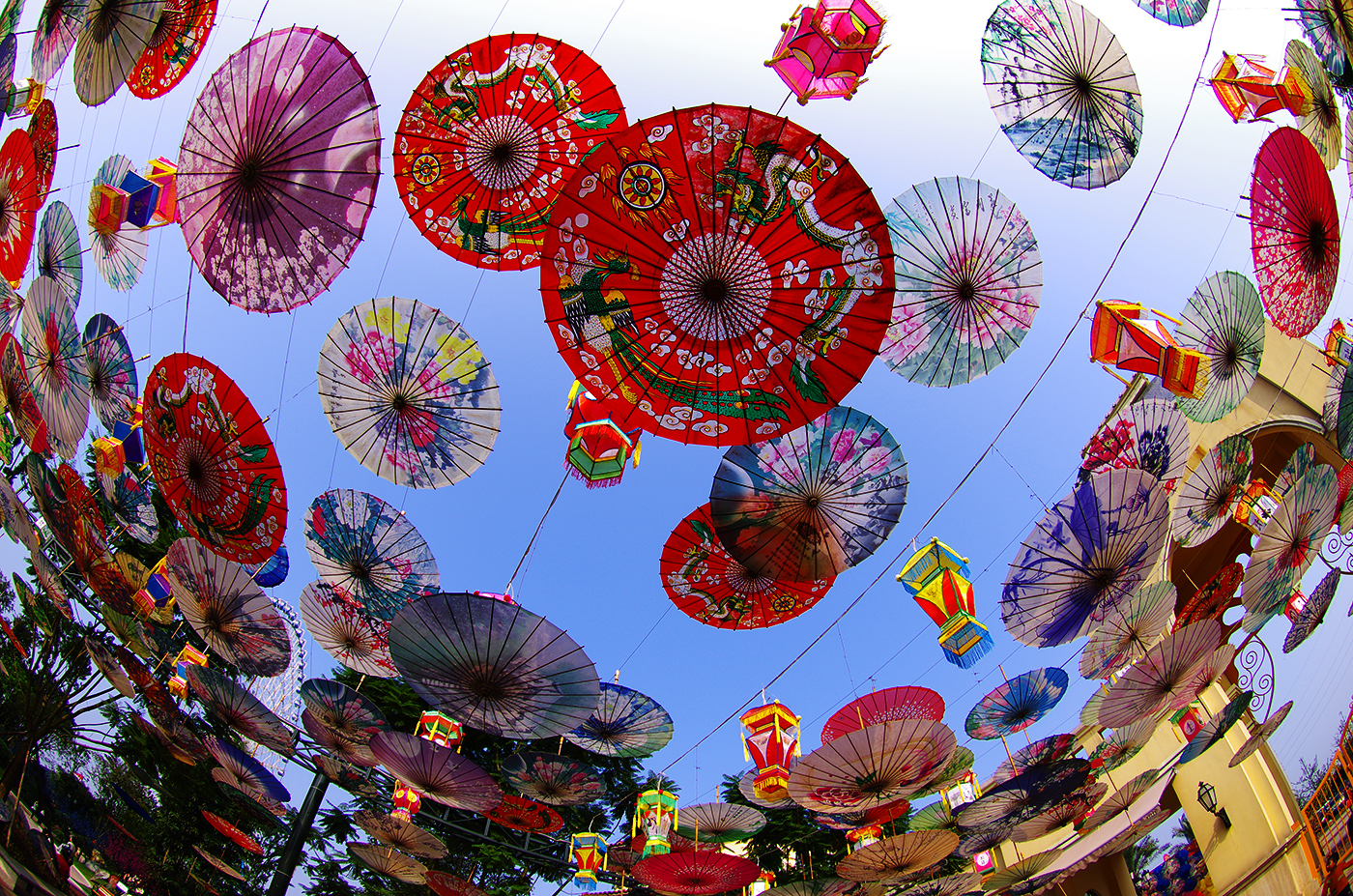 安徽省合肥市非遗园-油纸伞
China Intangible Cultural Heritage Park, Hefei, Anhui – Oil-cloth Umbrella
___________________________________________________________________
文旅体验  Experience of Cultural Tourism 
文化旅游以文化体验为核心。在文旅融合精神指导下,安徽省着力举办国际文化旅游节,并依托丰富的古村镇旅游资源,打造将传统民俗、庙会、节庆相串联的"民俗安徽"主题项目,以及联动十大古村镇及周边景区的"古韵安徽"品牌活动等。同时,评选出百家乡村旅游(扶贫)示范村和年度百佳农家乐品牌,助力文化生态旅游进一步发展。
Cultural experience is the center of cultural tourism. Under the guideline of the integration of culture and tourism, Anhui focuses on organizing International Culture and Tourism Festival, creating "Folk Anhui" themed programs that integrate traditional folk custom, temple fair and festival, etc. and "Ancient Anhui" brand projects linking top 10 ancient villages and neighbouring areas. Meanwhile, top 100 model villages of tourism and annual top 100 agritainment brands are selected to facilitate further development of cultural and ecological tourism.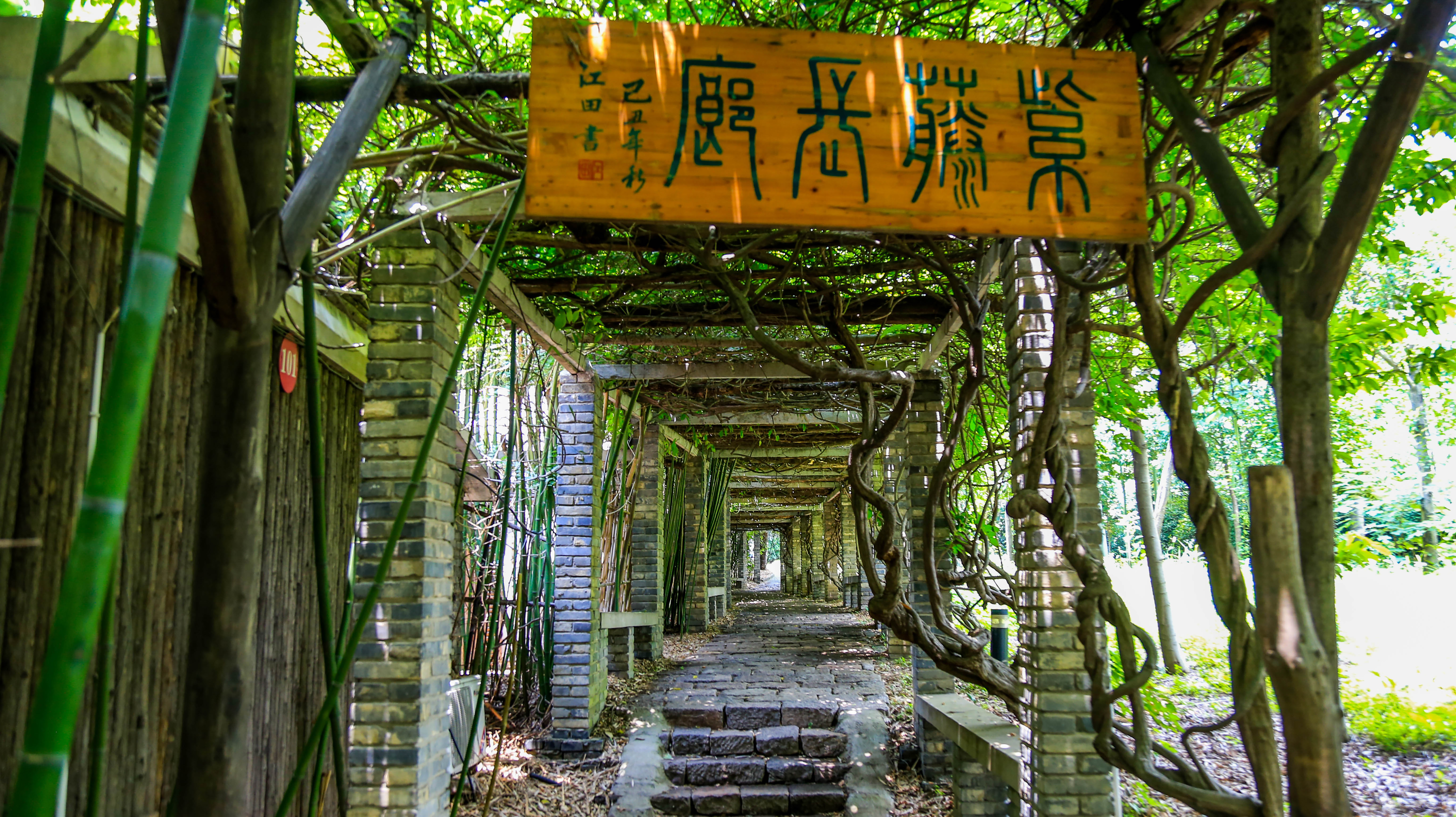 安徽省蚌埠市-禾泉山庄
Bengbu, Anhui – Hequan Farm Resort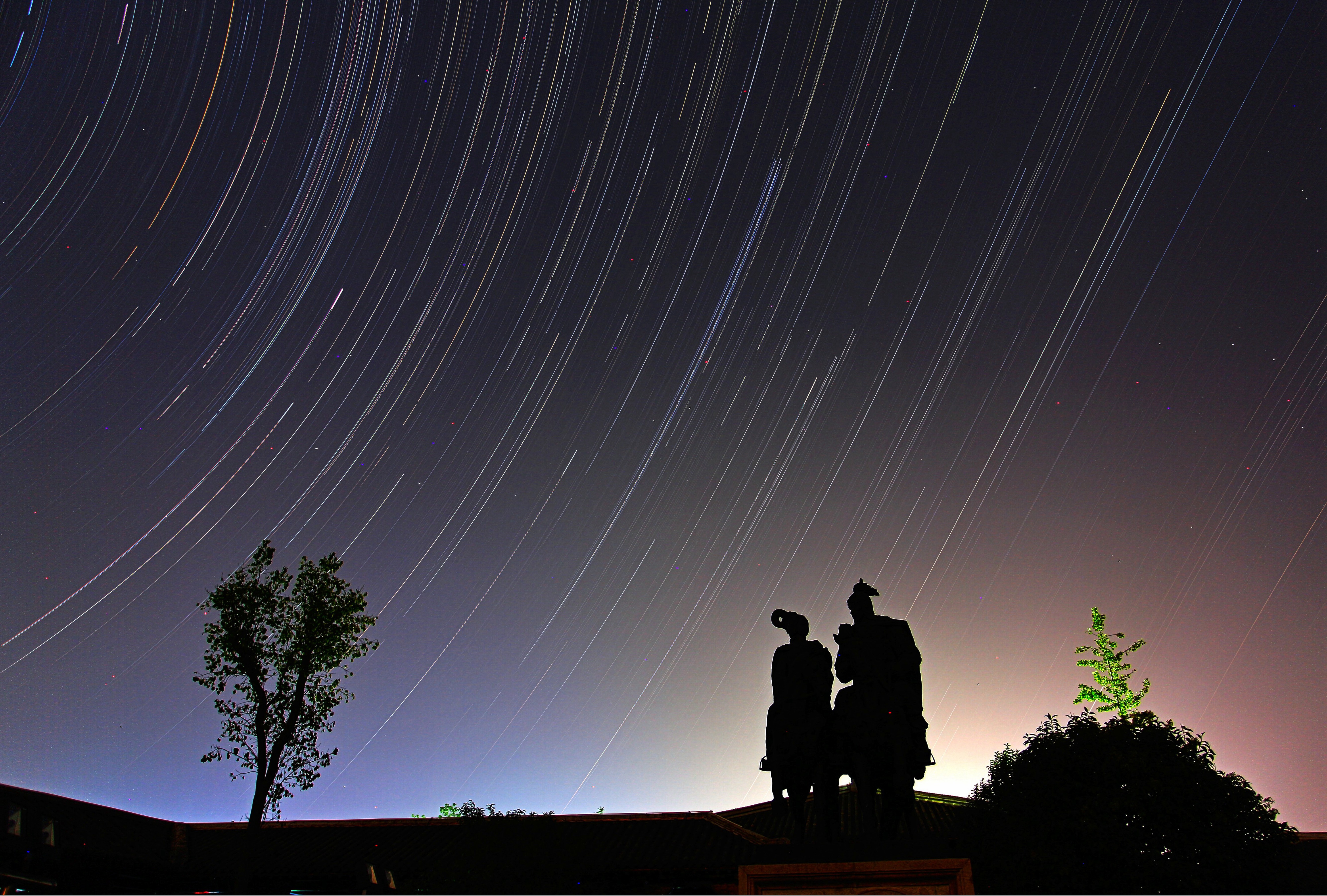 安徽省宿州市虞姬文化园-垓下遗风
Consort Yu Cultural Park – Legacy of Gaixia
2019年初,应斯德哥尔摩中国文化中心邀请,安徽省文化和旅游艺术团一行19人赴瑞典参加2019年"欢乐春节"展演活动;同年6月,"中国旅游文化周——美好安徽"在瑞成功举办。其后,瑞典西约特兰省文化代表团应安徽省文旅厅的邀请到安徽开展文化旅游交流合作活动。一系列人文交流,加深了两国人民之间的了解和友谊。
Invited by China Cultural Center in Stockholm, a 19-member art group of Anhui came to Sweden to participate in "2019 Happy Chinese New Year" exhibition and performance events; in June of the same year, "China Cultural Week – Beautiful Anhui" was held successfully in Stockholm. Afterwards, a cultural delegation of Västergötland, Sweden was invited by Department of Culture and Tourism of Anhui Province to conduct cultural exchange programs. A series of cultural and people-to-people communication have promoted bilateral understanding and friendship.
待疫情过后,美好安徽欢迎您再次到访!
When the pandemic is over, beautiful Anhui welcomes you to visit!