​
阴历五月初五是端午节,又称端阳节、重午节、龙舟节、正阳节、浴兰节、天中节等,是中国传统节日里名称最多的节日。端午节的民俗活动丰富多彩,是汉族、壮族、布依族、仡佬族等多个民族共同的节日,更已远播到日本、朝鲜、韩国、越南等多个国家。2009年被联合国教科文组织列入人类非物质文化遗产代表作名录。
Dragon Boat Festival is the one which owns the largest plenty of names in all traditional Chinese festivals, such as Duanyang Festival and the Bathing Festival. It is celebrated by the Han nationality and many of the minorities, including the Zhuang, Bouyei, Gelao peoples, etc., and it has been spread to Japan, North and South Korea, Vietnam and other countries. The Dragon Boat Festival was inscribed on the Representative List of the Intangible Cultural Heritage of Humanity by the UNESCO in 2009.

端午——源流
Origin
端午节源自天象崇拜,迄今已有二千五百余年历史。仲夏端午,苍龙七宿飞升至正南中天,对应《易经》中"飞龙在天"的爻辞,预示事物处于最鼎盛的时期。闻一多先生在《端午考》一文中提出,端午节起源于古代以龙为图腾的吴越民族举行图腾祭的节日。后因战国时期楚国诗人屈原于五月五日自投汨罗江,端午节演变为纪念伟大爱国主义诗人屈原的节日,也有纪念伍子胥、介子推或孝女曹娥等人的说法。
Dragon Boat Festival originated from the worship of astronomical phenomena over 2500 years ago. When the Dragon Boat Festival arrives in midsummer, the seven mansions of Azure Dragon (one of the four regions of sky ecliptic) reach culmination in the south, corresponding to "flying dragon in the heavens", the fifth line of Qian hexagram in I Ching (The Book of Changes), indicating that things are in the most prosperous period. In "Research on Dragon Boat Festival", Mr. Wen Yiduo proposed that the Dragon Boat Festival dates back to ancient times when Wu and Yue peoples offered sacrifices to their dragon totem. Later on, as Qu Yuan (BC 340 – 278), one of the greatest patriotic and romanticist poets of Chu State during the Warring States period, threw himself into Miluo River on May 5, the Dragon Boat Festival evolved into an occasion to commemorate him. There are other theories that the festival is to memorialize famous persons including Wu Zixu (BC 526 – 484), Jie Zitui (? – BC 636) and Cao E (130 – 143) the filial daughter, etc.

《屈原》 傅抱石 现藏于北京故宫博物院
Qu Yuan, Fu Baoshi, Palace Museum, Beijing
https://www.dpm.org.cn/
端午也是祛病防疫的节日。仲夏炎热、湿毒盛行,蚊虫孳生,疾病多发,因此也是祛毒避邪的节令,继而衍生出各地丰富多彩的祭祀、游艺、保健等民间活动。
Dragon Boat Festival also marks a time to fend off evil spirits and toxins as temperature and humidity are rising and insects are multiplying, transmitting more diseases. It later evolved into many folkways like memorial ceremonies, games and health care in different regions.

红色地虎镇五毒妆花纱裱片 明 现藏于北京故宫博物院
Silk Embroidery of Defeating the Five Poisonous Creatures, Ming dynasty, Palace Museum, Beijing
https://www.dpm.org.cn/
源流——习俗
Customs 
祭龙祖——扒龙舟
Offering sacrifices to dragon – Racing dragon boats
扒龙舟是端午节的一项重要活动,是古代龙图腾祭祀的遗俗。据河姆渡遗址和田螺山遗址的史前文化表明,早在5000年至7000年前,远古先民已用独木刳成木舟,并加上木桨划舟。龙舟最初原型是雕刻龙形的独木舟,后来发展为木板制作的龙形船。如今,人们在端午进行龙舟竞渡,习俗因地而异。一般要先"起龙",把深埋于水底的龙舟请出,祭神,安上龙头、龙尾,再准备竞渡。在湖北的屈原家乡秭归,也有划龙舟祭拜屈原的仪式流传。赛龙舟传到其他国家后,深受人们喜爱,如今成为了一项国际比赛。
Racing dragon boat is a major event and a legacy of ancient dragon totem sacrificial rituals. Archaeological sites of prehistoric cultures, such as Hemudu culture, indicate that ancient people have built wood canoes and oars around 5000 to 7000 years ago. Dragon boat derived from dugout canoe with carved dragon images developed into dragon-shaped wooden boat. Nowadays, people race dragon boats on Dragon Boat Festival with different rituals. In general, before the race, digging up the dragon boats buried under water is the first ritual to perform, followed by sacrificial offerings to the god and installing dragon head and tail. In Zigui, Hubei province, hometown of Qu Yuan, rowing dragon boat is a tribute to him as well. Now, dragon boat racing becomes a popular international sport in many other countries.
纪念屈原——食粽
Memorializing Qu Yuan – Eating Zongzi
在流传最广的端午节纪念屈原的传说中,楚人投筒粽(竹筒贮米)、角黍(菰叶裹黏米)入水祭之,为防止蛟龙窃夺,人们用蛟龙畏惧的五彩丝线和楝树叶裹米捆扎成粽。如今,粽子多以箬叶或芦苇叶包裹糯米制成。
According to the most popular version of the origin of Dragon Boat Festival, Chu people threw glutinous rice dumplings in bamboo tubes or wild rice leaves into the river to commemorate Qu Yuan. To prevent the flood dragon from stealing the offerings, people wrapped rice with chinaberry leaves and five-color silk threads that flood dragon fears. This is the glutinous rice dumpling known as Zongzi. Nowadays, Zongzi is usually wrapped with chequer-shaped indocalamus leaves or reed leaves.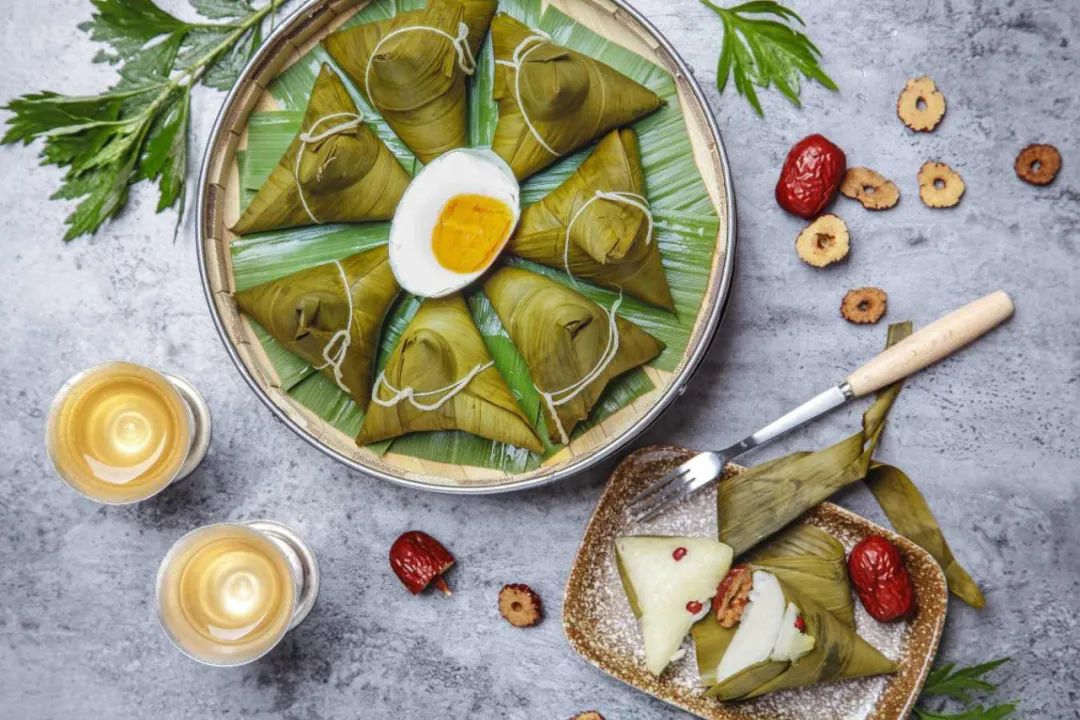 祛病防疫——挂艾叶、菖蒲;沐兰汤;饮雄黄酒
Preventing diseases – Hanging  argy wormwood and acorus calamus  leaves over the door; bathing in herbal water; drinking realgar wine
端午是草木一年中药性最强的一天,端午日遍地皆药。不少地方有在端午采草药煎水沐浴的习俗,即沐兰汤,以洗去晦气,带来好运。至今,在广东、湖南、广西等地依然延续这一习俗。
It is believed that herbs are most effective around Dragon Boat Festival so that all herbs can be medicinal on that day. Nowadays, in Guangdong, Hunan, Guangxi and many other regions, the tradition of gathering herbs and bathing in herbal water to wash off bad luck remains.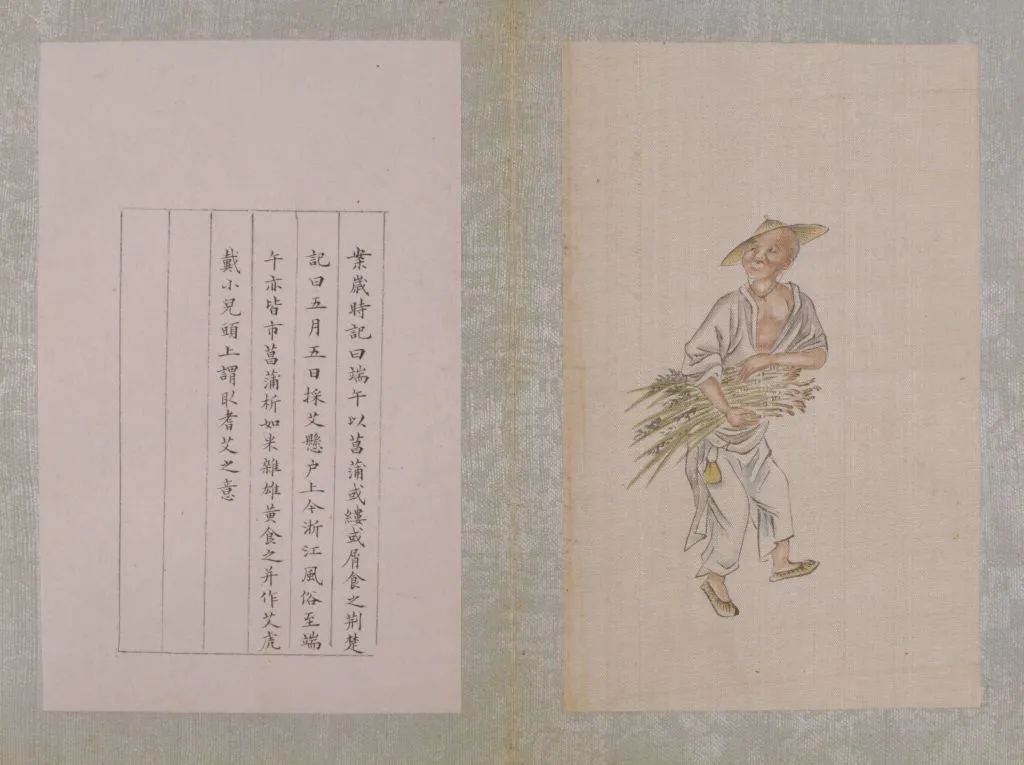 《太平欢乐图》册之《采艾》 清 董棨 现藏于北京故宫博物院
Gathering Argy Wormwood Leaves, Dong Qi, Qing dynasty, Palace Museum, Beijing
端午前后的季节变化导致疾病萌发,因此防瘟、避疫和祛毒成为端午的重要习俗。人们将挂艾草、菖蒲等用红纸绑成一束,插或挂在门上。此外还有佩戴香囊,利用佩兰、艾草、白芷等的香气,通过口鼻吸入,达到通经络,祛病强身,消毒避疫的作用。
Seasonal changes during this time lead to various diseases, so the prevention of plague and epidemic and detoxification become an important custom of the festival. People hang a bundle of argy wormwood leaves and acorus calamus wrapped with red paper over the door; wear sachets of herba eupatorii, argy wormwood, angelica dahurica and other herbs to ensure a clear flow in main and collateral channels and to prevent diseases by inhaling the fragrance.
端午饮雄黄酒的习俗,古时在长江流域地区极为盛行。雄黄是一种矿物质,俗称"鸡冠石",一般饮用的雄黄酒,只是在白酒或自酿的黄酒里加入微量雄黄而成。未到喝酒年龄的小孩子,则给额头、耳鼻、手足心等处涂抹,意在消毒防病,虫豸不叮。把雄黄酒洒在墙角、床底等处,可以驱虫,清洁环境。
Drinking realgar wine on Dragon Boat Festival was once popular along the Yangtze River. Only a slight trace of ruby sulphur, or realgar, is added in white liquor (Baijiu) or home-brewed yellow rice wine. For children, ruby sulphur wine is applied to their foreheads, noses, ears, hands and feet to fend off insects and illness. Sprinkling the wine on the corners of walls and under beds can have the same effect and ensure a clean environment.
驱邪攘灾—栓五色丝线
Warding off evils – Tying five-color silk thread
中国传统文化中,象征五方五行的五种颜色"青、红、白、黑、黄"被视为吉祥色。端午在手腕脚腕上系上五色丝线以驱邪,是很流行的节俗。传到后世,即发展成如长命缕、长命锁、香包等许多种漂亮饰物,制作也日趋精致,成为端午节特有的民间艺品。
In traditional Chinese culture, the five colors – cyan, red, white, black, yellow – representing the five directions and five elements, are considered auspicious colors. It is popular to tie a five-color silk thread around the wrist or ankle. Nowadays, a variety of folk accessories are produced, including silk bracelet, longevity lock, scented sachet, etc.

习俗——多样
Diversification
和甜咸豆花一样,关于粽子的甜咸之争也从未停止。中国人的饮食口味大致可以概括为南甜北咸,然而对于粽子,反而基本是南咸北甜。这是为什么呢?有研究认为,糖在古代曾是一种奢侈品,宋代以前,北方经济发展水平较高,是糖的主要消费地区,而南方则以大量食盐腌渍保存食品。到了明清时期,福建、广东成为产糖中心,北方糖价上涨,南方则多食甜,也就形成近代以来南甜北咸的口味特征。正因如此,在制作用于祭祀仪式的粽子时,反而会使用相较平时更为名贵的食材。因而北方粽子以多糖的豆沙红枣为馅,南方则以比糖价值更高的肉为馅。嘉兴的鲜肉粽、广东的咸蛋鲜肉粽、福建的烧肉粽、苏州的猪油夹沙粽子;北京的红枣豆沙粽、西安的蜂蜜凉粽子、山东的黄米粽子,当然还有四川的辣粽、云南的草木灰粽、粽子发源地和屈原投江处的汨罗牛角粽等等各地独具特色的"粽"类,多种多样的馅料、粽叶经过多道精细的加工工艺,包裹出形状口味各异的粽子,而不变的是对文化遗产的传承和人文精神的守护。
Sweet or salty Zongzi? Similar to tofu pudding (douhua), this differentiation of flavor has long existed. In general, northern Chinese prefer saltiness and southern Chinese sweetness; however, as for Zongzi, it is basically the other way around. How and why? Researches show that since sugar was once a luxury, northern China contributed to most of the sugar consumption before Song dynasty (960-1279), where economic development was more advanced; while southern Chinese use a large amount of salt to preserve food. During Ming and Qing dynasties, Fujian and Guangdong became sugar production centers, leading to rising price and lower consumption of sugar in the north and more sweet food in the south. Such flavor preference remains until today. As a result, when making zongzi, a type of food with sacrificial and ritual purposes, people tend to use more valuable materials than usual. Therefore, Zongzi in the north is filled with red dates and sweet red bean paste, while in the south, meat with higher value than sugar is used. Zongzi with fresh meat in Jiaxing, with salted egg yolk and meat in Guangdong, with braised meat in Fujian, with lard and red bean paste in Suzhou; with red date or red bean paste in Beijing, with honey in Xi'an; or with chili in Sichuan, boiled with plant ash water in Yunnan, and ox-horn-shaped Zongzi in Miluo – the place where Zongzi was invented and where Qu Yuan threw himself into the river. Different fillings, leaf wrappings and procedures produce various shapes and flavors, but the inheritance of cultural legacy and spirit remains unchanged.

附上制作粽子的基本步骤,大家可以与亲友共同尝试下哦~
You may follow the following procedures to try to make some Zongzi at home:

演变——追忆
Commemoration 
"路漫漫其修远兮,吾将上下而求索。"一首《离骚》可谓千古绝唱,而屈原代表的精神不朽。让我们通过这首诗,缅怀先人的伟大灵魂,铭记历史精神,传承经典文化。
"Long, long had been my road and far, far was the journey; I would go up and down to seek my heart's desire." Encountering Sorrow (Li Sao), a poetic masterpiece through the ages, passes down the spirit of Qu Yuan. By reading this poem, we remember the great soul of our ancestor, our profound history and cultural legacy forever and ever.
视频由中国文化网提供
Video provided by chinaculture.org
《非物质文化遗产在中国》 北京语言大学出版社 2017
---
Facebook: China Cultural Center in Stockholm
https://www.facebook.com/China-Cultural-Center-in-Stockholm-110983273921638
Tik Tok: cccinstockholm
https://www.tiktok.com/@cccinstockholm
Wechat: 斯德哥尔摩中国文化中心 or scan the QR code below