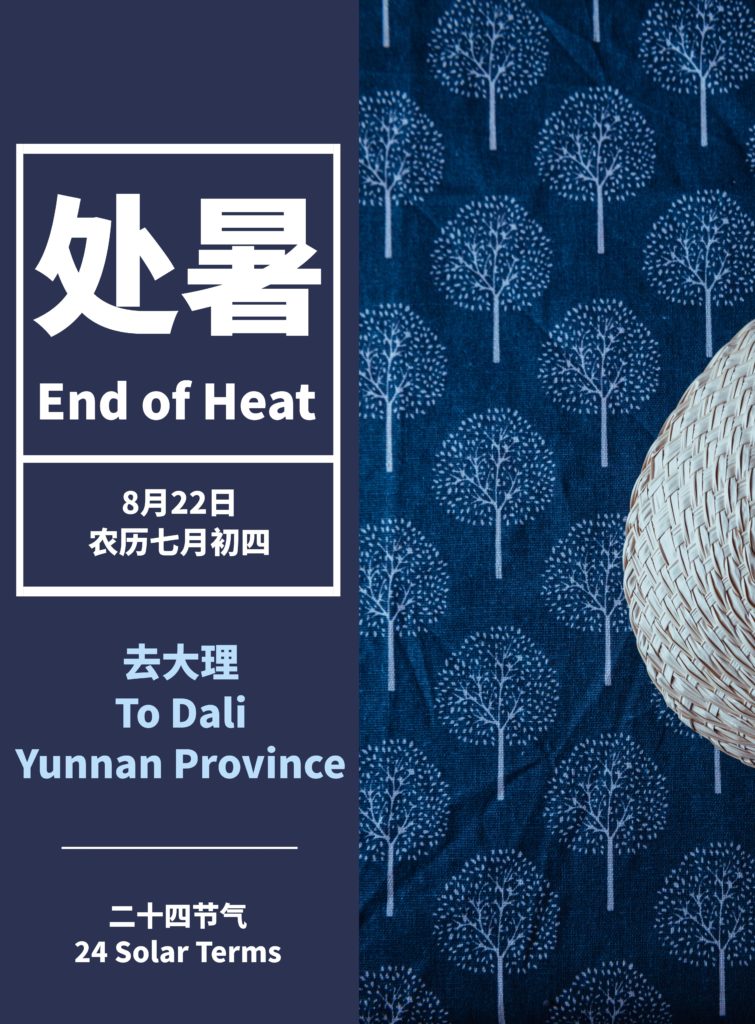 今年农历七月初四,即公历8月22日,为二十四节气中的第十四个节气——处暑,意为"出暑",表示炎热的夏天即将结束,此时三伏已过或接近尾声,气温逐渐下降,一场秋雨一场寒。
Chushu (End of Heat), the fourteenth of 24 solar terms, falls on August 22, the fourth of the seventh month of Chinese lunar calendar this year. As the name implies, Chushu means that the summer heat is receding and that the three periods of the hot season are close to an end or has already passed. Temperature drops, especially after each autumn rain.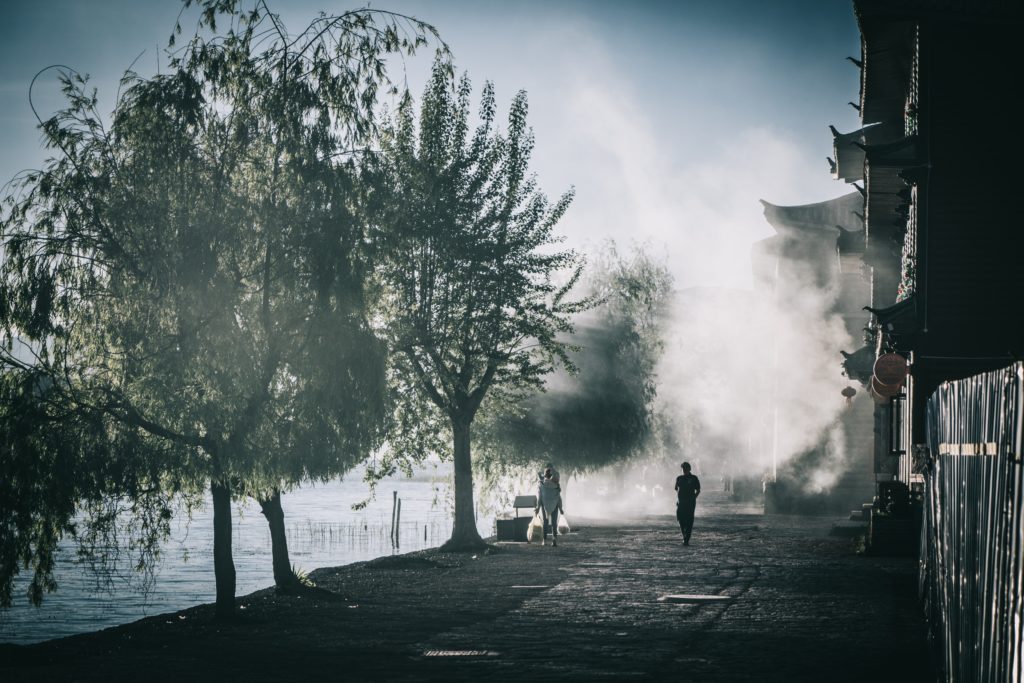 云南 Yunnan province / Photo by Chi Lok Tsang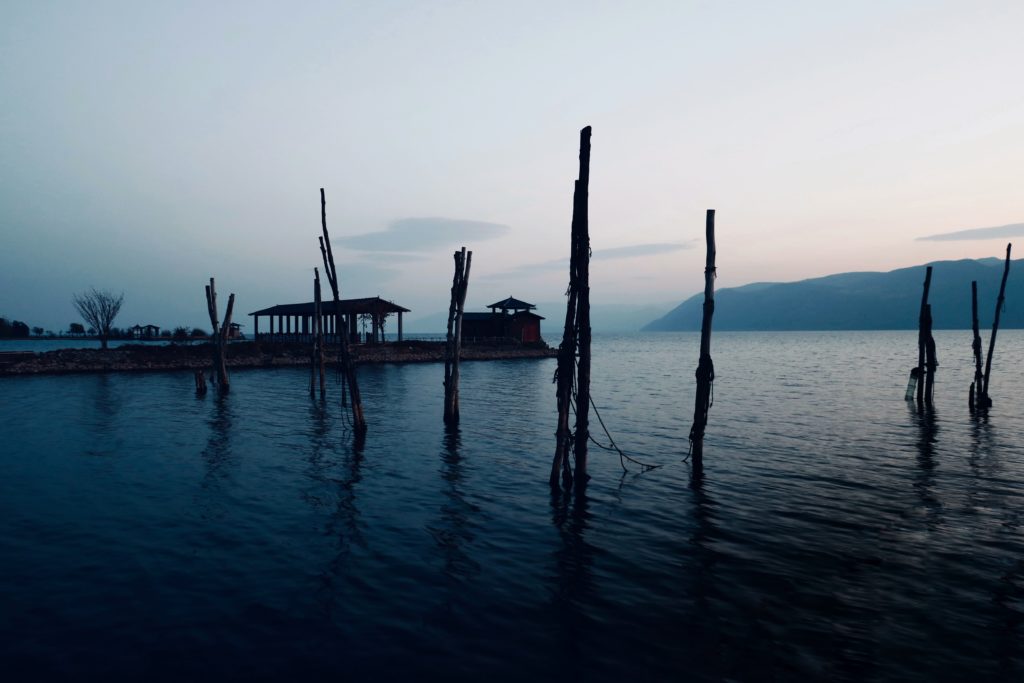 云南 大理 Dali, Yunnan province / Photo by Sugarman Joe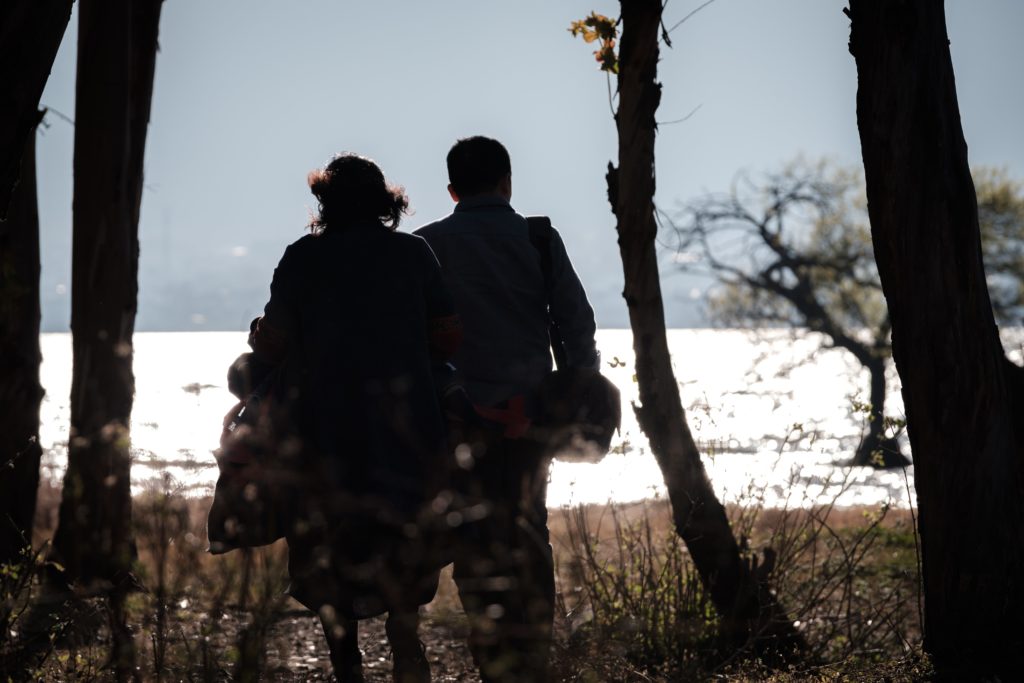 云南 大理洱海 Erhai Lake, Dali, Yunnan province / Photo by Lincoln Yoon
– 祭祖 / Offering sacrifices to ancestors
处暑前后的民俗多与祭祖及迎秋有关。此时,有些农作物已经成熟,人们用新米等供奉祖先,报告今年收获的情况。
Offering sacrifices to ancestors and embracing autumn are major customs around Chushu. As some crops are ripe, people offer newly harvested rice to ancestors to report on the harvest.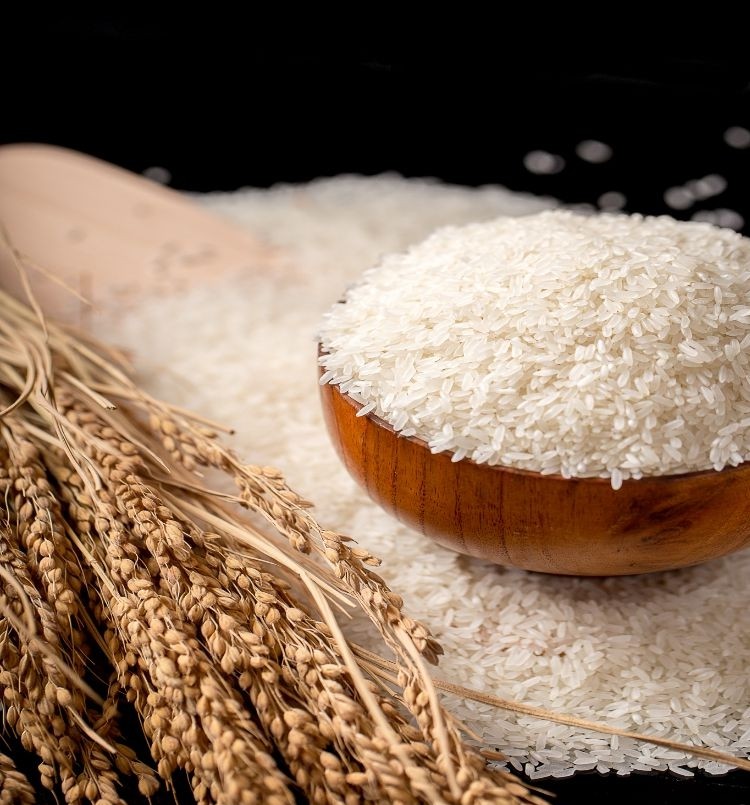 – 出游迎秋 / Autumn outing
处暑之后,秋意渐浓,秋高气爽,正是郊游赏景的好时节。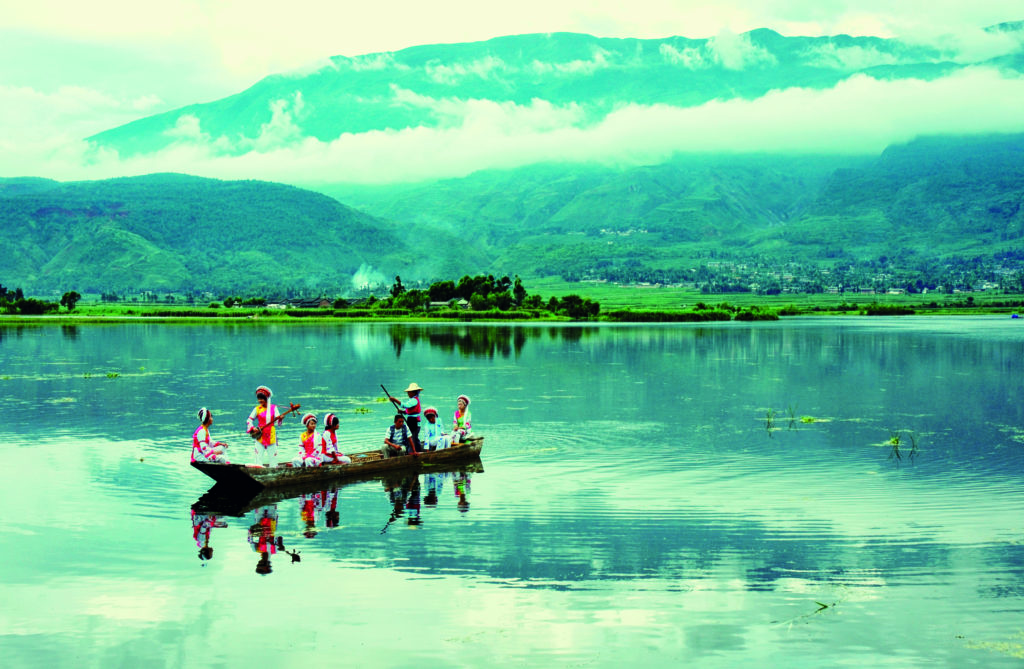 云南 大理洱源西湖 Eryuan West Lake, Dali, Yunnan province / 张金明 Zhang Jinming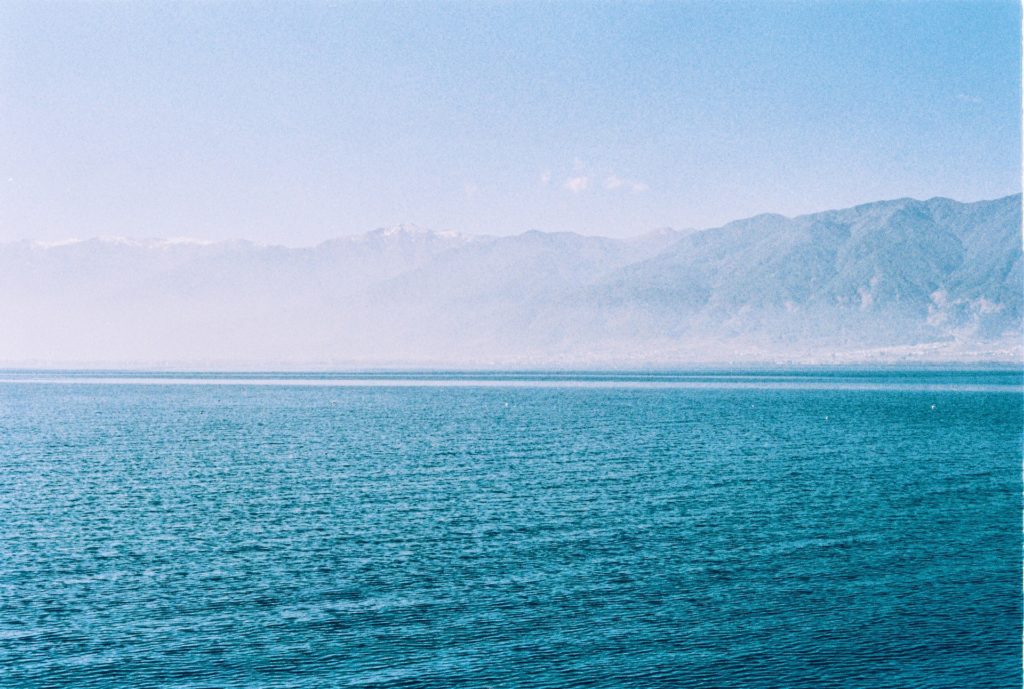 云南 大理洱海 Erhai Lake, Dali, Yunnan province / Image by Melodyxzl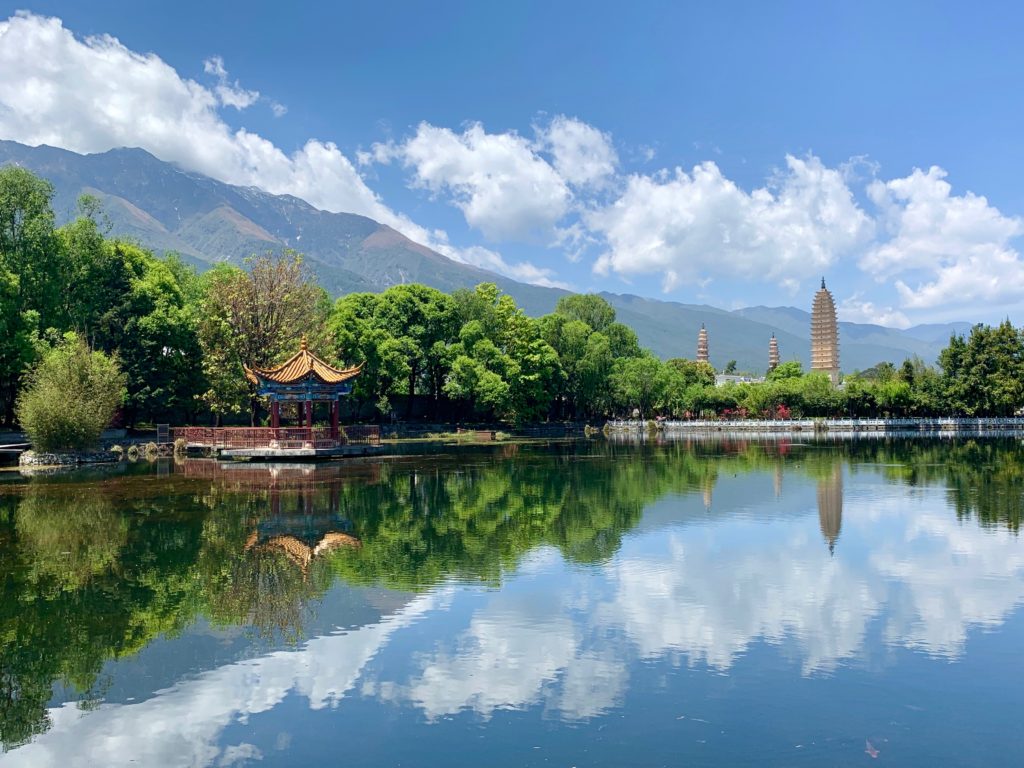 云南 大理崇圣寺三塔 The Three Pagodas of the Chongsheng Temple, Dali, Yunnan province / Photo by Chongming Liu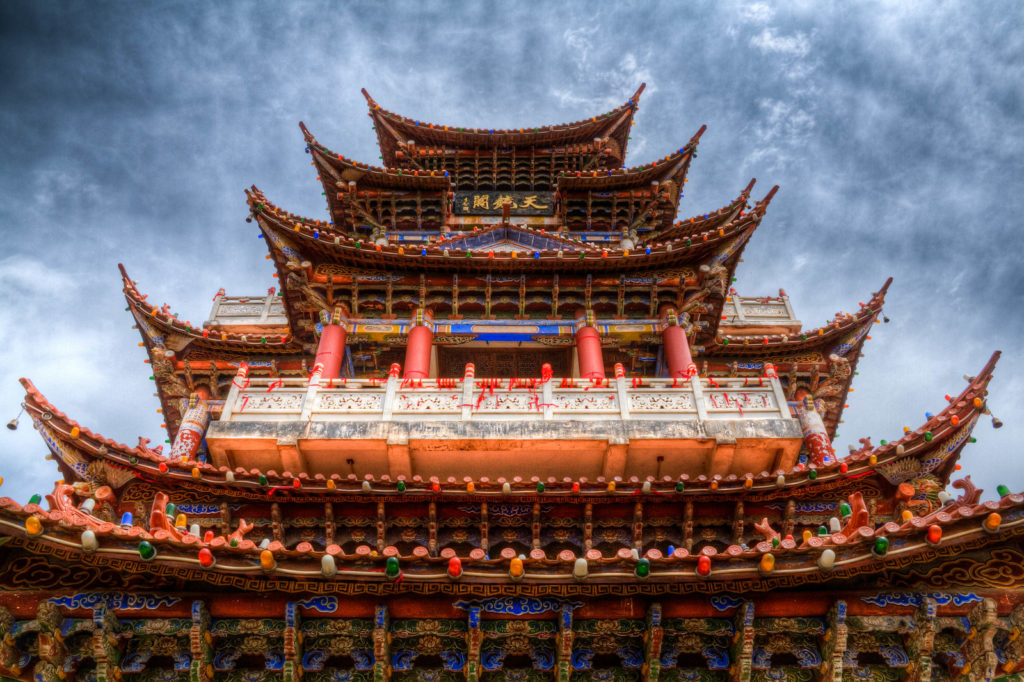 大理洱海天镜阁 Sky Mirror Pavilion, Dali / Photo by Herve "Setaou" BRY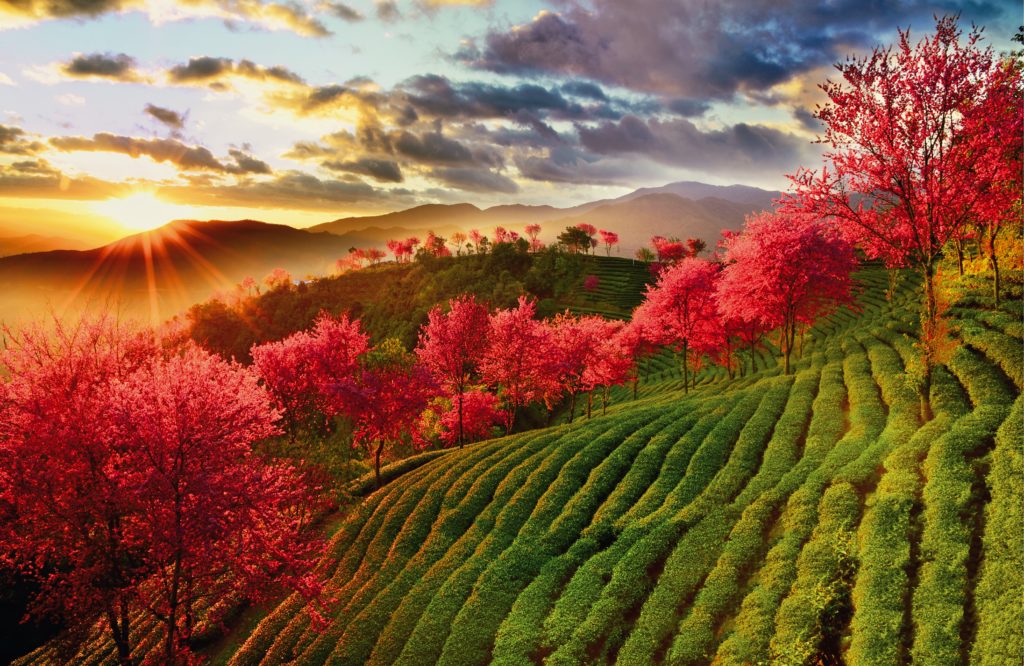 大理南涧无量山冬樱花 Winter Cherry Blossom on Wuliang Mountain, Nanjian county, Dali / 李培君 Li Peijun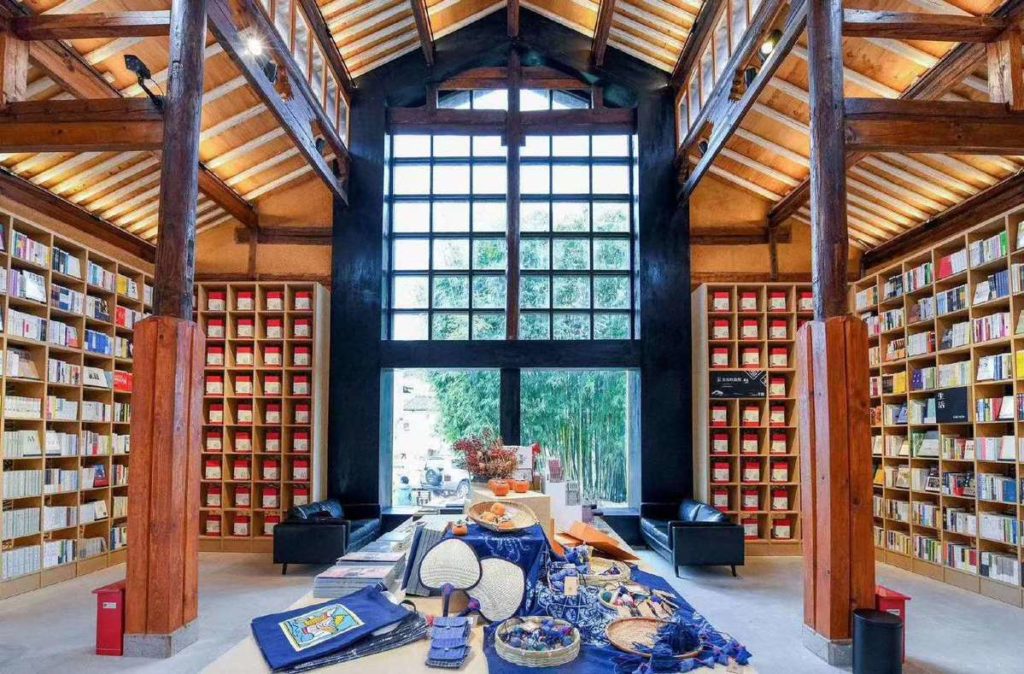 大理 先锋沙溪白族书局 Librairie Avant-Garde Bookstore, Dali / chinadaily.com.cn
– 放河灯 / Floating river lanterns
农历七月十五日,是将道教中元节、佛教盂兰盆节和民间鬼月鬼节习俗集于一身的中国传统节日。人们在中元夜来到江河之畔,将盛着灯盏或蜡烛的荷花灯放入水中,任其自在漂流,以悼念逝去的亲人,保佑在世的亲友安康。
The fifteenth of the seventh month of Chinese lunar calendar marks a traditional festival that combines the customs of Zhongyuan Festival of the Taoism, Yulan Festival of the Buddhism and Ghost Festival according to folk traditions. On the night before the festival, people put lotus-shaped lanterns with a lamp or candle into the rivers to mourn the deceased and bless the living as they float.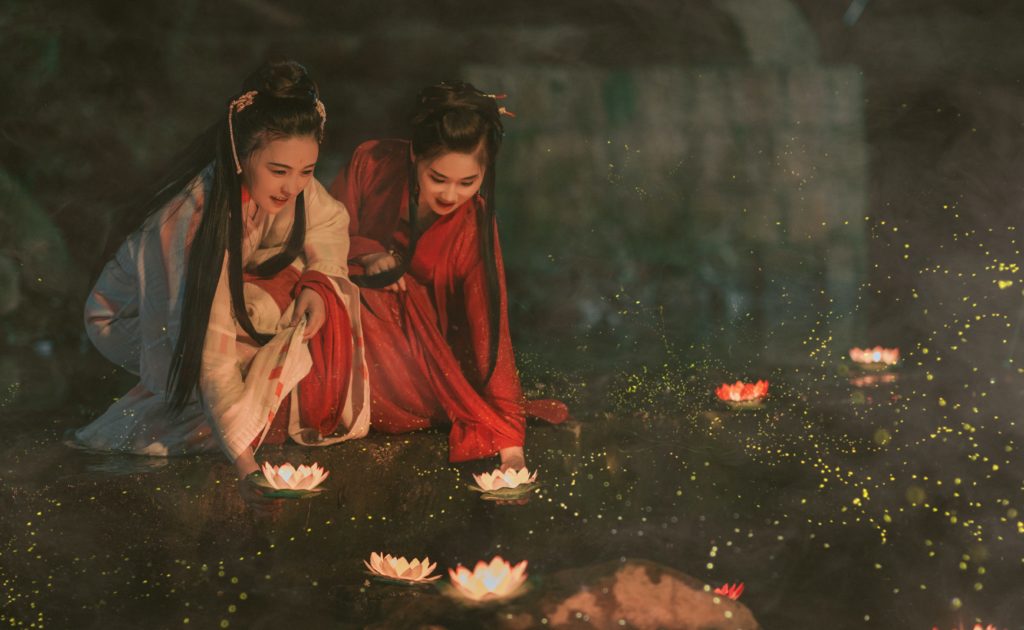 Photo by Dan Ma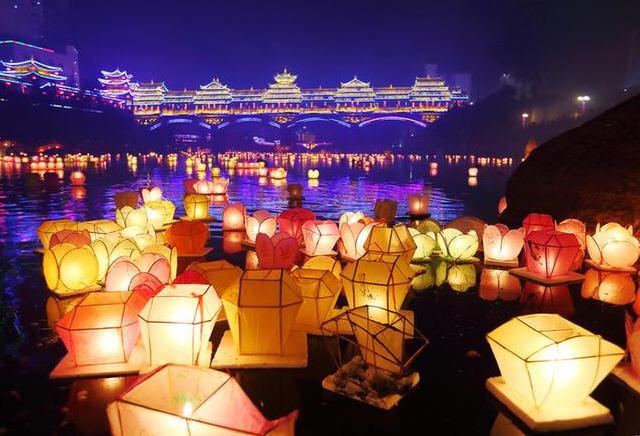 http://www.ihchina.cn/
– 开渔节 / Fishing Festival
对于沿海渔民来说,处暑以后是渔业收获的时节。每年,浙江省沿海都会在此时举行隆重的开渔节,欢送渔民开船出海。原本帆樯林立、千舸锚泊的平静海面,瞬间人海涌动、鼓乐喧天、千舸竞发,一派壮观景象。
For fishermen in the costal areas, it is the harvest season after Chushu. Fishing Festival is held annually in Zhejiang province to celebrate the beginning of fishing season. The ocean, where once all boats are docked, becomes the playground of thousands of fishing boats accompanied by thunderous gong and drum beats.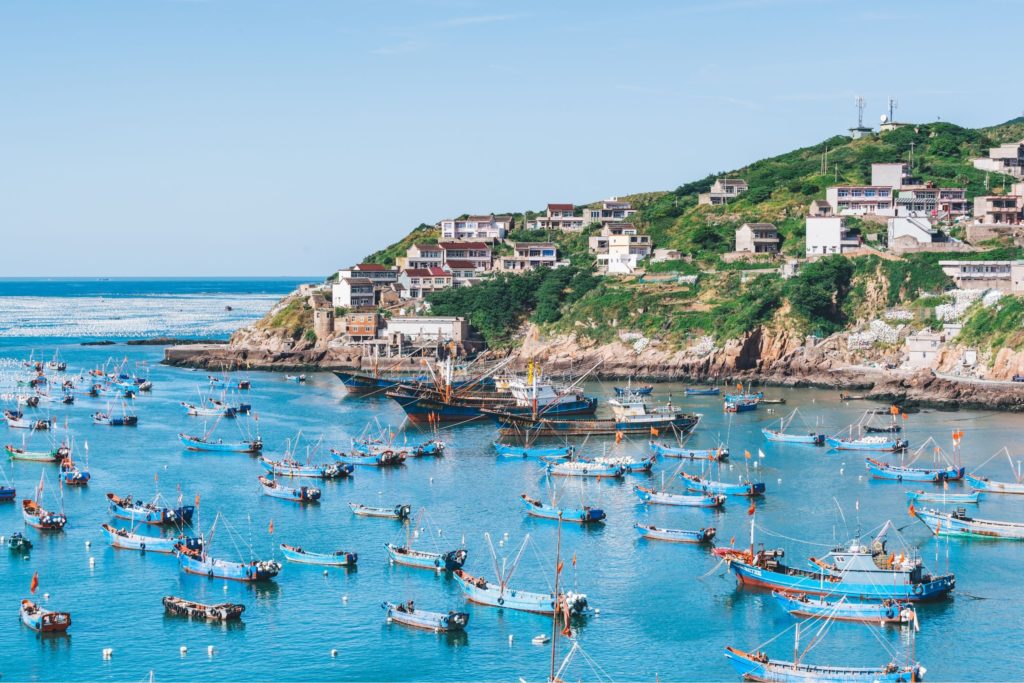 – 吃鸭子 / Eating duck
民间有处暑吃鸭子的习俗。老鸭味甘性凉,用当季的百合、陈皮、蜂蜜、菊花等食材来调制百合鸭,符合这一时节润肺健脾、清热生津的原则。不过,各地烹饪鸭子的方式可谓五花八门,除了北京烤鸭,南京盐水鸭、福建姜母鸭、广式烧鸭、扬州三套鸭、上海八宝鸭等等,都是餐桌上必不可少的美味佳肴。
Eating ducks is a folk tradition on Chushu. The cool-natured duck is cooked with lily petals, tangerine C, honey, chrysanthemum and other ingredients, which is in line with the health preservation principles to nourish the lung, tonify the spleen, clear heat and promote salivation in this season. Apart from Peking roast duck, there are a million ways to cook duck in China: Nanjing salted duck, Fujian ginger duck, Cantonese roast duck, Shanghai eight-treasure duck, Yangzhou three-nested duck etc., each of which is an indispensable part of a proper feast.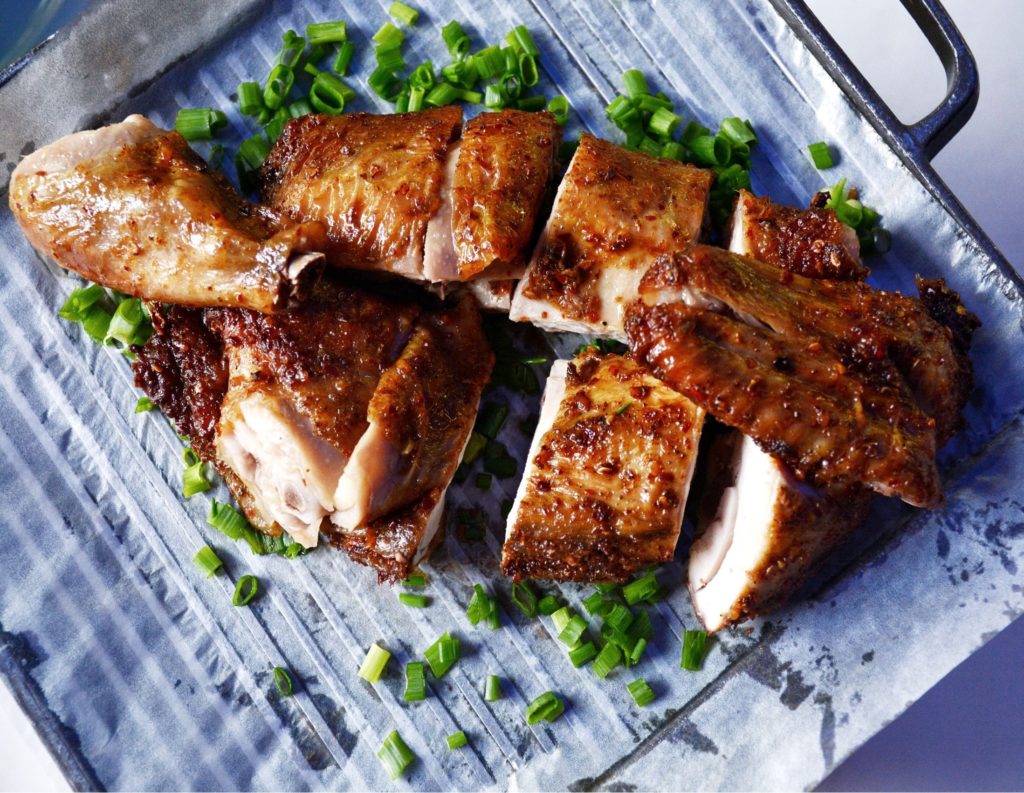 茶油鸭 Tea oil duck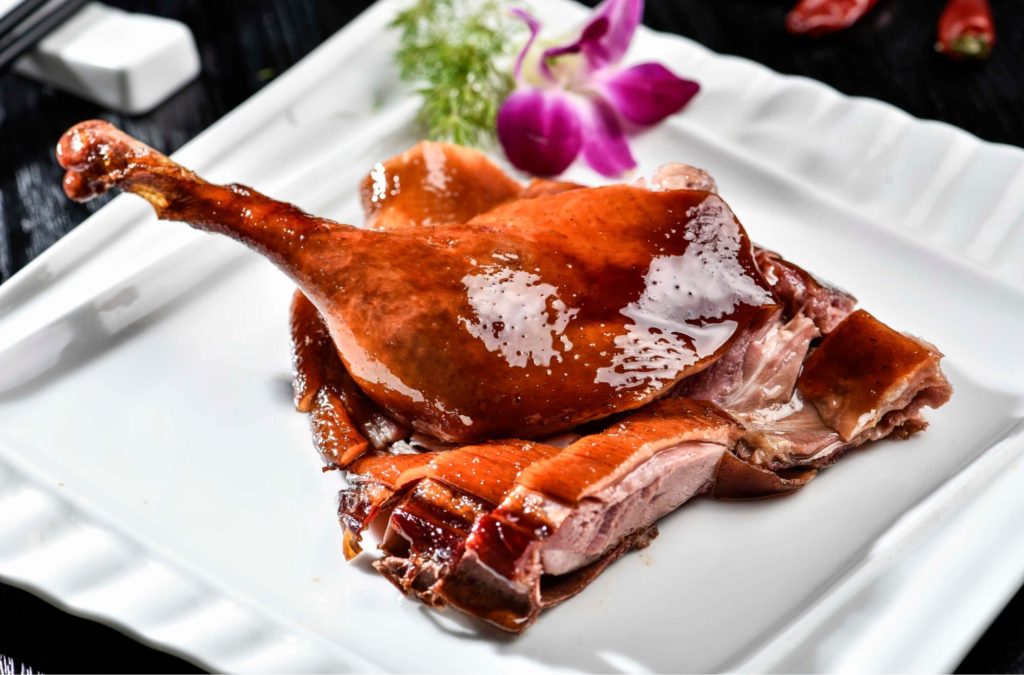 广式脆皮烧鸭 Cantonese crispy roast duck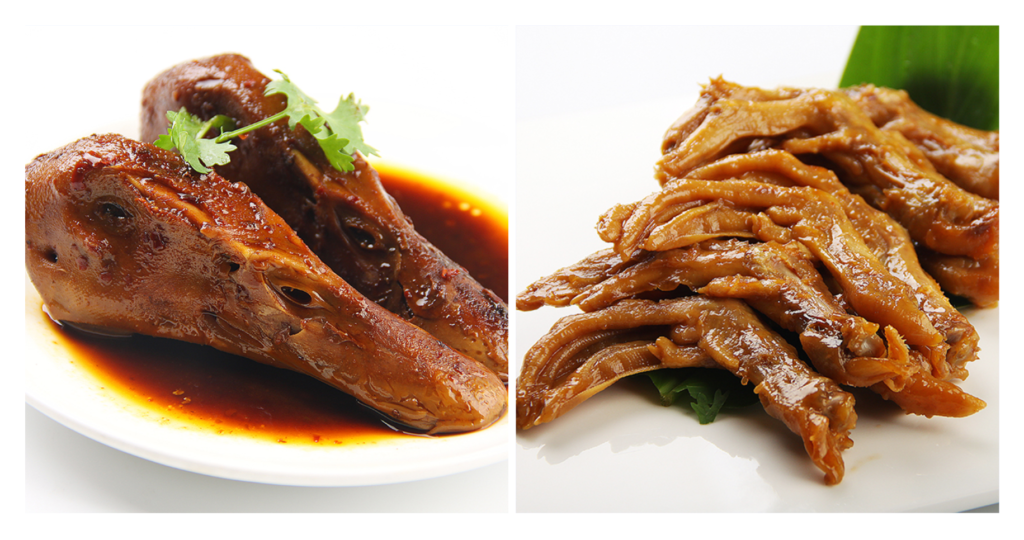 衢州 鸭头、鸭掌 Quzhou duck head and feet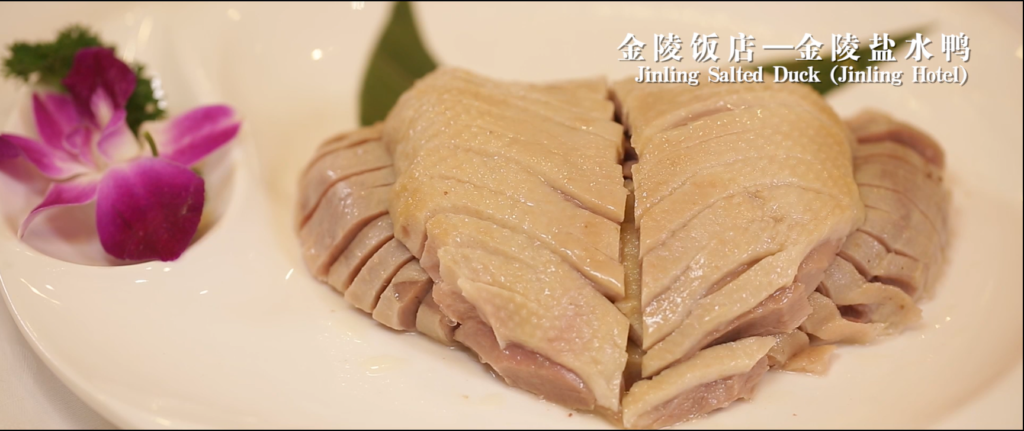 南京 盐水鸭 Nanjing salted duck
处暑是一个向寒冷过渡的节气,也是云南板蓝根成熟的季节。大理是国家级非物质文化遗产之一白族扎染的诞生地。据史书记载,东汉时期大理地区已形成完整系统的染织法。明清时期,洱海白族地区的染织技艺已达到很高水平,出现了染布行会。近代以来,大理染织业继续发展,周城成为远近闻名的手工织染村。2006年,白族扎染技艺被列为国家级非物质文化遗产,将这一古老的纺织品染色技艺继续传承。
This solar term marks a transitional period from hot to cold, and the mature season of indigo in Yunnan province. Dali is the birthplace of tie-dye of the Bai people. Historical records show that dyeing and weaving techniques were created  and systematized in Dali as early as the Eastern Han dynasty. Until Ming and Qing dynasties, such techniques were highly developed in the regions of the Bai people around Erhai Lake, and cloth dyeing guilds were formed. Entering modern China, as dyeing and weaving industries continued to grow, Zhoucheng village became famous for hand weaving and dyeing. In 2006, Bai tie-dye was listed as a national intangible cultural heritage to better preserve and promote the ancient craftsmanship.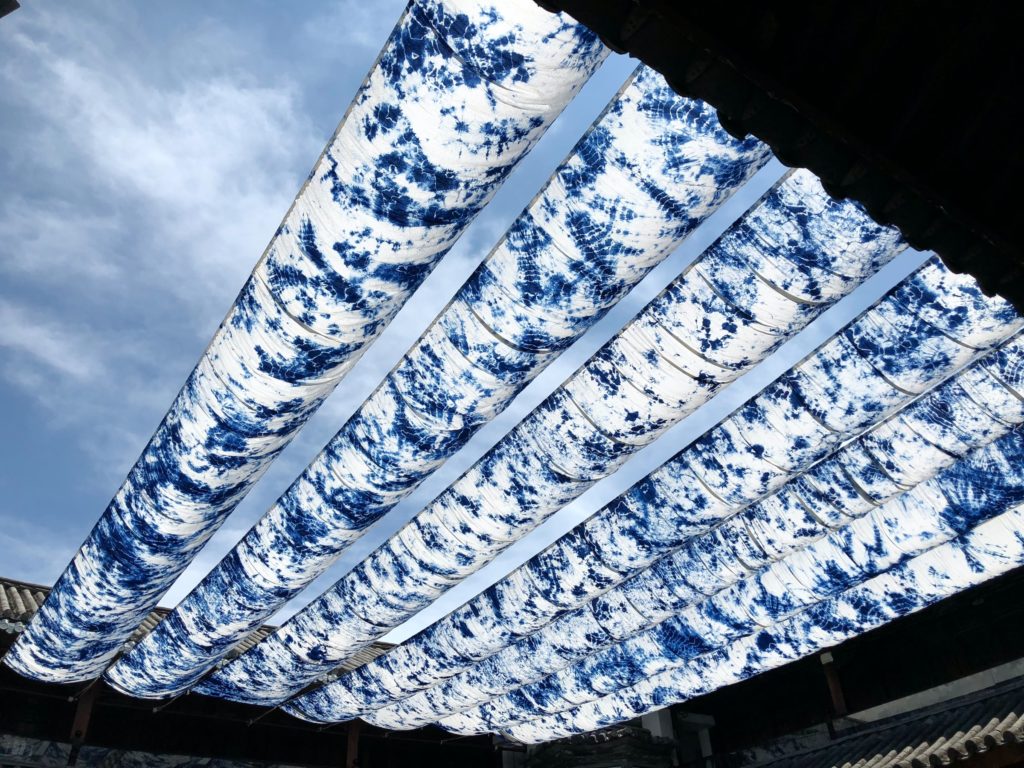 大理璞真白族扎染博物馆 Dali Puzhen Tie-dye Museum / Photo by Yang Yang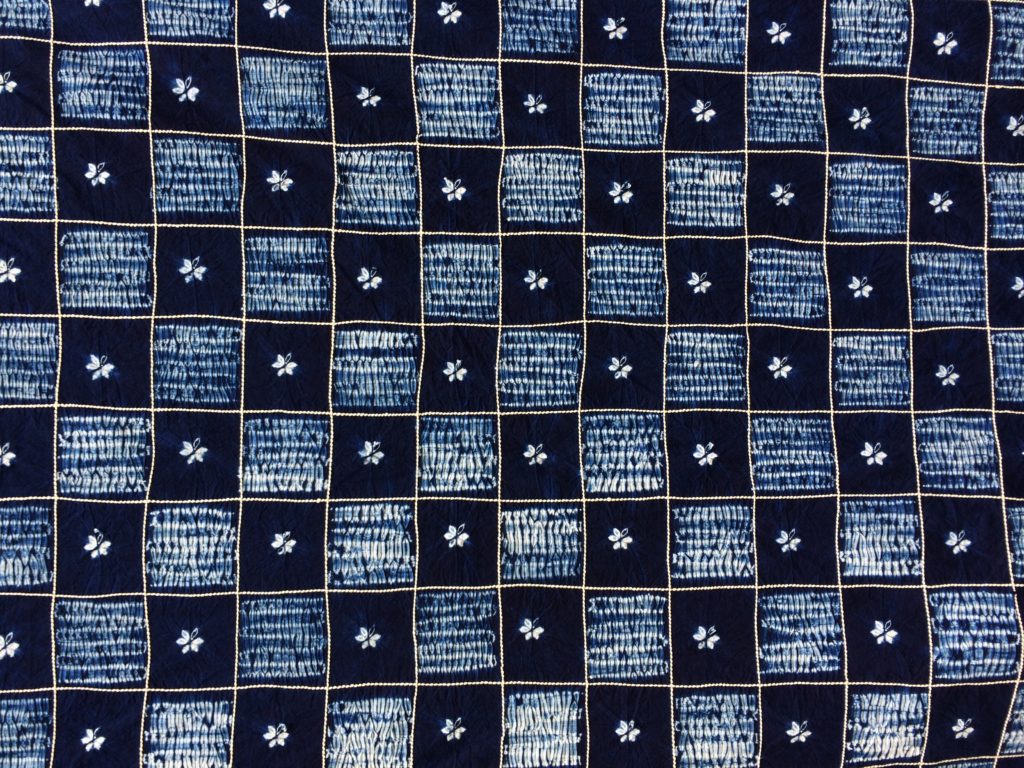 Photo by 赛娅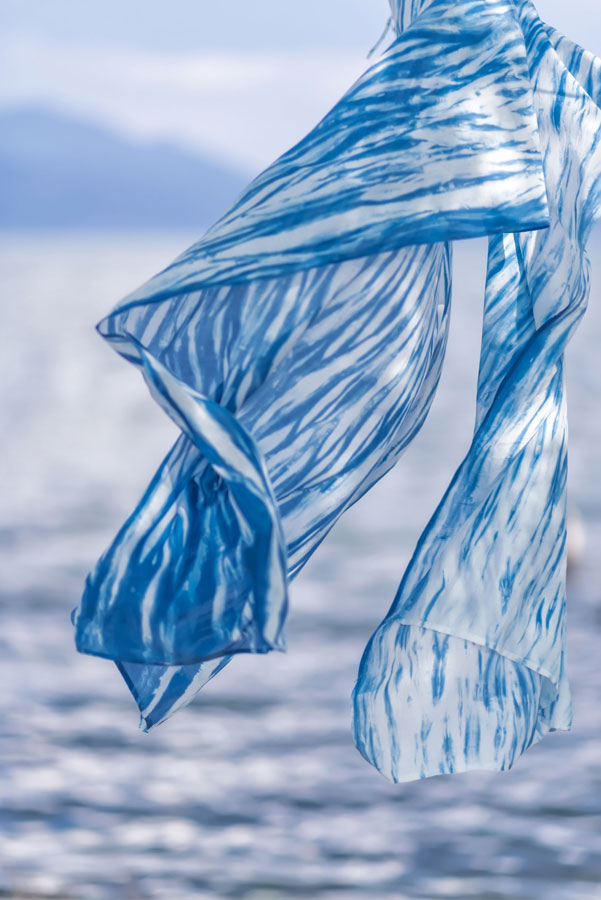 chinadaily.com.cn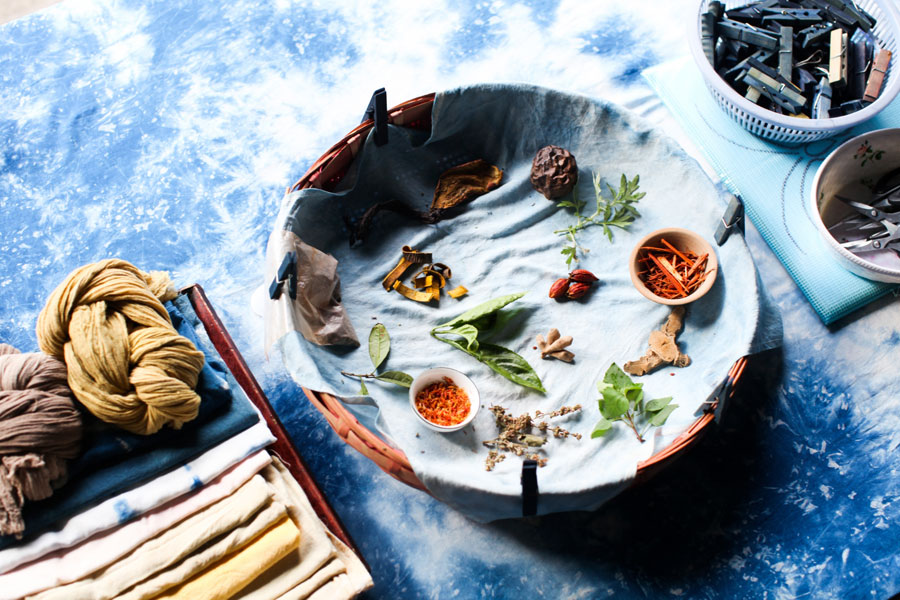 云南白族扎染使用材料 Materials used for traditional Bai tie-dyeing / chinadaily.com.cn
扎染一般以棉白布或棉麻混纺白布为原料,染料主要是植物蓝靛(云南民间俗称板兰根)。大理白族扎染显示出浓郁的民间艺术风格,清新素雅,韵味独特。一千多种纹样是千百年来白族历史文化的缩影,折射出白族的民情风俗与审美情趣,与各种工艺一起构成富有魅力的大理白族织染文化。线与布的纠葛,蓝与白的交融,在苍山洱海之畔,感受自然给予的蓝白之韵。
White cotton cloth or cotton-linen blended cloth is usually used as base fabric for tie-dyeing. The blue comes from indigo. Dali Bai tie-dye reflects rich folk art styles with refreshing and elegant appeal. The thousands of years of history and culture, folk customs and aesthetics of the Bai people are revealed in over a thousand patterns and various techniques of tie-dye. Come to experience the entanglement of thread and fabric, the fusion of blue and white and the gifts of nature at Cang Mountain and Erhai Lake.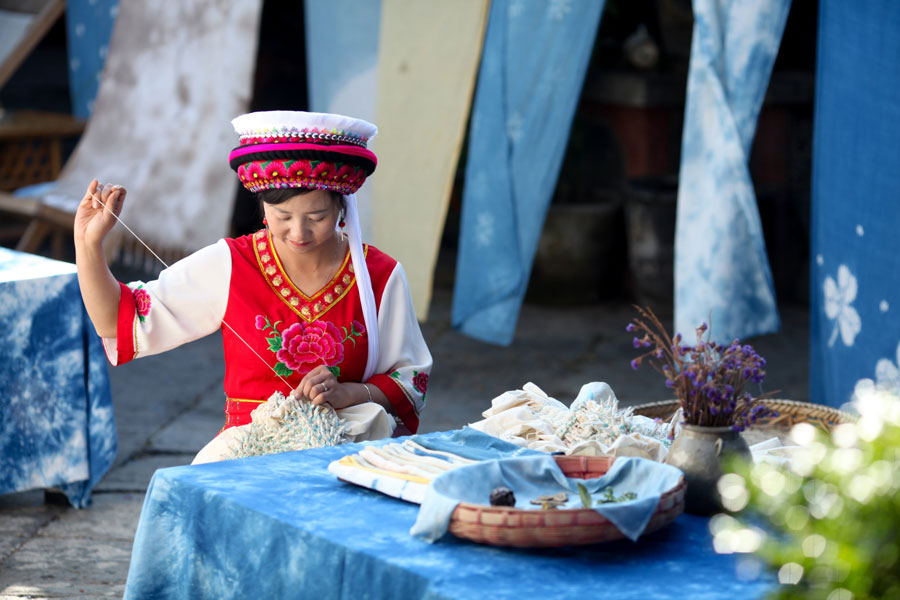 chinadaily.com.cn
Video provided by China Xinhua News Network Corporation
资料来源 / Sources:
http://www.ihchina.cn
云南省文化和旅游厅
江苏省文化和旅游厅
浙江省文化和旅游厅
环球网
中国日报
Facebook: China Cultural Center in Stockholm
https://www.facebook.com/China-Cultural-Center-in-Stockholm-110983273921638
https://www.tiktok.com/@cccinstockholm
Wechat: 斯德哥尔摩中国文化中心 or scan the QR code below