斯德哥尔摩男孩合唱团
THE STOCKHOLM BOYS´ CHOIR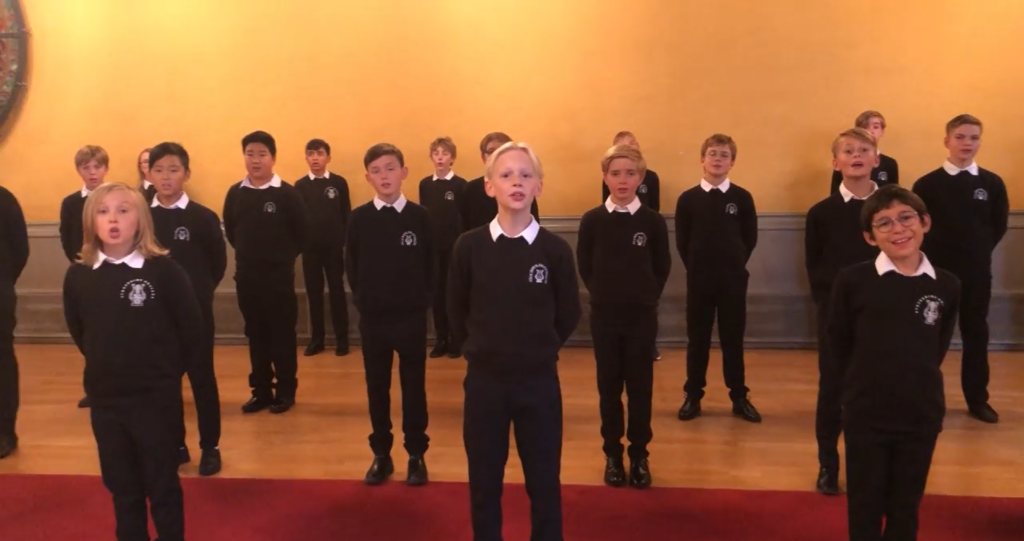 斯德哥尔摩男孩合唱团由埃里克·阿尔格尔德(Erik Algård)创立于1938年,在瑞典国内外广受赞誉。2001年,合唱团被指定为联盟合唱团和欧盟文化大使,这一称号曾被授予著名的剑桥大学国王学院合唱团和蒙特塞拉特合唱团。斯德哥尔摩男孩合唱团的监护人是当今瑞典王后希尔维亚,该团最早按英国古典合唱传统建立,如今演唱的曲目已涵盖各种音乐流派。罗兰·尼尔森(Roland Nilsson )自1968年起任艺术总监,直至2008年由卡琳·斯科伯格·安卡莫(Karin Skogberg Ankarmo)接任。
The Stockholm Boys´ Choir was founded by Erik Algård in 1938. The choir has since then been widely appreciated both nationally and internationally. In 2001 the choir was appointed Choir of the Federation and Cultural ambassador within the EU, a title previously honored the celebrated King's College Cambridge Choir and Le Choir de Montserrat. The Choir is protected by H.M. Queen Silvia. The choir has its origin in the classical English choral tradition, but its repertoire today spans over all genres. Roland Nilsson took over as artistic leader in 1968 and led the choir for 40 years until 2008 when Karin Skogberg Ankarmo became the new artistic leader.
如今,合唱团有大约140名成员,分为五个合唱团,最小的团员只有8岁。他们在变声期中会被分入一个特殊的团中继续唱歌。音乐会合唱团由大约45名10岁至37岁的团员组成,他们定期在国内外巡回演出,曾多次前往欧洲的大部分国家和美国参与表演。合唱团还曾于2011年和2019年前往中国参加音乐节。
Today the choir has approximately 140 members from the age of 8, divided into five choir groups and the boys even continue singing in a special choir group when their voices break, "Målbrottskören". The concert choir, consisting of around 45 singers in the age of 10 through 37 years, tours regularly at home and abroad and has sung in most countries in Europe and in the U.S. several times. The choir have also been to festivals in China twice – in 2011 and in 2019.
合唱团的声乐训练有时非常严苛,已成为许多人开展专业音乐和歌唱事业并取得成功的平台,是瑞典音乐更新换代的重要摇篮。
The vocal training, which at times is very demanding, has by many been used as a platform for their professional, successful music and singing careers. The Stockholm Boys' Choir is an important nursery for the regeneration of Swedish music.
合唱团每年在瑞典举办多场音乐会,包括每年在斯德哥尔摩举行的古斯塔夫·瓦萨教堂圣诞音乐会和尼布罗卡扬11号春季音乐会。此外,合唱团也广泛参加合唱节,并在教堂和其他场所演唱圣乐和其他音乐。
The choir annually gives a large number of concerts in Sweden and participates in choral festivals. The Christmas concert in Gustaf Vasa Church and the spring concert at Nybrokajen 11 are held in Stockholm every year. The choir also performs in many churches and other venues, singing sacred as well as non-sacred music.
卡琳·斯科伯格·安卡莫,艺术总监和指挥家,1973年出生于斯德哥尔摩。毕业于斯德哥尔摩皇家音乐学院(Royal College of Music),师从斯特凡·帕克曼(Stefan Parkman)学习合唱指挥和托瓦尔德·托伦(Torvald Torén)学习管风琴。自2001年起,她成为斯德哥尔摩国王岛教堂的管风琴手,并担任瑞典教会男孩合唱团协会主席多年。她在艾尔塔申达勒大学学院教授唱诗班教学法,并著有儿童合唱团教育类书籍《Do Re Mi 1》和《Do Re Mi 2》。2008年7月,她接替罗兰·尼尔森成为斯德哥尔摩男孩合唱团的艺术总监。
Karin Skogberg Ankarmo, Artistic leader and Conductor was born in 1973 in Stockholm and graduated from the Royal College of Music in Stockholm, where she studied choral conducting with Stefan Parkman and organ with Torvald Torén. Since 2001 she is the organist of Kungsholms Church in Stockholm, and she has for some years been chairman of the Swedish Church Boys´ Choir Association. She is the author of the books "Do Re Mi 1 and 2", educational choir material for children. In July 2008, she succeeded Roland Nilsson as the artistic leader of Stockholm Boys´ Choir. Karin also teaches Choir Methodology at the Institute of Ersta-Sköndal.
---
Facebook: China Cultural Center in Stockholm
https://www.facebook.com/China-Cultural-Center-in-Stockholm-110983273921638
https://www.tiktok.com/@cccinstockholm
Wechat: 斯德哥尔摩中国文化中心 or scan the QR code below