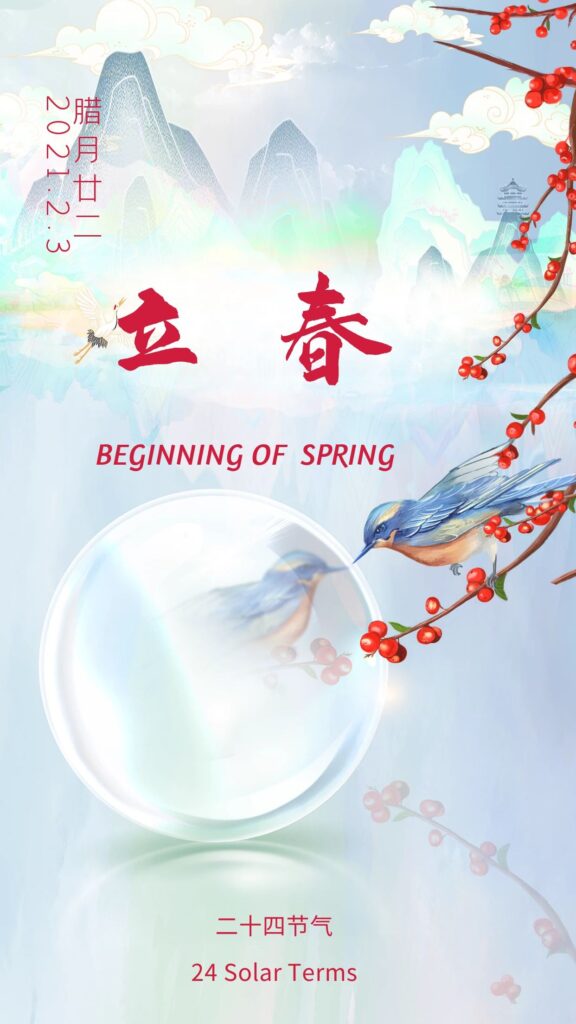 二十四节气,是中国人通过观察太阳周年运动而形成的时间知识体系及其实践。西汉时期(104 B.C.E.)编制的《太初历》首次将二十四节气纳入历法。两千多年来,这套严密的节气历法历经岁月,经久不衰,依然指导着中国人的农业生产和日常生活。
The 24 Solar Terms – knowledge in China of time and practices developed through observation of the sun's annual motion, was first included in the calendar in 104 B.C.E during Western Han dynasty, which was called Taichu Calendar then. The rigorous calendar of solar terms has been in use for over 2,000 years and is still directing the agricultural production and daily routines of Chinese people.
二十四节气 24 Solar Terms
2021年2月3日,即农历腊月廿二,将迎来一年中二十四节气之首——立春。"立"即"开始",春回大地奏响序曲,四季交替周而复始。春生,夏长,秋收,冬藏。立春之后,气温逐渐上升,日照、降雨趋于增多,但仍会受到寒潮的侵袭。
February 3, 2021, or the 22nd of the 12th lunar month, is the first of the 24 solar term in the year – Lichun (Beginning of Spring). As the name suggests, Lichun marks the start of a new cycle of seasons. Spring is a season of revitalization, just as summer is a season of growing, autumn and winter is the time to harvest and store. Despite rising temperature and increasing amount of sunlight and precipitation after Lichun, many regions in China may still be hit by cold waves.
视频由新华社CNC提供
Video provided by China Xinhua News Network Corporation
立春也是启动农事耕种的重要时令,贵州省石阡县非物质文化遗产"说春"仪式于立春当日举行,春官作为春天的信使,为当地农人送去一年的农事安排,并传递来自春天的祝福。
Lichun is also an important time to initiate farming. In Shiqian county, Guizhou province, intangible cultural heritage "Shuo Chun (Spring Announcement)" ceremony is held on Lichun every year. The herald of spring, known as "Chun Guan (Spring Announcer)", delivers annual agricultural plans and the blessings of spring to each local family.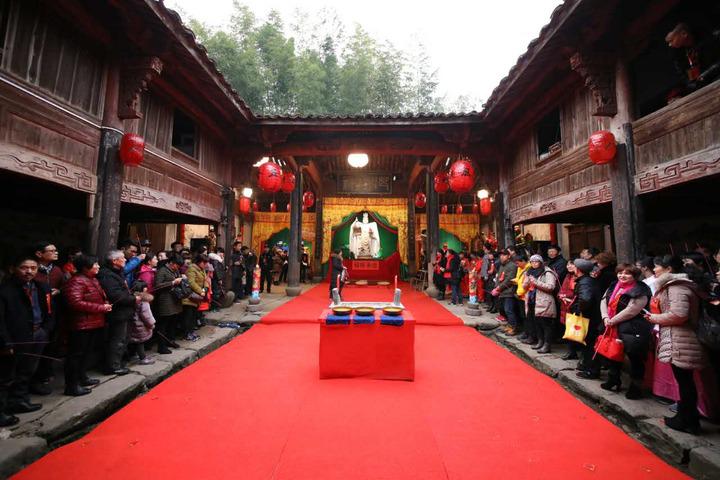 九华梧桐祖殿立春祭 Ritual for Lichun at Wutong Ancestral Hall in Jiuhua Township
在浙江衢州九华乡,立春之日,人们在梧桐祖殿举行立春祭,包括祭拜春神句芒、迎春接福赐求五谷丰登、供祭品、扮芒神、焚香迎奉、扎春牛、演戏酬神、踏青、鞭春牛等。
People in Jiuhua township of Quzhou, Zhejiang province hold spring offering at Wutong Ancestral Hall for Lichun solar term every year. The rituals include worshipping Gou Mang (the God of Spring), welcoming spring, wishing for a good harvest, serving offerings, dressing up as the God of Spring, burning incense, making spring ox out of paper, bamboo or clay, gently whipping the ox, giving performance to thank the gods and outing, etc.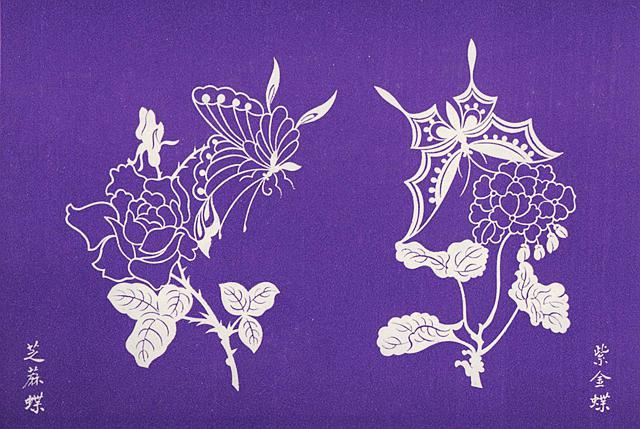 扬州剪纸《芝麻蝶和紫金蝶》 Yangzhou Paper-cutting: Butterflies
自唐代,扬州就有剪纸报春的习俗。在立春之日剪纸为花,做成春蝶、春线、春胜等样式,"或悬于佳人之首,或缀于花下",相观以为乐。
The custom of welcoming spring with paper-cutting in Yangzhou dates back to the Tang dynasty. People make paper-cutting flowers, butterflies, and jewelry and wear them on the head or hang under flowers to appreciate.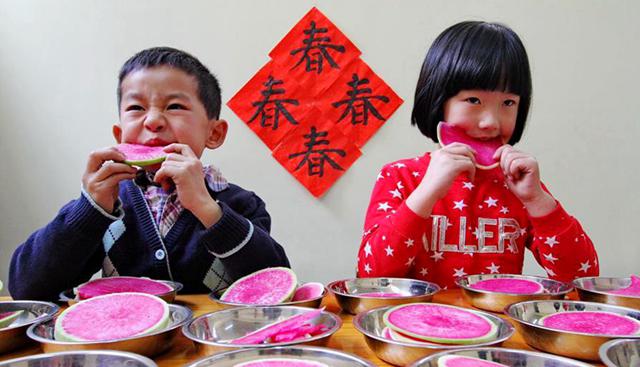 咬春 Biting the Spring
立春时,还讲究吃春饼、春卷、萝卜等,俗称"咬春"。"备酱熏及炉烧盐腌各肉,并各色炒菜,如菠菜、韭菜、豆芽菜、鸡蛋等,且以面粉烙薄饼卷而食之",这是春饼;用烙熟的圆形薄面皮卷裹馅心,成长条形,然后下油锅,炸至金黄色浮起而成,外焦内香,这是春卷。春卷馅心可荤可素,可咸可甜,通常有豆芽、韭菜、韭黄等应季的新鲜蔬菜,由于不同地区的口味多样,鲜肉、海鲜、红豆也成为春卷最常见的馅心之一。
In many parts of China, people observe the custom of "biting the spring" on the first day of the solar term. They eat spring pancakes, spring rolls, or a few mouthfuls of radish. "Prepare salted meat and stir-fried vegetables, such as spinach, Chinese chives, bean sprouts, eggs, etc., and wrap them with pancakes" – this is how to make spring pancake; place the fillings on the center of the wrapper, fold the four sides inward and roll the wrapper to seal it, then fry it until it turns crispy and golden brown – and you will have a spring roll. Spring roll fillings can be meat or vegetable, salty or sweet, usually including bean sprouts, Chinese chives and other seasonal vegetables. As food preference varies in different regions, fresh meat, seafood and red beans have also become some of the most common fillings of spring roll.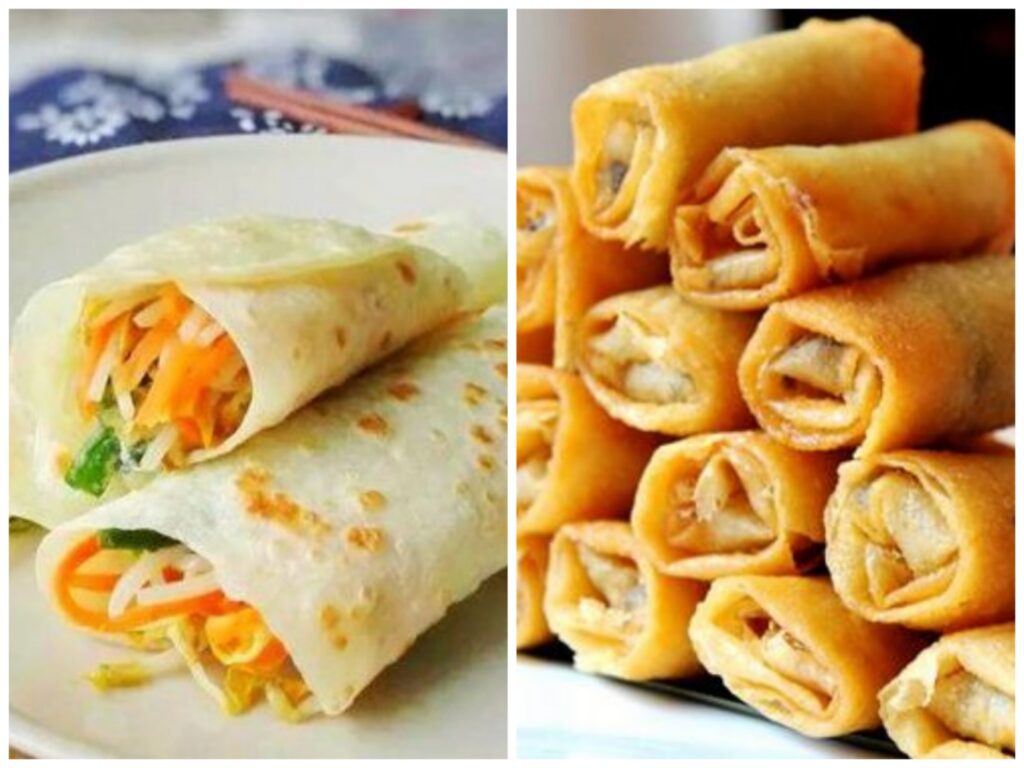 春饼 Spring Pancake | 春卷 Spring Roll
今年"立春"期间适逢中国"小年",再过一周即为"除夕",这时人们忙于祭灶、扫尘、吃灶糖、贴窗花、春联等,拉开欢庆春节的序幕,俗称过"小年"。各地过小年的时间不尽相同,大致为北方小年在腊月廿三,南方小年在腊月廿四。这与古时"官三民四船五"的传统有关,即官府小年腊月二十三日过,一般民家二十四日过,沿湖海的居民则遵守船家的传统,二十五日举行祭灶。尽管各地庆祝小年的时间习俗不尽相同,但人们辞旧迎新、迎祥纳福的美好愿望却是共通的。斯德哥尔摩中国文化中心精心准备的"欢乐春节"线上系列文化艺术活动将于2月4日正式开幕,与中国浙江省文化和旅游厅的年度合作计划也同时启动。我们丰富多彩的演出、展览、培训讲座等将持续到2月26日中国农历正月十五元宵节,为大家倾心讲述中国故事,传递真诚祝福
Xiaonian (Minor New Year) arrives during Lichun this year, which is a week before Chinese New Year's Eve when people offer sacrifices to the Kitchen God, sweep the dust, have Zaotang (candy for the Kitchen God), paste paper-cuts on windows and paste Spring Festival couplets etc. to prepare for the celebration of Spring Festival. People in different regions celebrate Minor New Year in different time. Generally speaking, it falls on the 23rd of the twelfth lunar month in North China and on 24th in South China. This is related to the tradition that "officials celebrate Minor New Year on the 23rd, common people celebrate on the 24th and fishermen on the 25th". Although the time and customs of celebrating Mino New Year vary in different places, people share the longing for an auspicious and happy new year. 2021 "Happy Chinese New Year" online celebration presented by China Cultural Center in Stockholm will launch tomorrow, while initiating a yearly cooperation with Zhejiang Provincial Department of Culture and Tourism. Online performances, exhibitions, lectures, workshops and a variety of cultural and art events will be on display until February 26 (the Lantern Festival) to tell Chinese stories and share sincere blessings.
春节 Spring Festival
瑞典时间2月4日9:30,中华人民共和国文化和旅游部与中央广播电视总台将联合举行"欢乐春节"全球启动仪式,并将在Facebook进行直播,欢迎大家关注并收看。
2021 "Happy Chinese New Year" Global Launching Ceremony and Opening Concert will be livestreamed at 9:30 on February 4 (local time in Sweden). Follow the instructions below and follow China Cultural Center in Stockholm, CGTN and/or China Culture on Facebook to watch live online.
直播链接 / Watch Live:
https://w.yangshipin.cn/video?type=2&vid=2007554401&pid=600067749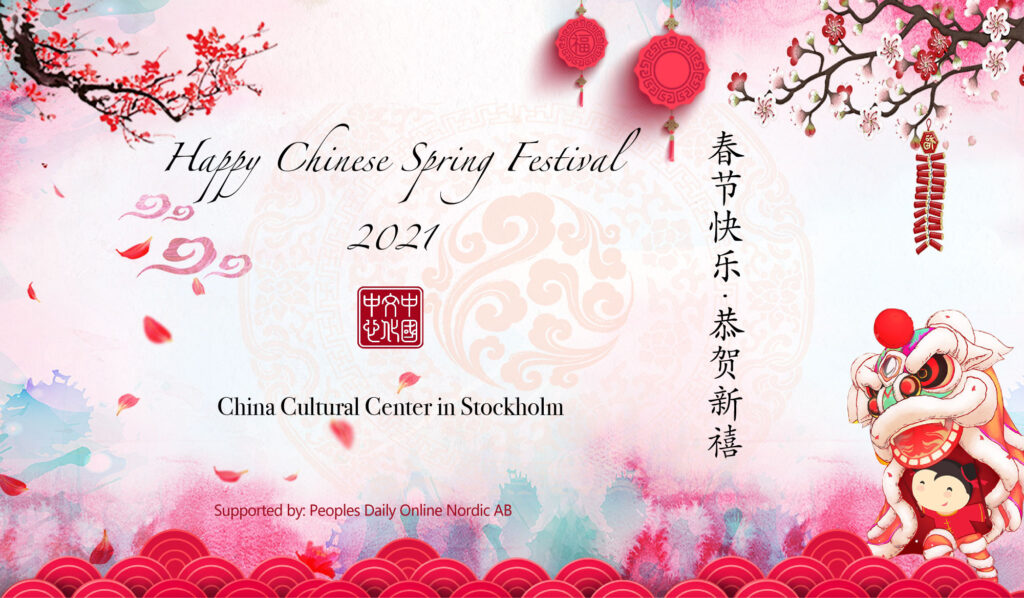 资料来源 Sources:
http://www.ihchina.cn/
chinaculture.org
---
Facebook: China Cultural Center in Stockholm
https://www.facebook.com/China-Cultural-Center-in-Stockholm-110983273921638
Instagram: chinaculturalcenterinstockholm
https://www.instagram.com/chinaculturalcenterinstockholm/
Tik Tok: cccinstockholm
https://www.tiktok.com/@cccinstockholm
Wechat: 斯德哥尔摩中国文化中心 or scan the QR code below