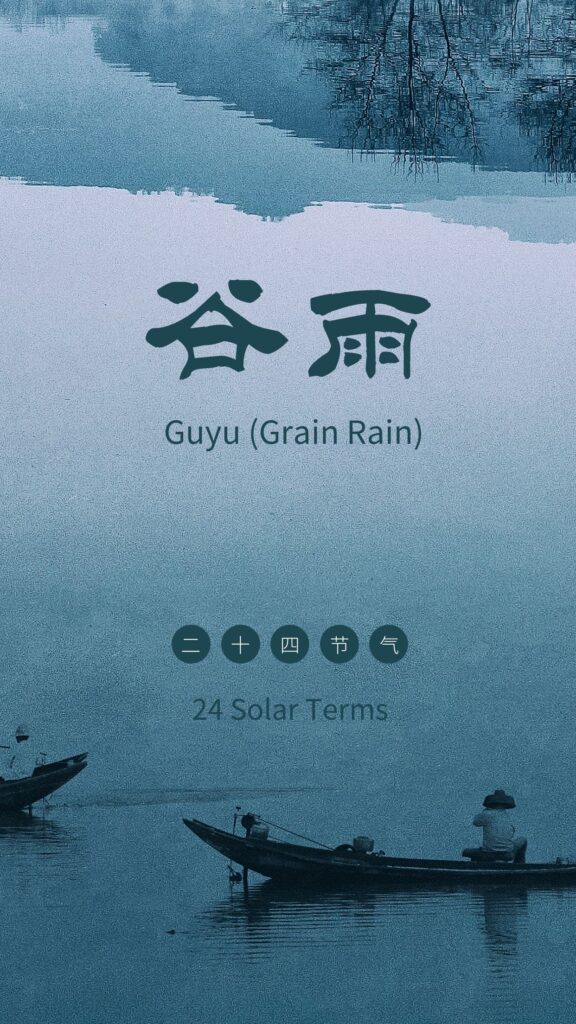 今年4月20日(农历三月初九),是二十四节气的第六个节气,也是春季最后一个节气——谷雨。古人说"雨生百谷",谷雨节气天气温和,降雨增多,适量的雨水有利于越冬作物的返青拔节和春播作物的播种出苗。谷雨时节正值暮春,是牡丹花开的重要时段,因此,牡丹花也被称为"谷雨花"。
April 20 (the ninth of the third Chinese lunar moth) marks the sixth solar term and the last one of spring this year – Guyu (Grain Rain). As the old saying goes, "Rain brings up the growth of hundreds of grains," which shows that this period of rainfall is extremely important for the growth of crops. Guyu signals the end of spring and the blooming season of peony, hence the nickname "Flower of Guyu".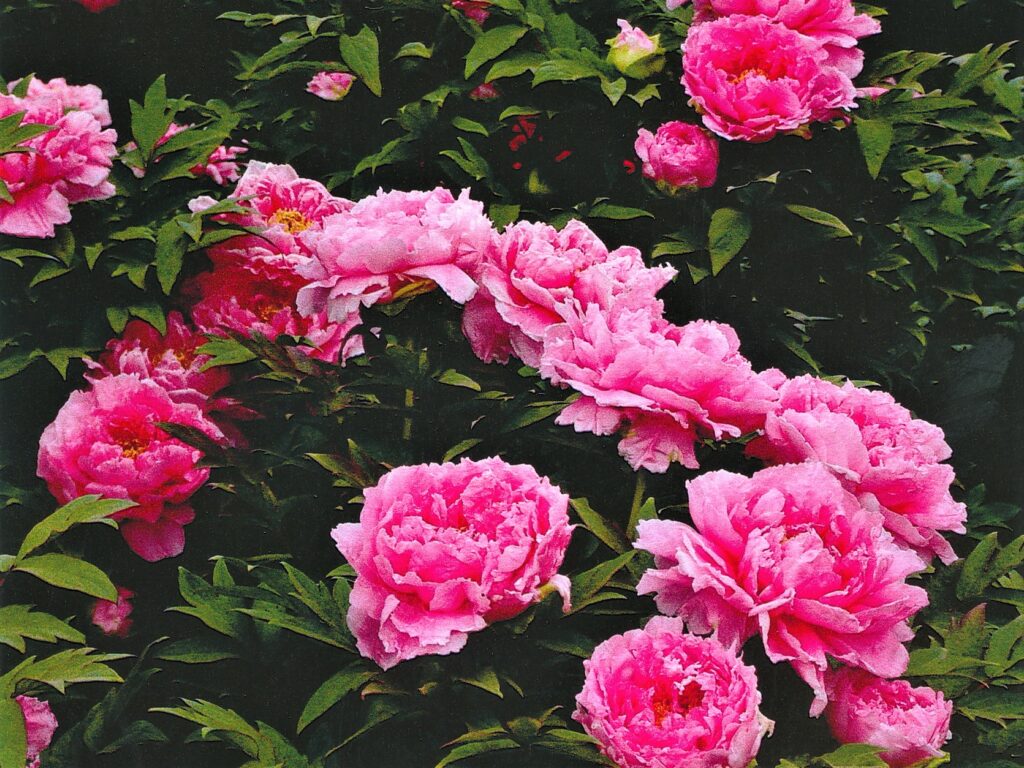 洛阳胡红牡丹 Peony blossoms in Luoyang, Henan province
北方有谷雨食香椿的习俗。这时的香椿醇香爽口,营养价值高,不仅风味独特,还具有提高机体免疫力、健胃、理气、止泻、润肤、抗菌、消炎等功效。
People in northern China have the tradition to eat toona sinensis during Guyu. The nutritious vegetable can strengthen the immune system, invigorate stomach, moisturize skin and has other anti-inflammatory effects.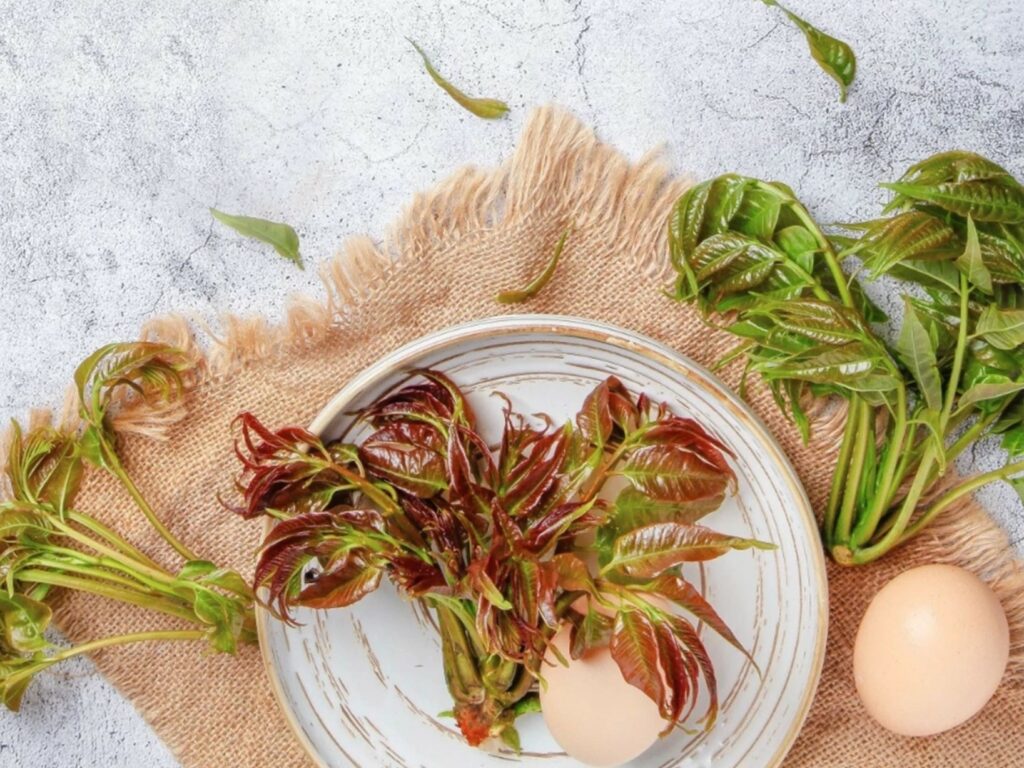 香椿 Toona sinensis
南方则有谷雨摘茶的习俗。湖南省益阳市安化县是举世闻名的茶乡、"万里茶道"上的一个重要驿站。这里古称梅山,千百年来茶是他们的生计,也是他们的生活。由于独特的气候土壤,这里的茶不仅品质上乘,而且品种齐全,绿茶、红茶、黑茶都有,尤以黑茶为盛,千两茶、茯砖茶等等远销全球。茶农们特别看重"谷雨茶"——即谷雨节气当天采摘、当天加工、当天品饮。因这时茶树春梢芽叶肥硕、色泽翠绿、叶质柔软,富含各种维生素和氨基酸,茶叶滋味鲜活,香气怡人,有清火明目的功效。也由于其质高量少,一般仅留作"犒赏"自己或者招待最珍贵的客人,大家在茶香氤氲中感受春光的慢慢流逝。
The custom of picking tea leaves during Guyu is preserved in southern China. Formerly known as Meishan, Anhua county of Yiyang, Hunan province is a world-famous tea town and an important stop on the Tea Road. For thousands of years, tea is the local people's life and livelihood. Unique weather and soil is vital to the production of a variety of high-quality tea, including green tea, black tea and dark tea, among which dark tea has made a name for itself with Qianliang tea, Fuzhuan tea and other varieties being sold worldwide. Tea growers value Guyu tea highly – tea leaves picked, processed and tasted on the first day of Guyu solar term. As tea trees awake from winter dormancy, they begin to stretch out in spring with moderate temperature and abundant rainfall. Spring tea during Guyu is rich in vitamins and amino acids with fresh and pleasant aroma, which can help to remove heat from the body and is good for the eyes. Considering the high quality and low production of Guyu tea, only tea growers and their guests can normally have the chance to taste it while enjoying the last of spring.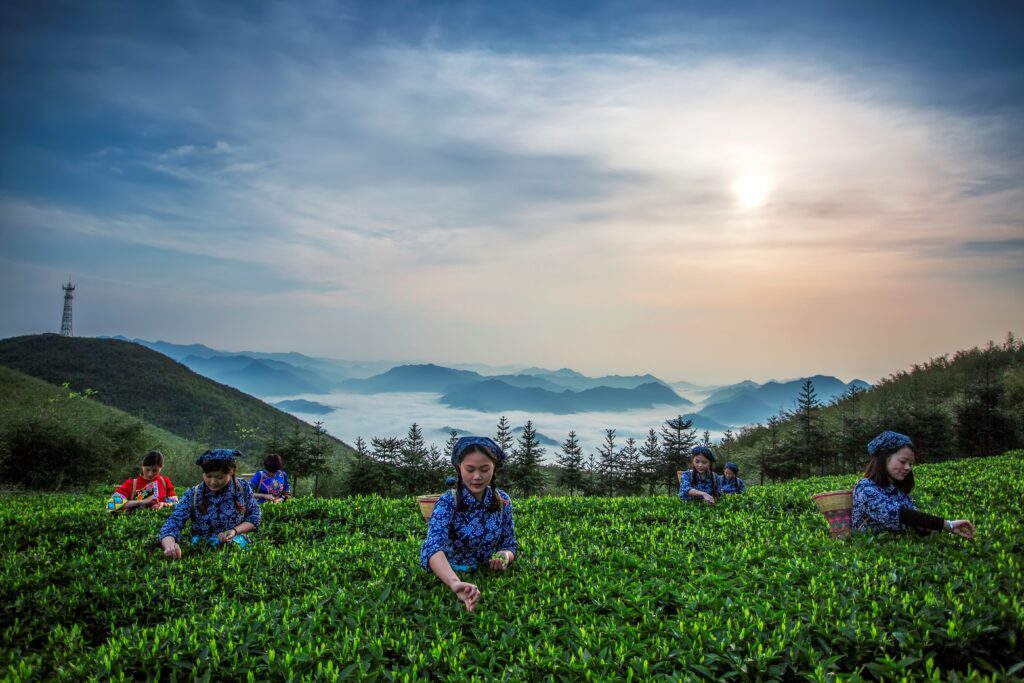 安化云台山风景区的采茶姑娘 Tea-picking girls at Yuntaishan Scenic Area, Anhua / 王劲伟 Wang Jinwei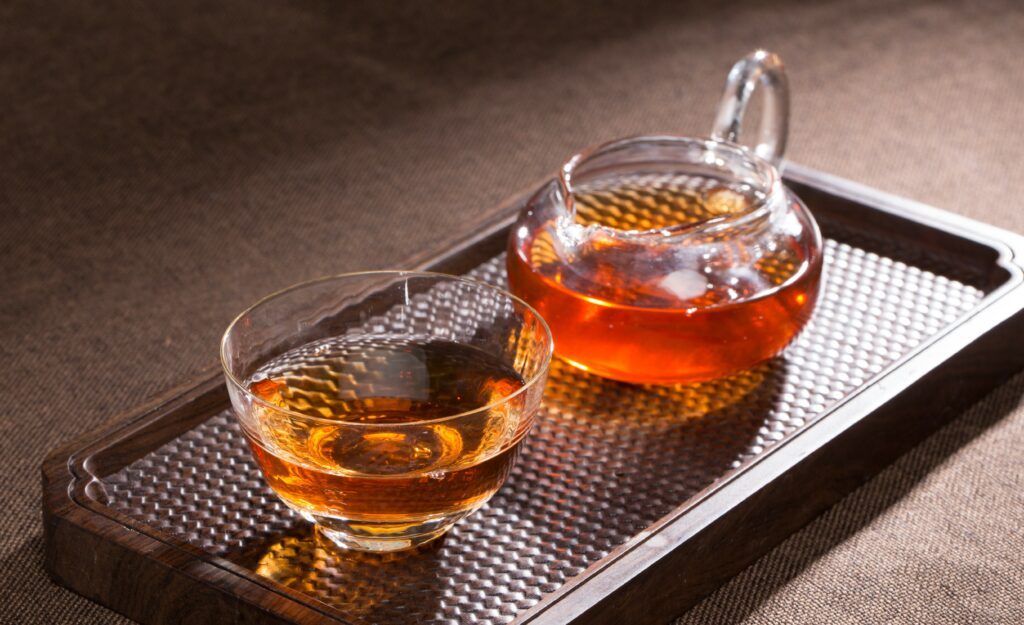 沁成琥珀的黑茶 Amber-colored dark tea / 刘杏益 Liu Xingyi
雨生百谷,湖南省益阳市安化县,举世闻名的茶乡丝绸之路上的重要一站,谷雨茶是谷雨当天采摘制作的春茶,用来招待最珍贵的客人,迎接谷雨的到来。
On the first day of the last solar term in spring, people in Anhua county, Yiyang, Hunan province, one of the major stops along the Tea Horse Road, are picking tea leaves to make tea for the most welcomed guests and to embrace the arrival of Guyu solar term.
视频由新华社CNC提供
Video provided by China Xinhua News Network Corporation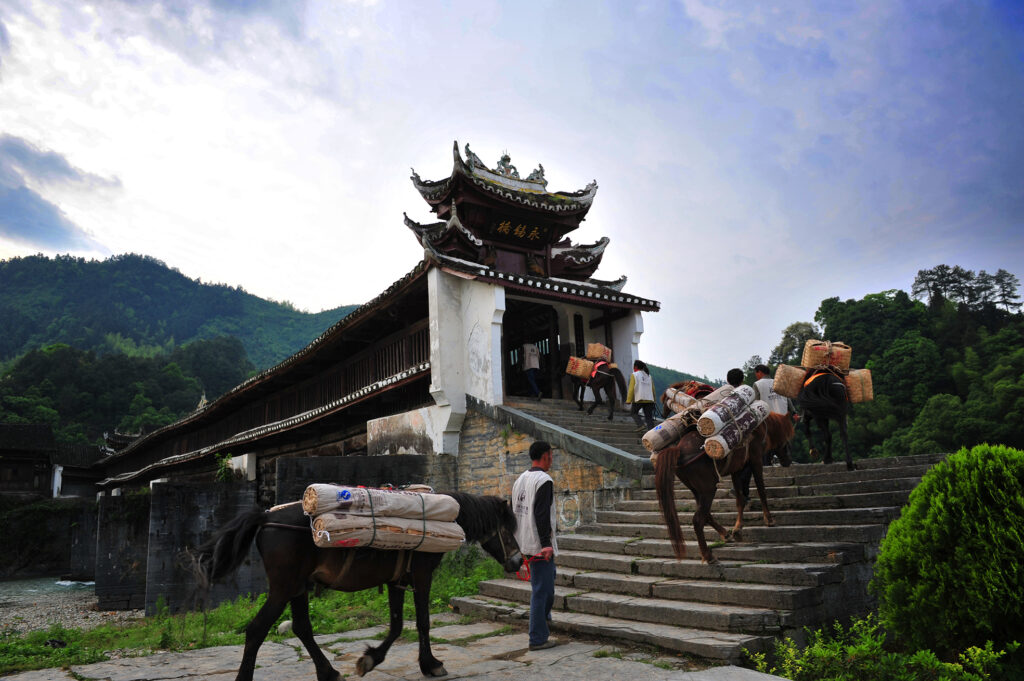 益阳茶马古道-永锡桥 Yongxi Bridge on the Ancient Tea Horse Road, Yiyang, Hunan province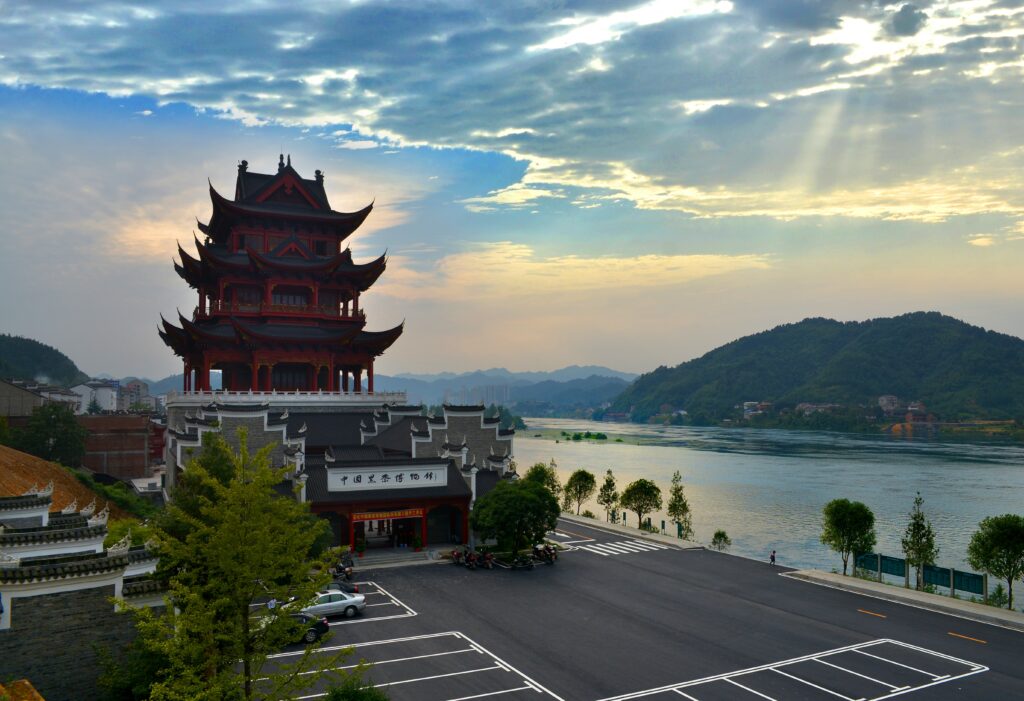 中国黑茶博物馆 China Dark Tea Museum / 李良兵 Li Liangbing
资料来源 Sources:
http://www.ihchina.cn/
中国文化网
河南省文化和旅游厅
湖南省文化和旅游厅
---
Facebook: China Cultural Center in Stockholm
https://www.facebook.com/China-Cultural-Center-in-Stockholm-110983273921638
Instagram: chinaculturalcenterinstockholm
https://www.instagram.com/chinaculturalcenterinstockholm/
Tik Tok: cccinstockholm
https://www.tiktok.com/@cccinstockholm
Wechat: 斯德哥尔摩中国文化中心 or scan the QR code below