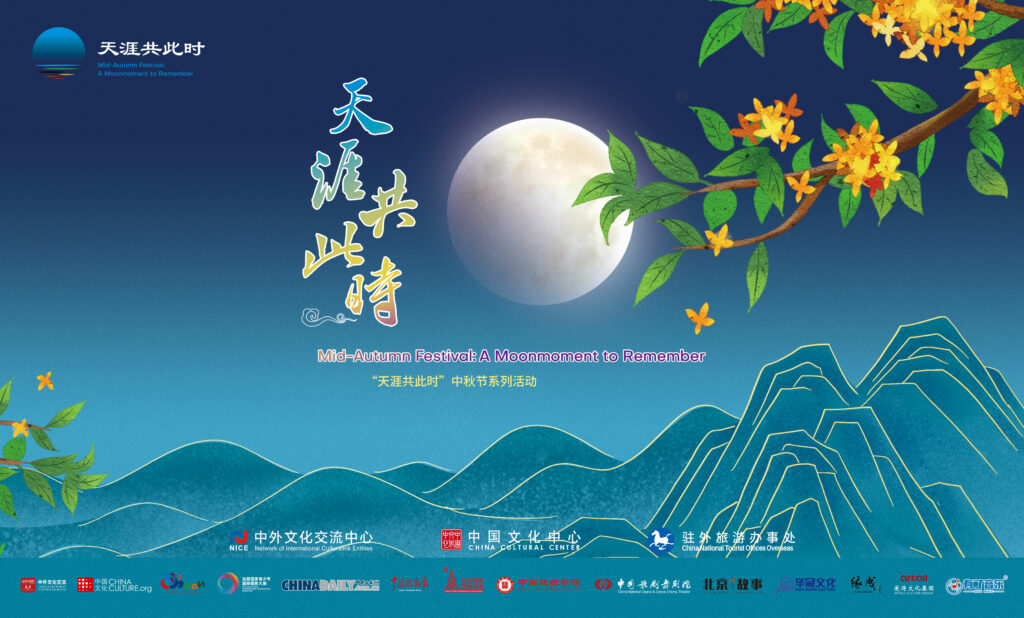 金秋送爽,硕果飘香,又迎来一年月圆人团圆的中秋佳节!
中秋节是中华民族重要的传统节日,承载着人们对家庭和睦、社会和谐的美好期盼。今年中秋节是9月21日,斯德哥尔摩中国文化中心携手人民网(北欧公司)和瑞典相关文化机构以及旅瑞侨胞、瑞典友人自9月17日至25日举办丰富多彩的"天涯共此时——中秋节"线上活动,以飨亲爱的朋友们!
In the fragrant and refreshing autumn breeze, we are celebrating again the Mid-Autumn Festival (Moon Festival) with our families and friends!
The Mid-Autumn Festival is an important traditional Chinese festival bearing people's wishes for a happy family and harmonious life. As this year's Mid-Autumn Festival falls on September 21, China Cultural Center in Stockholm will hold "Mid-Autumn Festival: A Moonmoment to Remember" Online Celebration from September 17 to 25 to present a series of online activities to our dear friends and local Chinese in Sweden together with People's Daily Online Nordic AB and other Chinese and Swedish cultural organizations and individuals.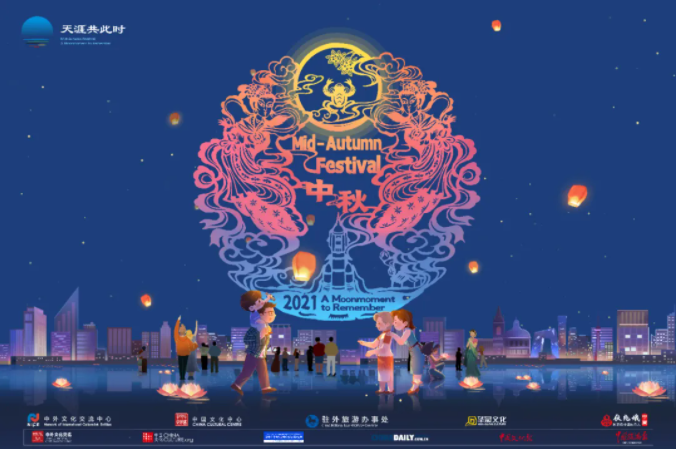 中秋佳节来临之际,中华人民共和国驻瑞典特命全权大使桂从友向朋友们、旅瑞侨胞们致以节日的问候和美好的祝福!
As the Mid-Autumn Festival is approaching, Mr. Gui Congyou, Chinese Ambassador to Sweden, hereby extends his sincere greetings and best wishes to all the friends and local Chinese in Sweden!
中华人民共和国驻瑞典特命全权大使桂从友阁下致辞  Remarks by Ambassador Gui Congyou
本次"天涯共此时——中秋节"线上活动分为"经典话中秋"、"美食品中秋"、"音乐颂中秋"、"诗画咏中秋"和"山海新经——中华神话元典当代艺术展"5个主题,通过线上音乐会、虚拟艺术展、微电影、动画、云课堂等多种有趣的形式,欣赏舞蹈、音乐、戏曲、诗词、绘画、设计中的中秋艺韵,品尝制作中国各地的中秋特色美食,共庆月圆佳节!
This edition of Mid-Autumn Festival Online Celebration is centered on the traditions, cuisines, music, poems and paintings of the Mid-Autumn Festival. A series of online concerts, virtual exhibitions, mini movies, animation, online workshops will be presented for you to join in the celebration by appreciating and enjoying Mid-Autumn-Festival-Themed music, dancing, opera, poem, painting, design, and cuisine.
2021"天涯共此时——中秋节"主题宣传片 2021 Mid-Autumn Festival – A Moonmoment to Remember Promo Video
接下来,我们还将陆续推出
"月满中秋"中国地方特色文化之旅微纪录片《四川大熊猫家园之旅》
"天涯共此时——新疆是个好地方"虚拟体验馆
中秋戏韵"少儿动画短视频展播
国画里的中秋——艺术赏析微课堂
寻味中秋——美食文化系列视频
浙江美食工作坊——中秋传统小吃
风雅·宋——中国点茶文化云课堂
新创民乐《浙里有乐》
《家在青山绿水间·浙江乡土建筑》云展
更请朋友们特别关注融汇古今、创意新颖的当代艺术展:《山海新经——中华神话元典当代艺术展》;当然,还有来自瑞典的小伙伴们带来的精彩节目
京剧微电影:《最后一块月饼》/ Timothy Pilotti 天木、何松远 、Tomio Araki、蔡毓晶
昆曲:《玉簪记·琴挑》选段 / 肖向平
锡剧:《牡丹亭·寻梦》选段 / 朱瀛盈
古琴:《天风环佩》/邓红;《秋风词》/ 陈可一、马雪虹、栗鹏、张之尹、张晶丽、岳士雯、陈天、高璐
歌曲:《荷塘月色》/ 朱乐
中瑞诗朗诵:《月下独酌》/  Mattias Lind 林有为、Elliot Frennstedt 安利永
钢琴:《但愿人长久》/ 王啸翊
器乐合奏:《但愿人长久-现代解析版》/ 木兰剧团:夏艺凌、汤雨晴、肖则怿、刘美含
音乐会选段:Lilla Akadamien音乐学校
More projects will be on display during the event, including:
A Panda Home Tour in Sichuan
Xinjiang is a Nice Place: A VR Tour
Charm of Mid-Autumn Festival – Children's Animated Short Video Shows
Art Appreciation Microclass – Mid-Autumn Festival in Traditional Chinese Paintings
Flavor of Mid-Autumn Festival – Chinese Culinary Culture Video Series
Zhejiang Cuisine Workshop – Traditional Mid-Autumn Festival Delicacies
Tea-whisking Culture of the Song Dynasty
Music Zhejiang
Virtual Exhibition: Traditional Architecture in Zhejiang
a special virtual exhibition featuring contemporary art on traditional Chinese myths and legends: The New Classic of Mountains and Seas; and a variety of performances presented by local Chinese and Swedish friends:
Peking Opera Mini Movie: The Last Mooncake / Timothy Pilotti, He Songyuan, Tomio Araki, Cai Yujing
Kunqu Opera: The Story of Jade Hairpin (excerpt) / Xiao Xiangping
Wuxi Opera: The Peony Pavilion  (excerpt) / Zhu Yingying
Guqin: Jade in the Wind / Deng Hong
Autumn Wind / Chen Keyi, Ma Xuehong, Li Peng, Zhang Zhiyin, Zhang Jingli, Yue Shiwen, Chen Tian, Gao Lu
Guitar Solo: Moonlight over the Lotus Pond / Wendy Zhu
Poem Recitation: Drinking Alone under the Moon / Mattias Lind, Elliot Frennstedt
Piano Solo: May We Be Blessed with Longevity / Wang Xiaoyi
Instrumental Ensemble: May We Be Blessed with Longevity – A New Version / Mulan Theater: Xia Yiling, Tang Yuqing, Xiao Zeyi, Liu Meihan
Concert Excerpt / Lilla Akadamien
虽处疫情,也诚愿朋友们与我们共度别致、愉快而难忘的中秋佳节!
预祝朋友们中秋快乐!
In spite of the pandemic, we sincerely hope that we can spend a unique, joyful and unforgettable Mid-Autumn Festival together!
Wish you a Happy Mid-Autumn Festival!
---
Facebook: China Cultural Center in Stockholm
https://www.facebook.com/China-Cultural-Center-in-Stockholm-110983273921638
Instagram: chinaculturalcenterinstockholm
https://www.instagram.com/chinaculturalcenterinstockholm/
Youtube: China Cultural Center in Stockholm
https://www.youtube.com/channel/UCYqOYwuQtyTHC-iMNdfExsw
Tik Tok: cccinstockholm
https://www.tiktok.com/@cccinstockholm
地址/Address:
Västra Trädgårdsgatan 2, Stockholm