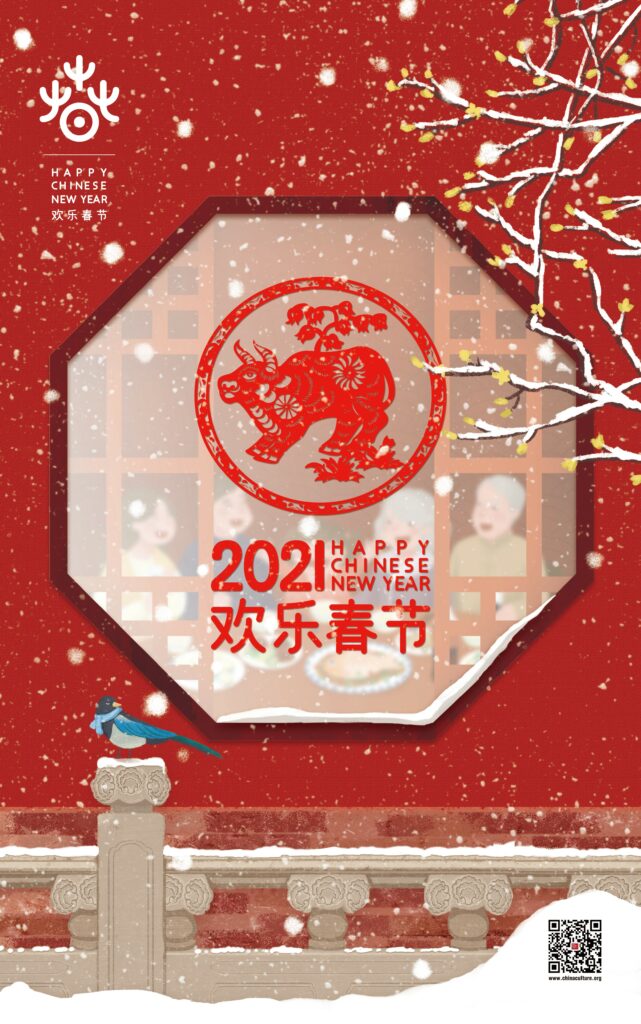 新冠疫情全球肆虐的2020年,是伤痛的一年。不断上涨的数字,令人焦虑恐慌。正常工作生活被按下暂停键的人们,只期待疫情能够尽快结束。庆幸的是,博物馆、美术馆、剧院等文化场所的关闭以及旅游出行的限制,并未切断人们的文化生活。线上平台带来多彩炫目的各色体验,文化艺术在"寒冬"中开出花来。2021年2月12日,将迎来辛丑牛年,新的一年,新的希望。为此,自2月4日至26日,斯德哥尔摩中国文化中心将开启2021"欢乐春节"系列线上活动,由中华人民共和国驻瑞典特命全权大使桂从友阁下拉开欢春的序幕。今年斯德哥尔摩中国文化中心将与浙江省携手呈现一系列富有艺术审美、文化内涵、视听享受的精彩展览、演出、互动体验,和中瑞友人共庆鸿运牛年,唱响春天的旋律,加强友谊的纽带,云上庆典,永不落幕!
2020 is a traumatic year with the pandemic causing havoc across the globe. The rising numbers of infection have inflicted pain and panic. When normal life and work is on hold, we can only wish that the disaster will be over soon. Fortunately, the closing of museums, art galleries, theatres and other cultural places, as well as travel restrictions, have not ended people's cultural life. Online platforms have brought colorful and dazzling experiences; cultural and art events have been helpful to ease the pain. February 12, 2021 is the beginning of a Chinese new year with new hope – the Year of the Ox. To celebrate the New Year with Chinese and Swedish friends, China Cultural Center in Stockholm will host a series of "Happy Chinese New Year" online activities with Zhejiang Provincial Department of Culture and Tourism from February 4 to 26, presenting a variety of exhibitions, performances and interactive experiences rich in artistic aesthetics, cultural significance and audio-visual enjoyment. It is an everlasting joint celebration where the melody of spring is played and the ties of friendship are strengthened!
2021"欢乐春节"系列线上活动
2021 Happy Chinese New Year Online Celebration   
2021"欢乐春节"中瑞线上联欢
China-Sweden Happy Chinese New Year Gala
从儿歌到京剧,从古琴到舞蹈,中瑞人民各施才艺,各展才华,开启欢乐春节线上大联欢。
From children's song to Peking Opera, from Guqin to dance, Chinese and Swedish people are ready to dazzle you with their talents and jointly celebrate Chinese New Year.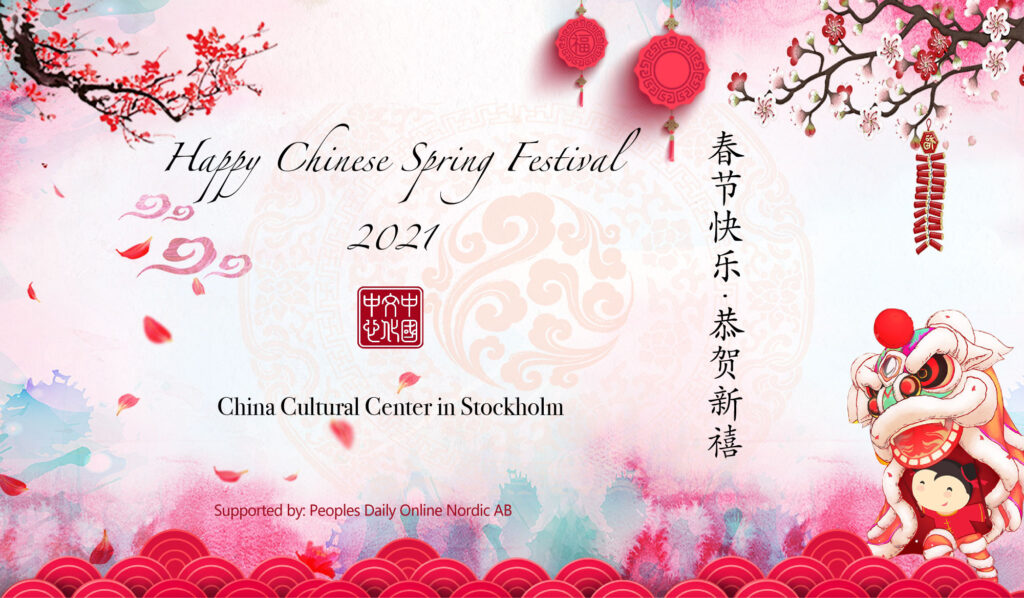 《牛气冲天——国际友人的"中国年味"》
Bullish – A Taste of Chinese New Year by Foreign Friends
由烹饪大师、外籍教师及中外学生联合开展生肖宴,结合春节文化,以牛为摘要素材,展示春节传统美食,进行中式热菜、冷菜、面点的学习、烹制、分享,打造中外师生美食交流的平台,让更多国际友人在云端感受到中华美食文化的内涵和魅力。
Culinary masters, teachers and students from China and abroad will present traditional food of Spring Festival and learn to cook Chinese hot/cold dishes and pastries, so that a platform for food culture exchange can be created for more international friends to experience the meaning and charm of Chinese food culture.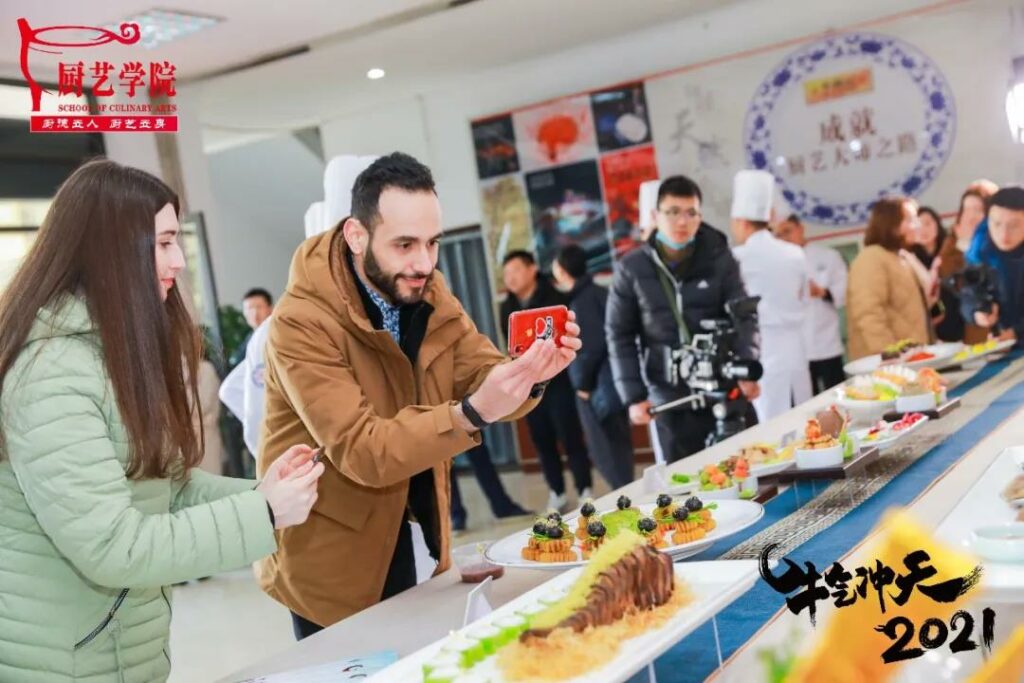 《中国年:文化与设计》
Chinese New Year: Culture and Design
中国年是一个生活系统,年的观念、行为、象征等是中国节俗文化系统的一个分形,由年可观中国文化的组成模块和模式、结构。展览通过对观念的解读、传统年文化和视觉的展示,分析行为、程序、色彩、符号背后的象征意义,用当代形态进行年俗民艺的设计,"创造性转化、创新性发展",综合呈现一个具有当代价值、文化特点和可能性的"中国年"
A systematic cultural ritual has been constructed around Chinese New Year. As part of Chinese festival culture system, Chinese New Year Culture reflects the modules, patterns and structures of Chinese culture through its conception, practice, symbol, etc. This exhibition analyzes the symbolic meaning behind practice, procedures, colors and symbols through interpretation of concepts and visual display of traditional Chinese New Year culture. It displays designs creatively transforming and innovatively developing the existing traditional folk culture on Chinese New Year with the adoption of contemporary art, demonstrating a Chinese New Year culture coined with contemporary value, cultural characteristics and reinvention flexibility.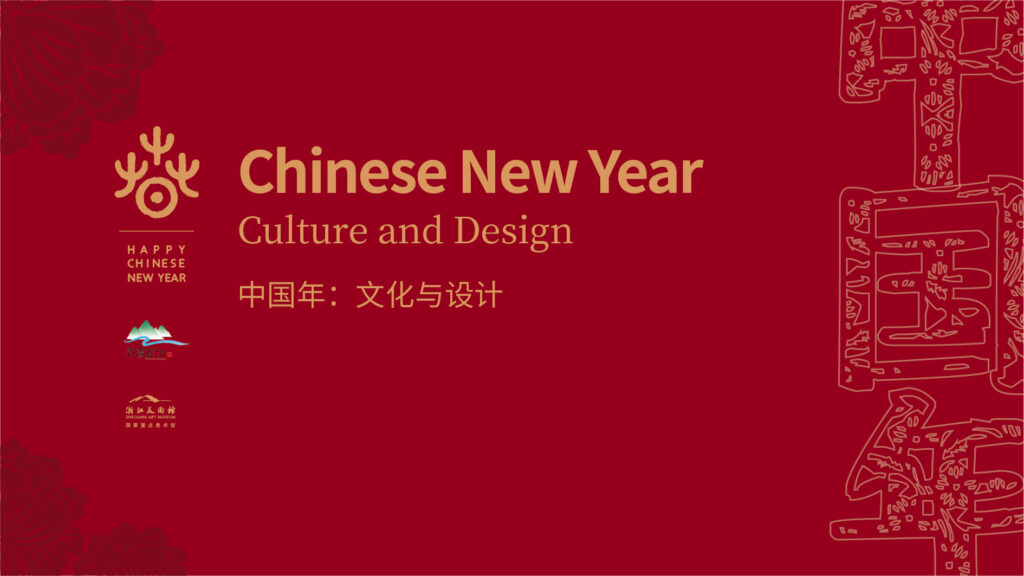 在线•互动•轻课堂《话年俗•看技艺•读文化——品品春节的味道》
Customs · Technique · Culture – Elements of Chinese New Year 
围绕春节年俗,邀请非遗传承人、国家一级演员等,从糊年画、贴春联、挂灯彩、送元宝(米塑)、看大戏等内容入手,挑选了"中国创新年画基地"金华木版年画、"江南第一灯会"硖石灯彩、温州米塑年夜饭、婺剧脸谱、春联里的中国字等,进行相关年俗介绍、技艺讲解。
Inheritors of intangible cultural heritage and national first-class actors are invited to introduce Chinese New Year customs, including topics of woodblock painting, colored lantern, rice sculpture in family reunion dinner, Wu Opera and its face masks and Chinese characters in Spring Festival couplets.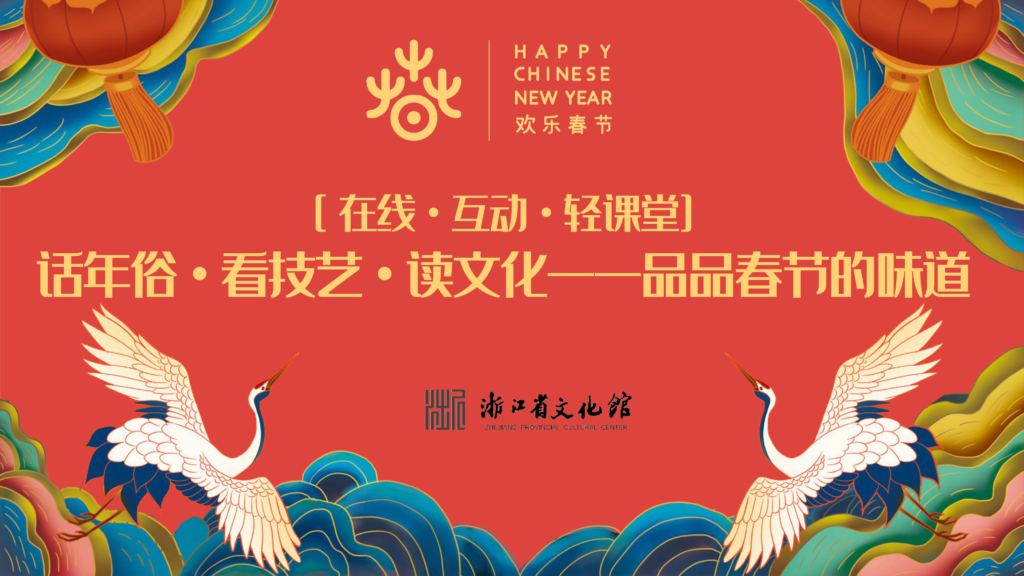 京昆线上贺岁《兰陵王》、《真假美猴王》
Peking Opera and Kunqu Opera: The Prince of Lanling and The Real vs. The Fake Monkey King
昆曲《真假美猴王》改编自中国四大名著之一《西游记》的经典故事。京剧《兰陵王》以一种返朴归真的舞台艺术手法展现北齐王国时发生的惨烈、恢弘的传奇故事。在色调简洁、构图感强烈的舞台空间里,用丰富的表演和调度捕捉戏剧性,带来独特的表现力、冲击力和新鲜感。
The Kunqu Opera performance The Real vs. The Fake Monkey King is adapted from a popular story in Journey to the West, one of China's Four Great Classic Novels. The Peking Opera show Prince of Lanling tells the tragic and magnificent legend of the kingdom in the Northern Qi dynasty. In a stage space with simple tone and powerful artistic composition, an expressive, impactful and dramatic show is on to give you a fresh experience.
此外,《情境冰秀——冰上杂技艺术晚会》、《弦音兆丰年——新春祝福交响音乐会》、《春节雅事——书画茶香二三事》、《金牛迎春——生肖设计虚拟展》等各类节目也会在春节期间上线,为大家带来热闹、多彩的春节庆典,敬请关注
Meanwhile, a series of online events, including Celebration on Ice Art Gala, Chords of the New Year – Spring Festival Symphonic Concert and Chinese Zodiac Design Exhibition etc. will also be released online during Chinese New Year celebration. Everyone is invited!
---
Facebook: China Cultural Center in Stockholmhttps://www.facebook.com/China-Cultural-Center-in-Stockholm-110983273921638

Instagram: chinaculturalcenterinstockholm

https://www.instagram.com/chinaculturalcenterinstockholm/

Tik Tok: cccinstockholm

https://www.tiktok.com/@cccinstockholm

Wechat: 斯德哥尔摩中国文化中心 or scan the QR code below