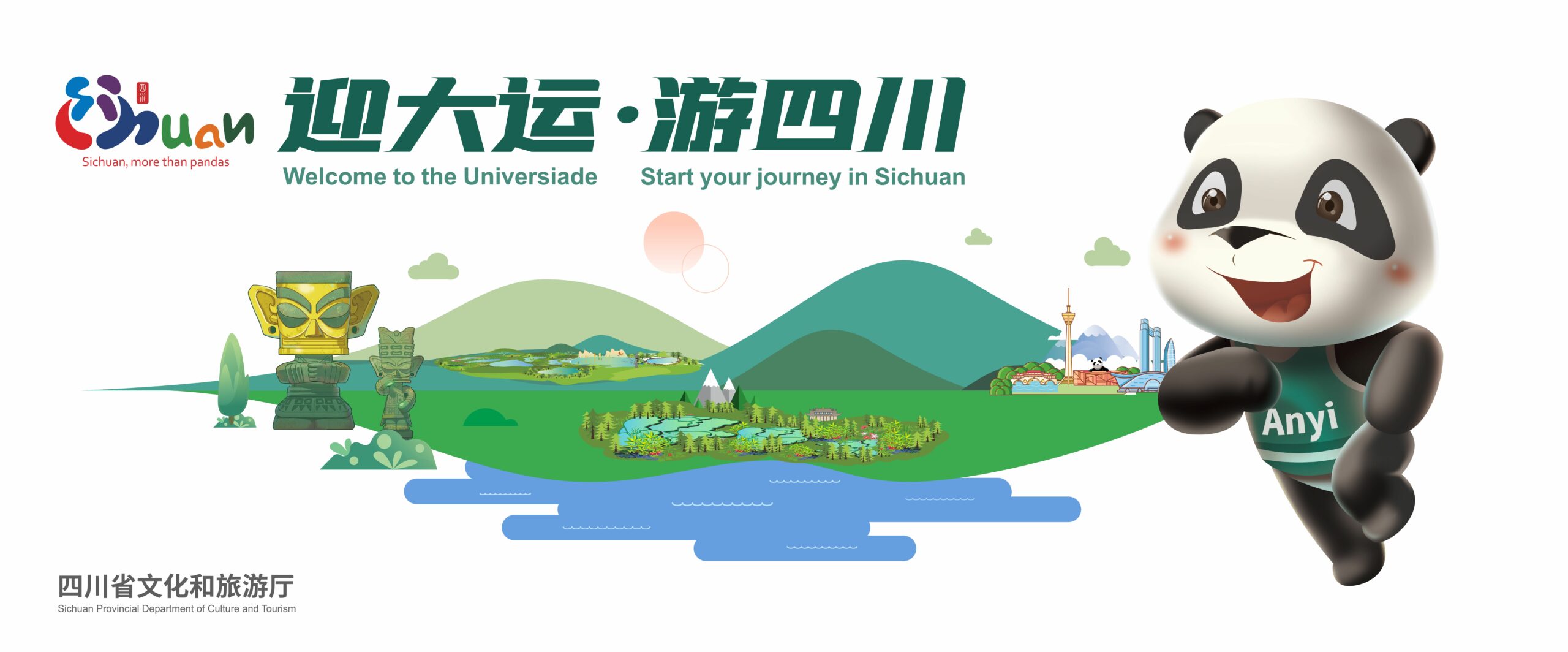 The opening ceremony of the Chengdu 2023 FISU World University Games (31st Summer Universiade) will be held on July 28, 2023. University athletes from all over the world will be gathering in Chengdu, Sichuan to participate in this charming event. Follow us and check Universiade venues and the cultural charm of Chengdu.
Have you ever seen the three terrain ladders of China? In the hinterland of southwest China, lies the miraculously magnificent "mountainous region of China," created by plate collisions 65 million years ago, and the region where thousands of rivers meet and inter-wind, giving birth to Chinese civilization. Within China's vast territory of 9.6 million square kilometers, Sichuan is the only province that allows you to travel from west to east across totally different landforms. For example, highland snow mountains, melting glaciers, wetlands, grassland, lacustrine tufa, hilly land and plains. Along your travels to the south, experience the many ancient cultures that Sichuan has to offer!
Sichuan is well-known in China as the "land of abundance" since ancient times as the Dujiangyan Irrigation System has been controlling the waters of the Minjiang River and distributing it to the fertile farmland of the Chengdu plains. Through millions of years of natural evolution, Sichuan has been a natural habitat for the panda, China's national treasure. Through thousands of years of continuous development, here in Sichuan, the Ancient Shu civilization, with all its glitz and glamor, is becoming more attractive and charming to the world. And through thousands of years of exchanges and integration, local ethnic groups like Tibetan, Qiang and Yi, are showing the world elegant demeanor like shining pearls.
Sichuan has magnificent and changeful prospects due to its rich natural resources like famous mountains and great rivers. Here, you can experience an altitude difference of 7 thousand kilometers and exclaim at all landscapes heartily. Here, you may also take a time-travel tour across the 5 thousand years of Chinese civilization, and be confirmed that it can fully satisfy people's imagination with its numerous cultural relics. At the same latitude of 30° north, the Sanxingdui Site, together with the Egyptian pyramids, the Mayan Ruins, and the Babylon Ruins, is dubbed as world miracles of human civilization. Sichuan, a land of plenty endowed by nature, is a fantastic place of China.
In Chengdu, capital city of China's Sichuan Province, happiness has many faces: the hustle and bustle of city life, the mesmerizing beauty of snow-capped mountains, and the diverse lifestyles of its people. The official promotional video for the Chengdu Universiade captures the vitality of the city brought by the grand event. Welcome to Chengdu in July!
Li Bai, a Tang Dynasty poet, is a household name in China as Shakespeare to the UK or Tagore to India. He spent 24 years in his hometown ‒ Qinglian Town in Jiangyou City, Sichuan Province. Li Bai's poems are a must-read for every Chinese, and his romantic and unrestrained poetic lines have influenced millions of foreign friends. Gareth Bonello, the musician of Wales and a fan of Li Bai, spent three years finishing The Immortal Bard, an album about Li Bai. He is finally here in Qinglian. Strolling through Longxi Garden, Kuangshan Academy, and Taibai Stone Tablets, where Li Bai once lived, he tries to strike a chord with Li Bai's romanticism.
A western traveler once came to Sichuan's Mount Emei, a world natural and cultural heritage site, to study martial arts. As he got to know more about this mysterious mountain, he found that everything on the mountain contains deep philosophical meaning, from the grass and trees to the bricks and tiles of the pathways. Even the streams, the tea leaves, the golden summit, and the nearby city of Emeishan all gave him a deeper insight into the culture of the mountain…
---
Facebook: China Cultural Center in Stockholm
https://www.facebook.com/China-Cultural-Center-in-Stockholm-110983273921638
Instagram: chinaculturalcenterinstockholm
https://www.instagram.com/chinaculturalcenterinstockholm/
YouTube: China Cultural Center in Stockholm
https://www.youtube.com/channel/UCYqOYwuQtyTHC-iMNdfExsw
Tik Tok: cccinstockholm
https://www.tiktok.com/@cccinstockholm
Twitter: CCCinStockholm
https://twitter.com/CCCinStockholm
地址:
Västra Trädgårdsgatan 2, Stockholm